This holiday season, treat your guests to the VIP treatment with a few thoughtful details that are sure to impress even the fussiest of overnight visitors. Making your home a cozy and welcoming space for your guests is nothing to worry about with our helpful guide.
Keep Them Comfortable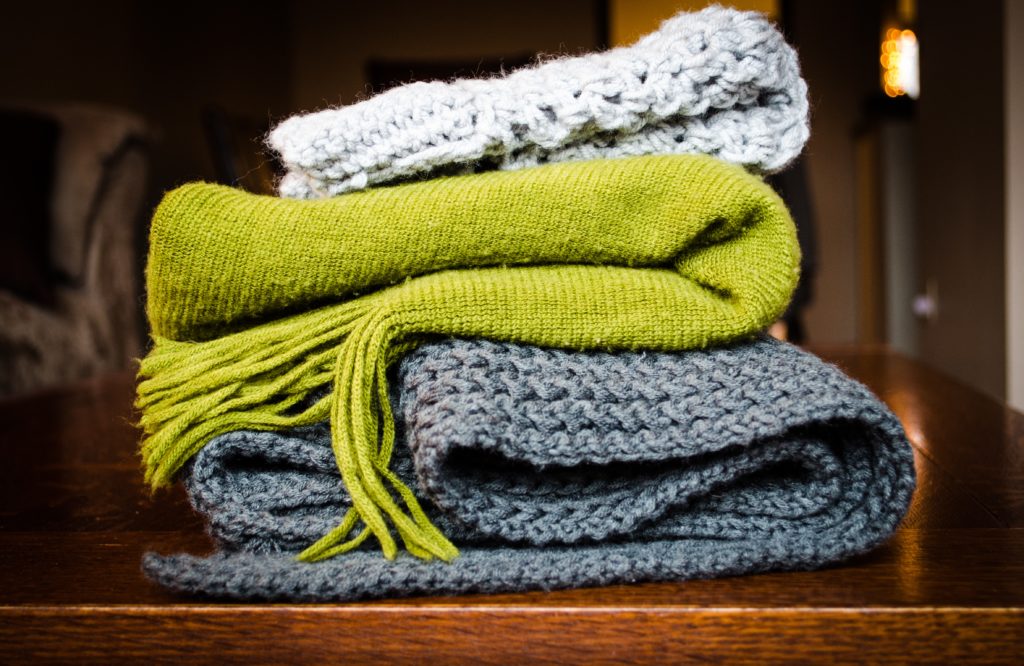 Along with politics, one of the hardest things for people to agree on is what the temperature of the thermostat should be. To keep everybody happy, keep a few warm blankets in the guest room, especially during the colder months. If you live in a warmer climate, store a fan in the closet so your guests have the option of increasing the airflow. Also, consider switching out the regular light with a ceiling light and fan combo; that way, your guests will be able to control the lighting and temperature with ease.
Keep Them Informed
Along with a sleep set, keep your guests easily informed with a notebook on the nightstand that has important information, like the Wi-Fi password, emergency numbers, alarm codes and pool access codes. These little pieces of information will give your guests a stress-free day. If you want the option of being more of a hands-off host, include a list of popular restaurants or activities in the area, which will keep your guests entertained when you get too busy.
Create a Sleep Sanctuary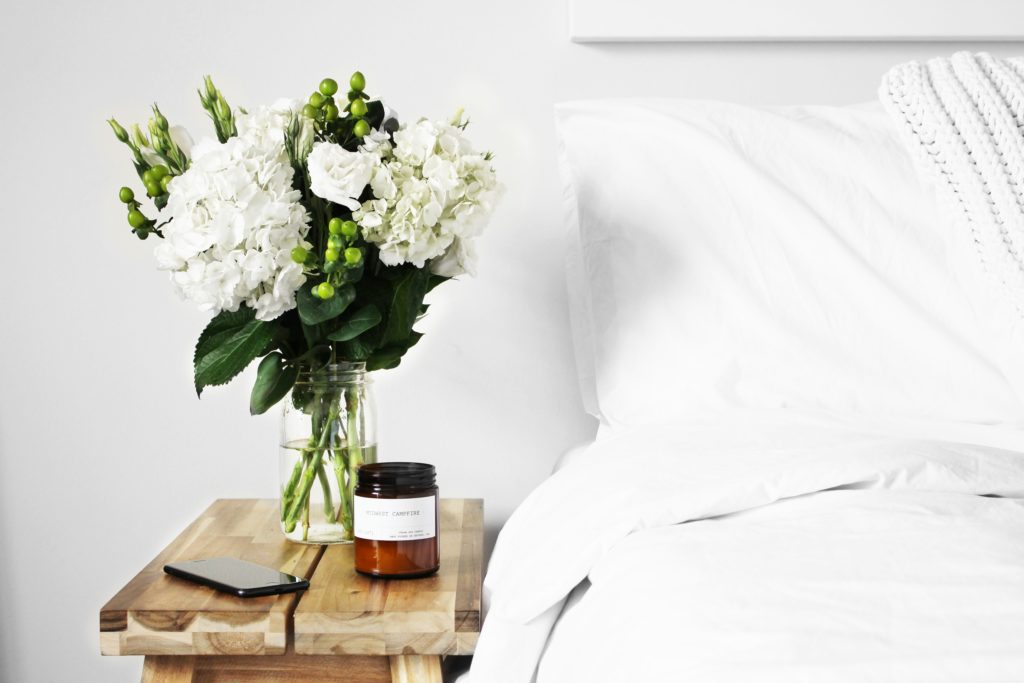 Getting a good night's sleep can be a challenge in a new place, so make it easy for your guests when you provide them with everything they need to sleep soundly and without being disturbed, such as an eye mask and noise-canceling earmuffs for the light sleepers. Also, keep a sound machine in the guest room, which will help block out outside noise with soothing sounds of nature. Another good idea is to add a few strategically placed nightlights so your guests can avoid bumping into sharp corners in the dark. Also. they can benefit building a soothing environment. 
Clear the Clutter

When you open your home to visitors, you don't want them to be inundated with random stuff piled everywhere. But this is also not the time to be cleaning out your closets and drawers. If you don't have time to organize, stuff all the non-essential items into a trash bag and store it in your basement, garage, or the trunk of your car. You can always sort it out later when your guests leave.
Clearing out the foyer is even more important; especially since it will be the first thing your guests see when they arrive. Consider putting a storage bench with coat hooks in the entryway, which can be a convenient place for your guests to store their coats, boots, and umbrellas.
Provide Them with Premium Bath Time Essentials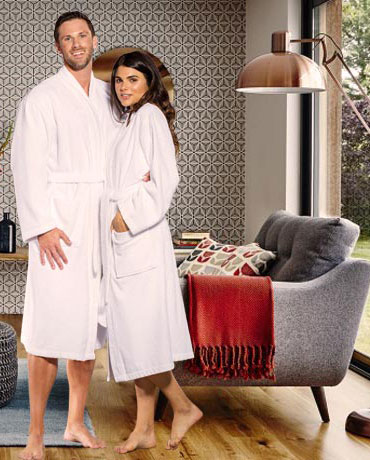 Make the bathroom a streamlined experience for your guests when you supply them with everything they need to feel cozy and pampered. First, place several toilet paper rolls in a basket so they are easy to find. You can also place towels and washcloths on an open shelf or store them in another accessible basket. Treat your guests to five-star luxuries with premium towels made with 100% Turkish cotton and coordinating washcloths. Include a matching Turkish cotton bathrobe, bath towel wrap, and velour slippersfor a complete lounging set.
A Selection of Quality Toiletries

Another must-have for keeping at their fingertips is a basket of toiletries. Try to be thoughtful of those with sensitive skin by including organic, fragrance-free shampoos, conditioners, and body washes. To make their overnight stay even more convenient, provide them with a complete toiletry set that includes travel size toothpaste, floss, and body lotion.
Add a Cheerful Holiday Touch
Give your guestroom a hint of seasonality with festive decorations like a mini Christmas tree on the dresser or a holiday-themed bouquet of flowers. Usually Christmas decorations don't go beyond the other rooms of the house, but this small detail will help put your guests in the Christmas spirit, especially since it will be the first thing they see when they wake up in the morning.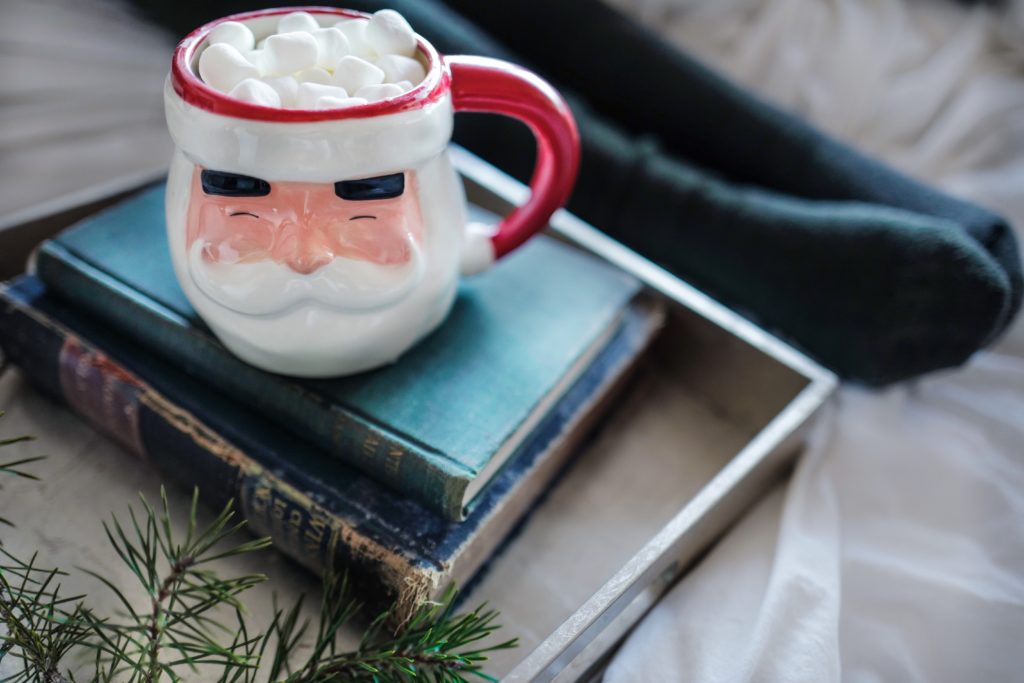 Create a Coffee Station in the Family Room
If you're hosting for the holidays, the kitchen will most likely be the center of the action, so make sure the area is clean and organized before your guests arrive. Transfer the coffee station to the living room so that the kitchen doesn't get crowded at peak cooking and serving times. For even more ease and convenience, consider investing in a pod coffee machine; with the help of these one-step appliances, your guests can enjoy a fresh cup of coffee with the touch of a button. Make your coffee station 100% self-serve when you keep the supplies out in the open and easily accessible.
Applying this guide to your home will make you an excellent host and give your company a delightful visit. When your guests are happy and comfortable, it makes your job as a host easier than ever.