A hooded robe may be just what you need to fill in the gaps of your wardrobe.
RELATED: How To Care For A Velour Fabric Robe | Cleaning Velour Fabric
In this article:
7 Reasons Why a Hooded Robe Is Functional
Click here to jump to the infographic.
1. Dries Your Hair After a Bath
While most people have a standard bathrobe in their bathrooms, you may want to switch over to a hooded bathrobe. A hooded robe has much to offer when it comes to your post-bathing needs.
Just like any other bathrobe, a hooded bathrobe can also keep you warm and dry after a bath. On top of that, it also has an added feature: the hood can help dry your hair!
Remember, the hood is made up of the same material as the rest of the bathrobe. So it's equally capable of absorbing all of the excess moisture in your hair. This saves you from towel-drying your hair in preparation for sleep or styling.
2. Provides Extra Warmth During Winter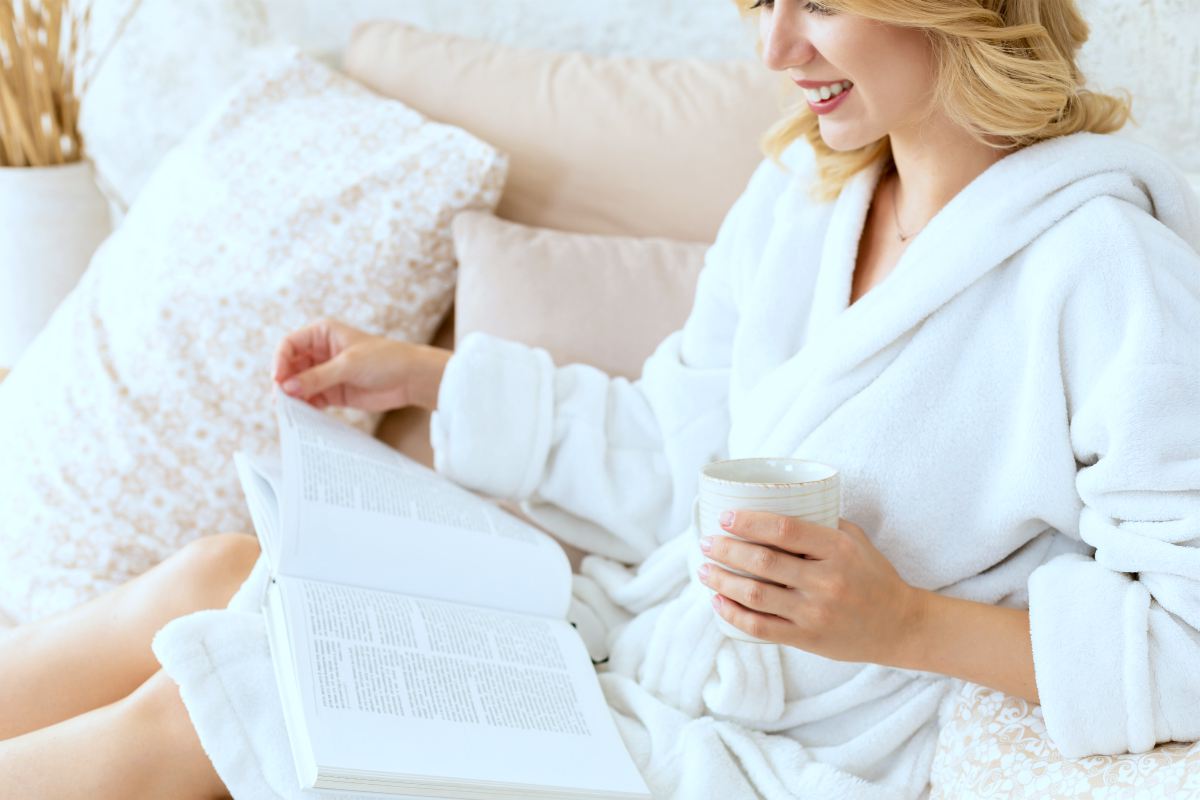 When the temperature begins to drop, it's great to have clothes that can keep you warm and cozy—even when you're indoors. People often forget about covering their heads when they're inside.
Don't forget, a lot of your body heat can actually escape through your head—especially when you're bundled up from the neck down. So don't turn up your heat to stay warm when you're at home during winter.
Instead, put on a long hooded robe to stay warm and cozy! It not only feels great, but it's good for the environment too. You'll save a bit of money on heating costs, just because you had a hooded robe on.
3. Keeps You Dry In Between Swims
Hooded bathrobes are the perfect companion for swimming parties! It's convenient to put one on when you're hanging out with your family or friends in between time spent in the water.
After taking a dip, you may want to hang out by the pool to chat with your friends. Or maybe even share a quick snack before jumping back into the pool.
A hooded robe won't only keep you dry, but it also holds your hair in place so that you're not dripping all over the place. It also helps minimize sun exposure if you're wary about getting too tanned or even sunburned.
4. Doubles Up as a Towel at the Gym

There's nothing like a long, relaxing shower after a hard workout. Unfortunately, showering at the gym with a bunch of strangers can sometimes take away from the relaxation you deserve.
Bringing a bathrobe to the gym is a great way to inject some privacy and luxury in a potentially awkward situation. As locker room cover-ups go, a bathrobe is definitely more secure than a towel.

When you wear a bathrobe, you won't have to worry about it slipping off accidentally while you're walking from one area to another. On top of that, if you choose to bring a hooded bathrobe, it can actually double up as a towel because it can keep you dry from head to toe!
RELATED: How To Choose The Right Spa Robes For The Ultimate Luxury Experience
5. Works Well for Overnight Outdoor Activities
Overnight outdoor activities are all the rage these days! From glamping to good old regular camping, a hooded robe is a perfect way to stay warm when you're sleeping outdoors.
Keep in mind that the weather is often unpredictable. While it's easy to predict the temperature, other factors, such as the wind or rain, can make it seem colder than it actually is.
It's important to pack something that you can easily layer on top of your other clothes. That's why a hooded robe is such a great outdoor companion!
If you're feeling extra chilly at night, you can wear it on top of your pajamas. If it gets really cold, go ahead and put on the hood!
An added bonus: hooded bathrobes also look great, so you're sure to feel presentable around company. Especially the hooded velour bathrobes — so be sure to check some out.
What is velour? It is a type of fabric that closely resembles velvet, except it's not as shiny. This luxurious fabric is often used to make clothes and upholstery.
6. Keeps You Cozy When You're Under the Weather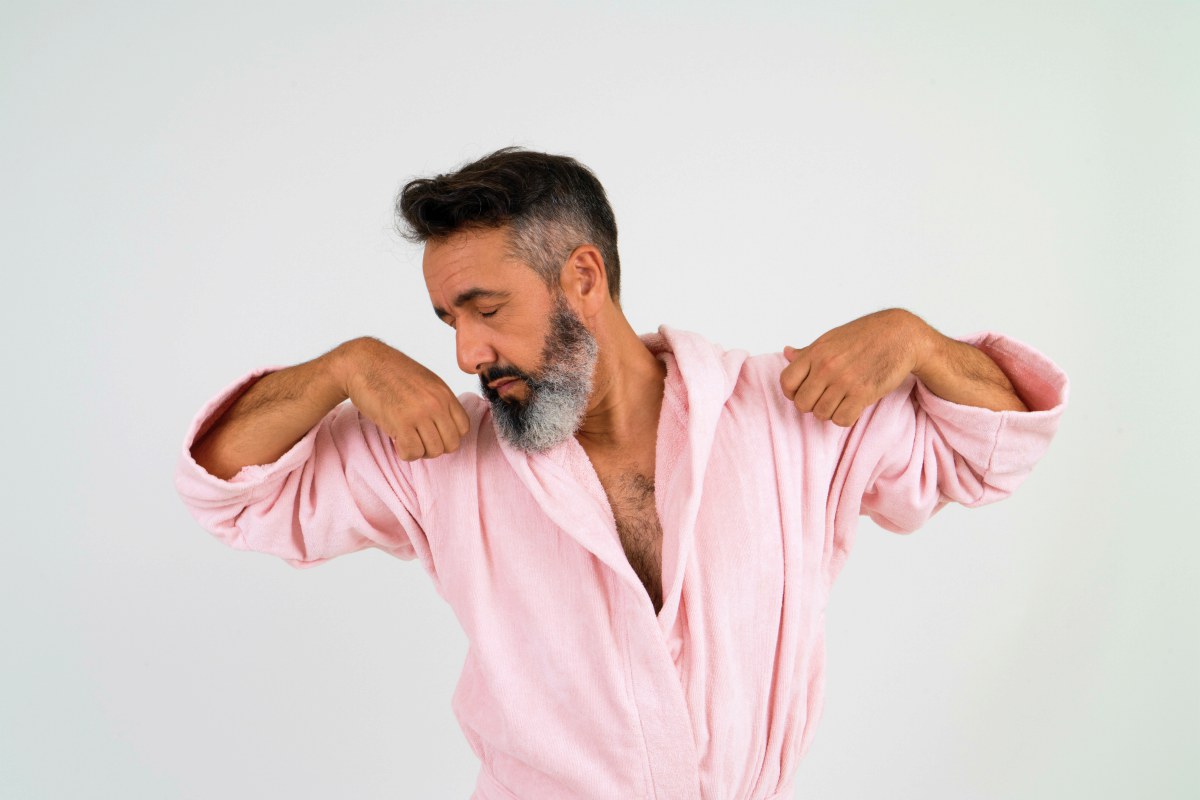 No one enjoys being sick, but when you are, it's always comforting to throw on something warm and cozy. A hooded bathrobe is perfect for these instances.

There are even hooded bathrobes that are extra heavy. Wearing a heavy bathrobe feels like being enveloped in a warm hug!
Studies show that some people also sleep more soundly with a little extra weight enveloping them. A heavy hooded blanket or robe is a wonderful way of getting some instant TLC right when you need it the most!
7. Repurposes as an Interesting Costume
If you're running out of ideas for Halloween, a hooded robe actually makes a great costume accessory! With a few additions and embellishments, you could easily be:
Robin Hood
a Jedi Knight
a wizard
Little Red Riding Hood
a vampire
Don't forget to download, save, or share this handy infographic for reference: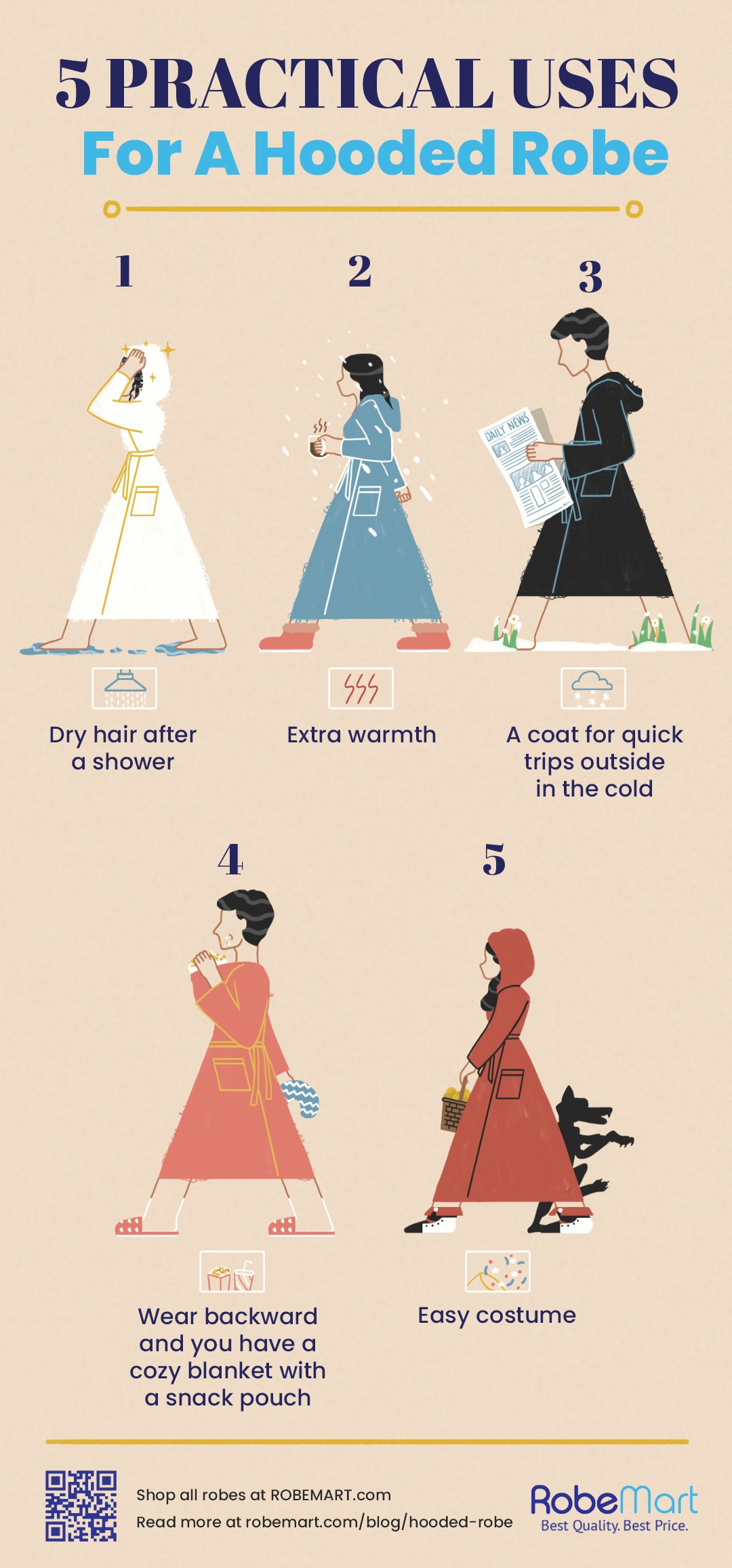 So the next time you're getting ready for a costume party, why not use a hooded robe? You will not only look great, but it'll keep you warm too!
A hooded robe is a versatile piece and a great addition to your wardrobe. You can use it in different seasons and contexts.
Don't just get your hooded robe anywhere! Make sure to purchase your hooded robe at RobeMart.
When you shop at RobeMart, you're sure to get the best quality for the best prices. All of RobeMart's hooded robes are double stitched to ensure durability.
They have a selection of women and men's hooded robes. It also comes in a variety of colors—you can get a red, navy blue, white, or black hooded robe.
The best thing about choosing RobeMart is that you can shop right now! With just a few clicks, your hooded robe can be on your doorstep in a few days.
Are you thinking about getting a hooded robe? How can we help you with your purchase? Let us know in the comments section. 
Up Next: