Everyone should have a cotton robe in their wardrobe, but with all the choices available in the market today, how do you go about choosing the best one for you?
RELATED: How to Wash and Store Your Robe
Pick the Perfect Cotton Robe in Seven Easy Steps!
Step 1: Decide on the Type of Cotton
Choosing a type of cotton for your robe is like choosing its DNA. The type of cotton you choose will dictate the fabric's functionality.
Two popular cotton types used for cotton robes are:
100% Turkish cotton
Combination of natural cotton and polyester
What is Turkish cotton? It's a type of premium cotton that is grown in the Aegean region in Turkey. It has extra long fibers which produces smooth and strong threads.
Turkish cotton is the perfect material for robes because it's soft, fluffy, absorbent, and, compared to Egyptian cotton, it dries more efficiently.
Another option is choosing a natural cotton and polyester combination.
This combination usually comprises 35-40% polyester and 60-65% natural cotton. This combination is popular among robe manufacturers because adding polyester to cotton makes the fabric stronger and more versatile.
The blend allows for more efficient drying and makes it easier to customize the robe, while maintaining a soft texture. An added bonus: you won't need to iron it as much because the poly-cotton blend also prevents wrinkles!
Step 2: Decide on a Fabric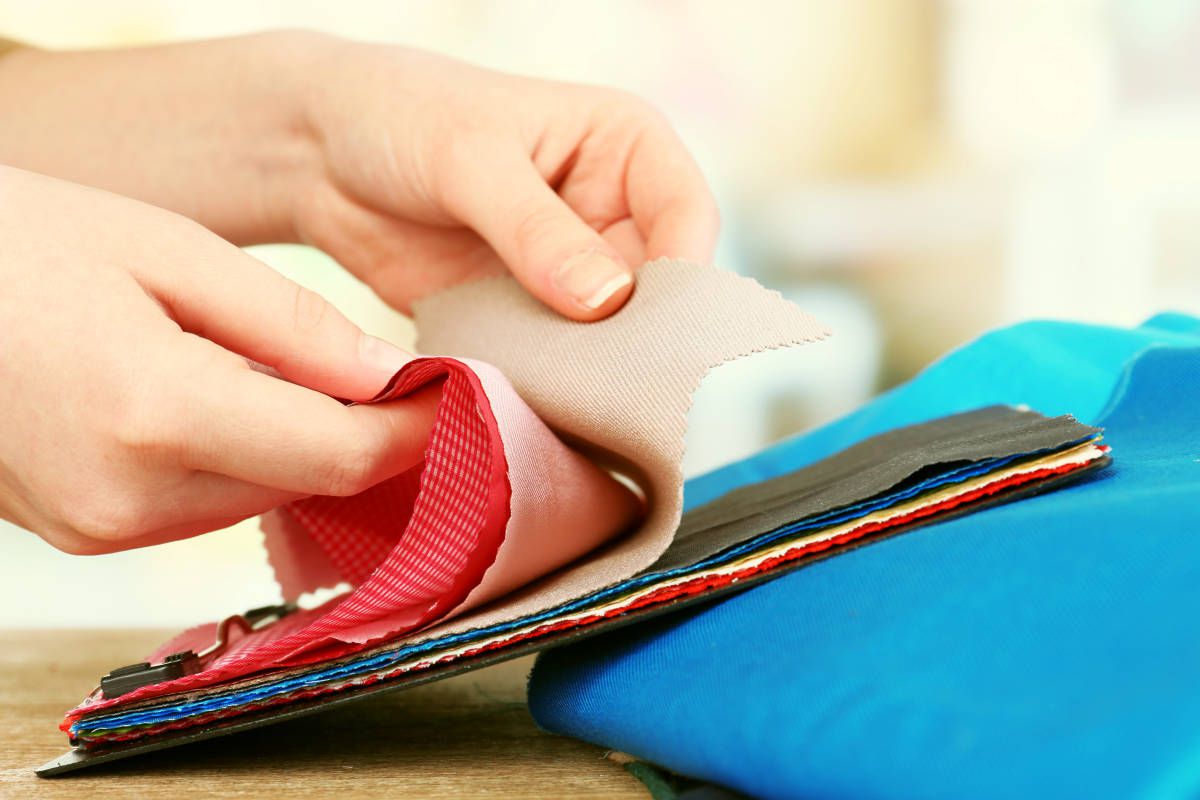 After choosing your robe's cotton blend, you can now choose the type of fabric. This is a very important decision to make because the fabric dictates what your robe will feel like.
There are two popular fabrics used for the inside of robes:
Waffle knit cloth
Terry cloth
Waffle knit cloth is generally more lightweight compared to the other two. Just like the name implies, its finish resembles a waffle—it's a cloth that is made up of a grid of small squares.
You've probably come across waffle knit robes before because they're usually offered to guests in hotels and spas. So if you're looking for that spa-like feel, choose a waffle knit robe!
Terry cloth is a woven fabric with long loops that can absorb a lot of water. In fact, terry cloth is often used to make bath towels.
If you love the feeling of wrapping yourself up in a fluffy towel, then a cotton terry cloth robe is perfect for you! While waffle knit and terry cloth can also be used on the outside of a robe, some also opt to use velour.
Velour is a woven fabric that feels and looks like velvet, so it makes robes look extra luxurious. To maintain its absorbency, velour is usually paired with terry cloth on the inside of the robe.

Step 3: Pick a Style
There are two popular cotton robe styles you can choose from:
Cotton kimono robe
Cotton hooded robe
Kimono robes draw their inspiration from a traditional Japanese garment. It's a sleek robe without any collars, and its two sides are fastened by a belt.
The hooded robe is similar to the kimono, except it has a hood attached to the neckline of the robe. The hood is useful for drying hair or adding another layer of warmth to the robe.
Step 4: Choose Your Preferred Length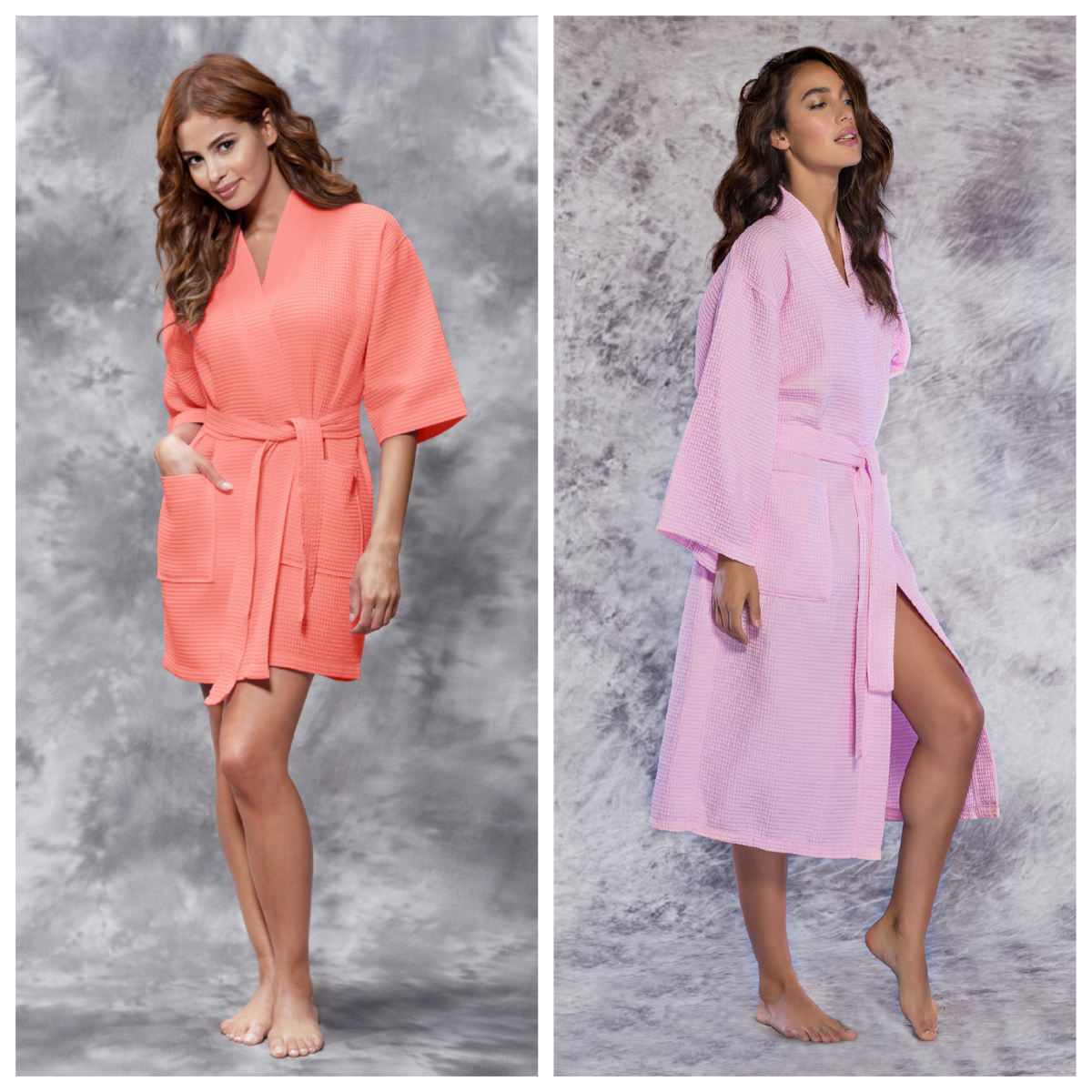 Cotton robes come in two standard lengths:
For women, short cotton robes are 35-38 inches long and the long cotton robe options are 50-52 inches long. The long cotton robes for men are usually 46-52 inches long.
Tip: You may want to consider the climate when choosing the length of your robe! If you live in generally warmer areas, you might be able to get away with just a short robe. Those living in colder climates could benefit from the warmth and coverage of a full-length robe.
RELATED: The Ultimate Guide to Bridal Robes and Why you NEED Them
Step 5: Choose Your Preferred Weight
Regular robes are generally lightweight, but there are also robes that are purposefully made to be heftier. While some people prefer lightweight robes for mobility and breathability, others prefer heavyweight robes for added comfort, coziness, and warmth.
So, think about how and when you intend to use your robe. Perhaps you may find both lightweight and heavyweight robes useful, depending on the season!

Step 6: Decide on a Color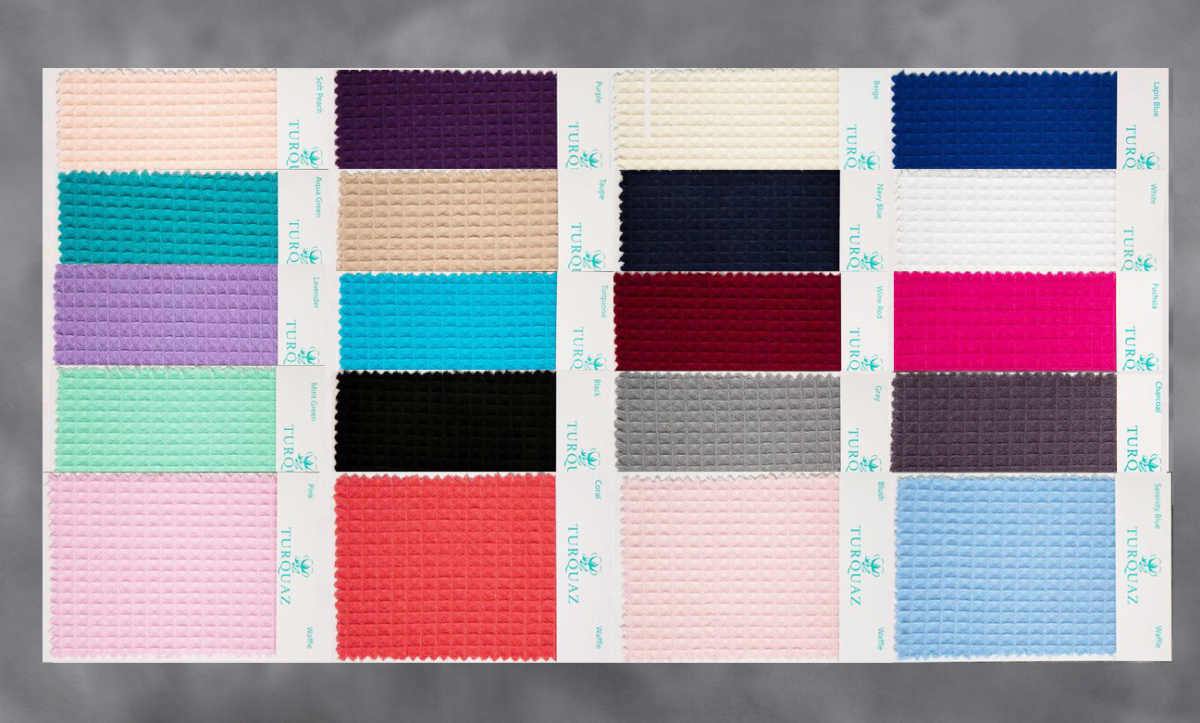 Here's the fun part! Once you've decided on the type of cotton, fabric, design, and weight, you can now choose a color.
The number of color options will depend on the type of fabric you choose. For some fabrics, you may only have three color choices, while other fabrics will offer up color choices in the dozens.
A vibrant colored robe is a great companion at the beginning of the day! It puts you in a great mood and energizes your senses.
A more muted, subtle colored robe is perfect for evening use. It calms you down, doesn't overstimulate, and can help you wind down and get ready for bed.
Tip: If you're shopping for the entire family, choosing different colored robes is a great way to avoid mix-ups! You can designate a specific color for each member of the family. Your kids are also more likely to wear and take care of their robes if they come in their favorite colors.
Step 7: Pick the Right Brand
Many brands offer a variety of cotton robe options, but make sure you choose a brand that offers the best quality at prices that won't break the bank. RobeMart produces a wide variety of high-quality cotton robes that are double stitched for durability.
On top of that, it also offers a variety of sizes for both men and women. Their sizes range from small to XXL.
The best part about it is that they're all available online!
RobeMart has a hassle-free return and exchange policy. It also offers discounts for bulk orders and free shipping if you spend $150.00 or more.
Now that you've considered all of the different factors in choosing the right cotton robe for you and your family, you're ready to place your order! With just a few clicks, your robe can be at your doorstep in no time!
Are you interested in purchasing a cotton robe? What are your favorite styles and colors? Let us know in the comments below.
Up Next: