For a confident strut down the boardwalk this summer, you'll need a winning combination of bikinis and beach cover ups!
RELATED: 9 Beach Essentials You Shouldn't Be Without On Your Next Trip
Beach Cover Ups to Match Your Personal Style
1. Sarong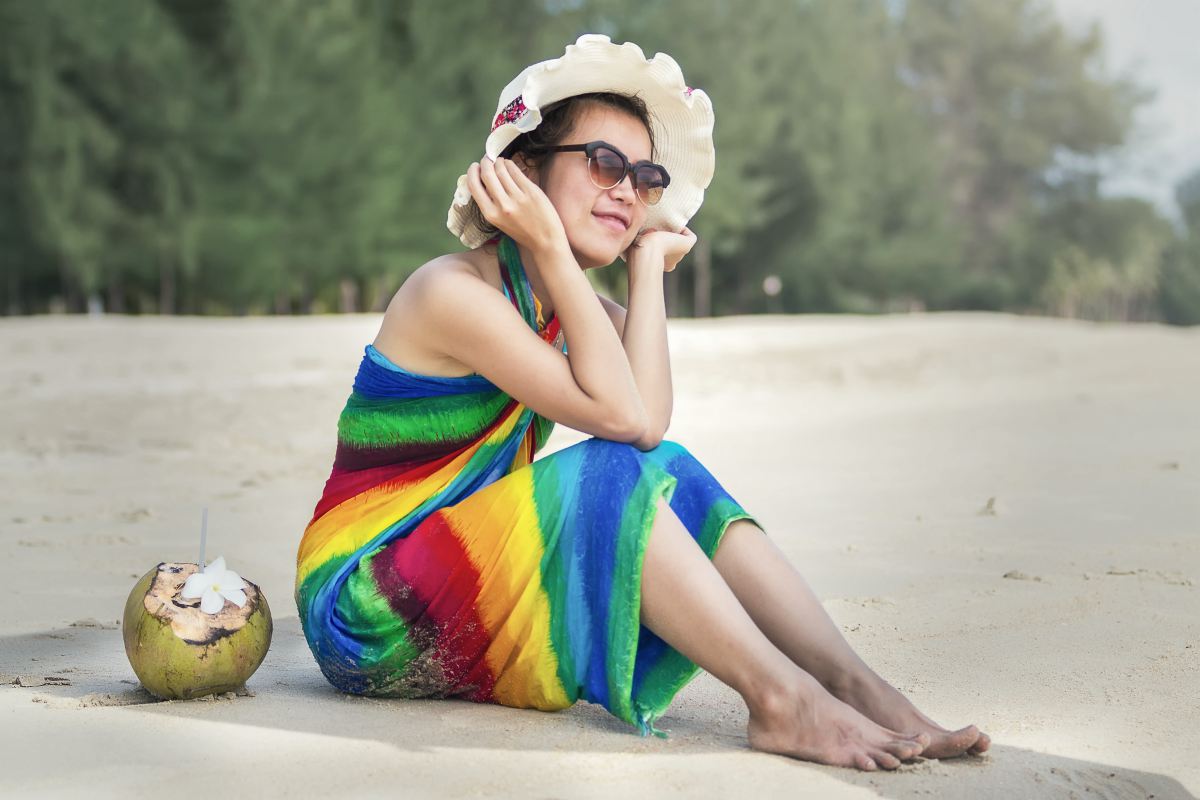 One of the most popular types of beach cover ups around, this trendy beachwear is popular for the right reason: It covers up areas you want concealed while also giving you a more graceful silhouette. Its versatility and functionality allow it to be used in so many ways, making it a beach essential.
One piece is all you need to complete your summertime OOTD. Because it can be worn in numerous ways — as a skirt, a wrap-style dress, or even a shawl or scarf — you extend your wardrobe without having to shell out too much cash.
If you want to make a fashion statement, choose a brightly colored sarong with unique patterns that will compliment your swimsuit!
To wear it as a short skirt, simply fold it diagonally in half, wrap it around your waist, and gather the two ends and tie a knot on the side. If you're going for a long skirt, wrap the sarong horizontally around your waist, pinch both corners, make a knot, and twist it to one side of your hip to expose a bit of leg as you walk.
2. Tunic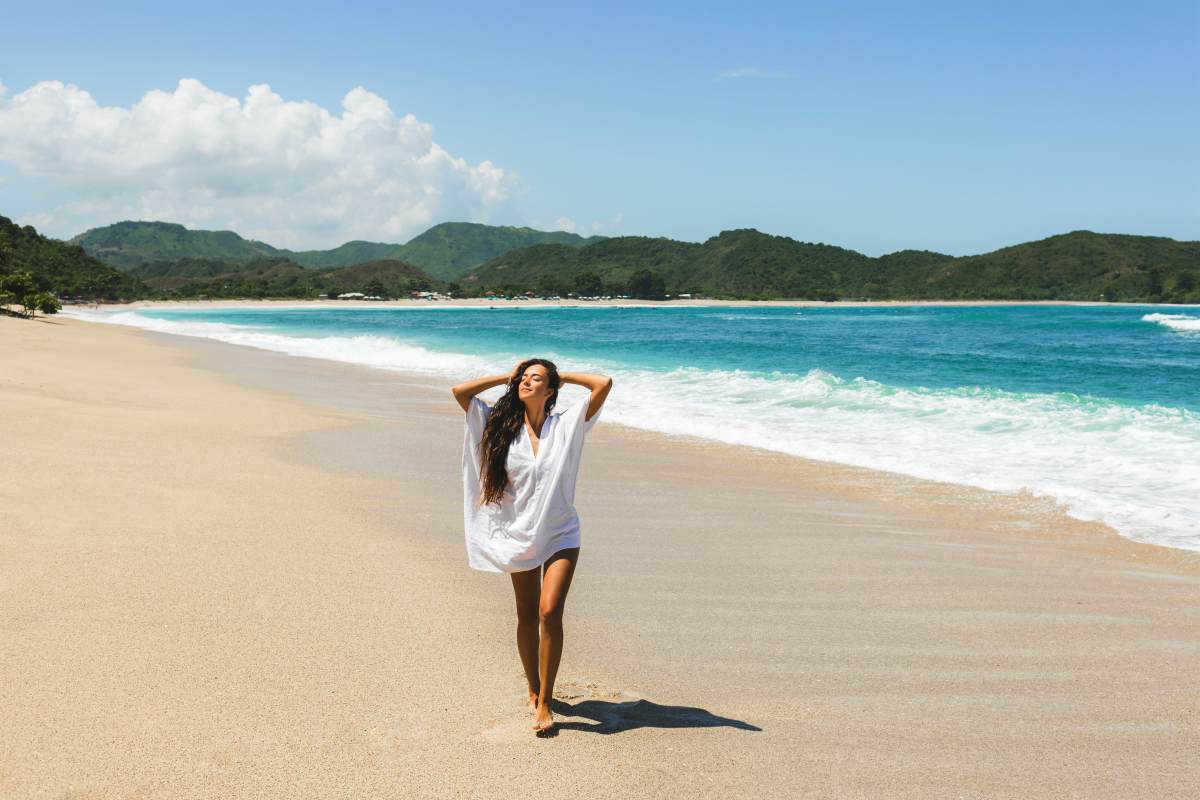 This fashionable swimsuit cover up is a long, flowing top that hits at mid-thigh level. It is often made from lightweight fabric and may even be embroidered or beaded.
Because it tends to have long sleeves, it can successfully hide problem areas around the arms, hips, and midriff—making it perfect for any body type. Wear this with a hat and big sunglasses for the perfect OOTD.
For pear-shaped women, tunics with side vents, a slightly tapered waist, and wide neck opening are an ideal choice for flattering the hips and thighs. To balance out your bottom half, consider wearing accessories like chunky earrings and necklace that draw attention your upper body.
If you are apple-shaped, choose a nice V-neck tunic that directs attention to your neck and face. For those with a full figure, make sure your tunic isn't too clingy or too loose so you can show off your collarbone and wrists.
3. Sun Dress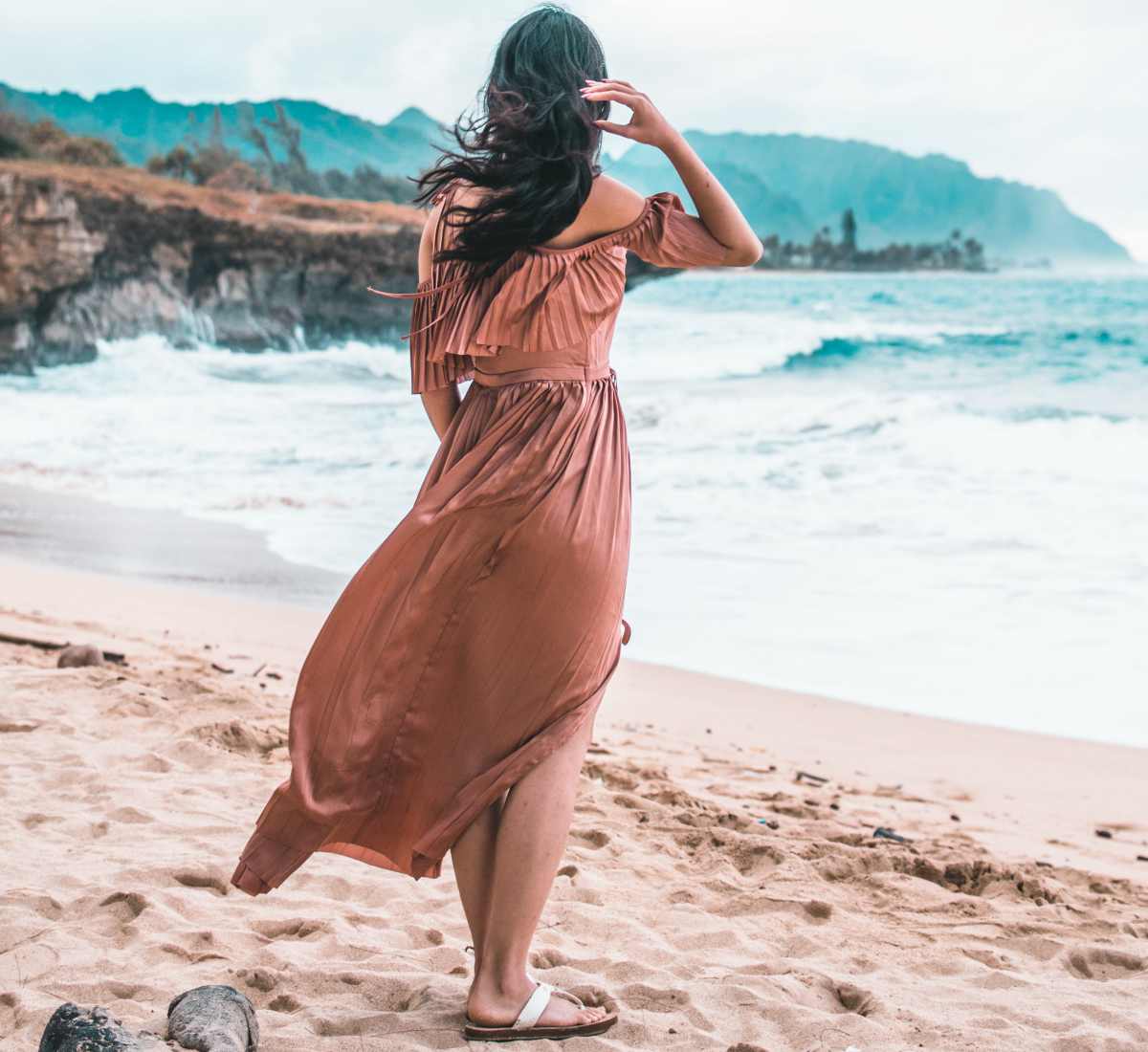 This is one of the most popular beach cover ups you can own, especially if you're the type who loves to dress up a little at the beach. A sun dress is any woman's throw-on-and-go summer piece, and it can be short, long, strapless, or any other way you want!
What's great about sun dresses is they are cool, fresh, and easy to pull on and off over a swimsuit. There are so many designs suited for every body shape, so you can easily find a piece perfect for you this summer season.
For a universally flattering dress shape, go for the A-line! It has a balanced cut that gives a nice and forgiving silhouette—from petite to hourglass and everything else in between.
If you're eyeing a classic style that's looser than an A-line, consider a wrap sun dress. The wrap accentuates your curves, while the tie-waist creates the illusion of a smaller waist.
If you don't want anything clinging to your body, go for a boxy shift dress. This figure-skimming sun dress does not place any real emphasis on any particular feature, so you get a balanced silhouette (and the perfect airy bathing suit cover up) .
4. Playsuit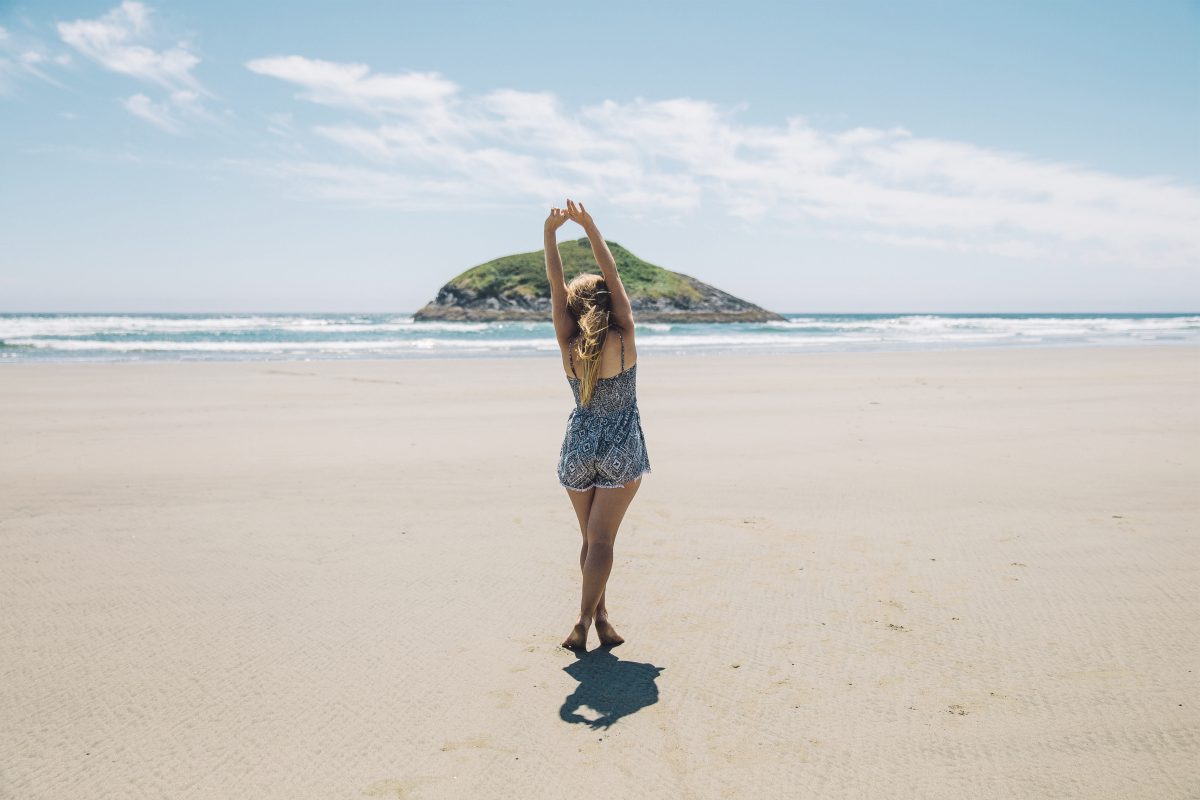 In today's fashion, playsuits, jumpsuits, pantsuits, rompers, and dungarees are all one and the same. In a nutshell, these beach cover ups simply mean a "one-piece outfit."
Expect them in different styles: strapless, asymmetrical neckline, sleeveless, backless, or with full coverage. Many playsuits are made of lightweight material perfect for the summer heat — you can even find them in crochet or lace.
One of the best things about a playsuit is that it's perfect for any body type, and dressy enough for more formal beach events like dinner dates or parties. Pair it with flip-flops, flats, tennis shoes, or espadrilles—pretty much anything you can think of!
5.  Robe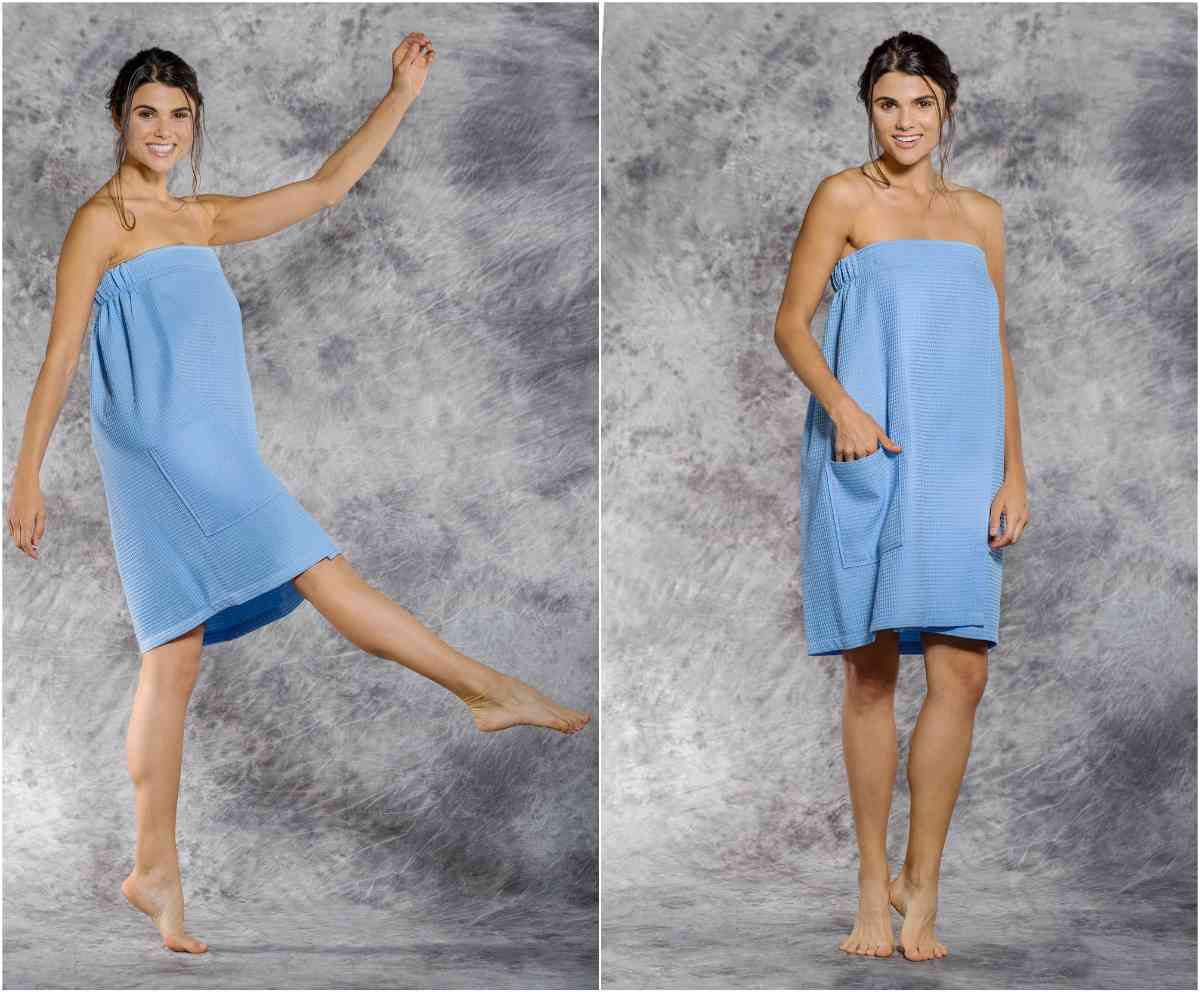 If you want to keep warm after playing in the water, robes make great beach cover ups. Because they're typically made of the same fabric as towels, they have extra high absorbency for quick drying.
There are different styles that fit most. Kimono robes and hooded robes make great personal changing rooms so you can easily change in and out of your wetsuit even in public.
For a more stylish look, waffle wraps are great for the ladies, while velour wraps are perfect for men. These are easy to carry around, presentable enough to walk around the resort or hotel in, and keep you warm and dry without the need for a separate towel.
RELATED: 4 Advantages Of Custom Embroidery On Towels and Robes
6. Kaftan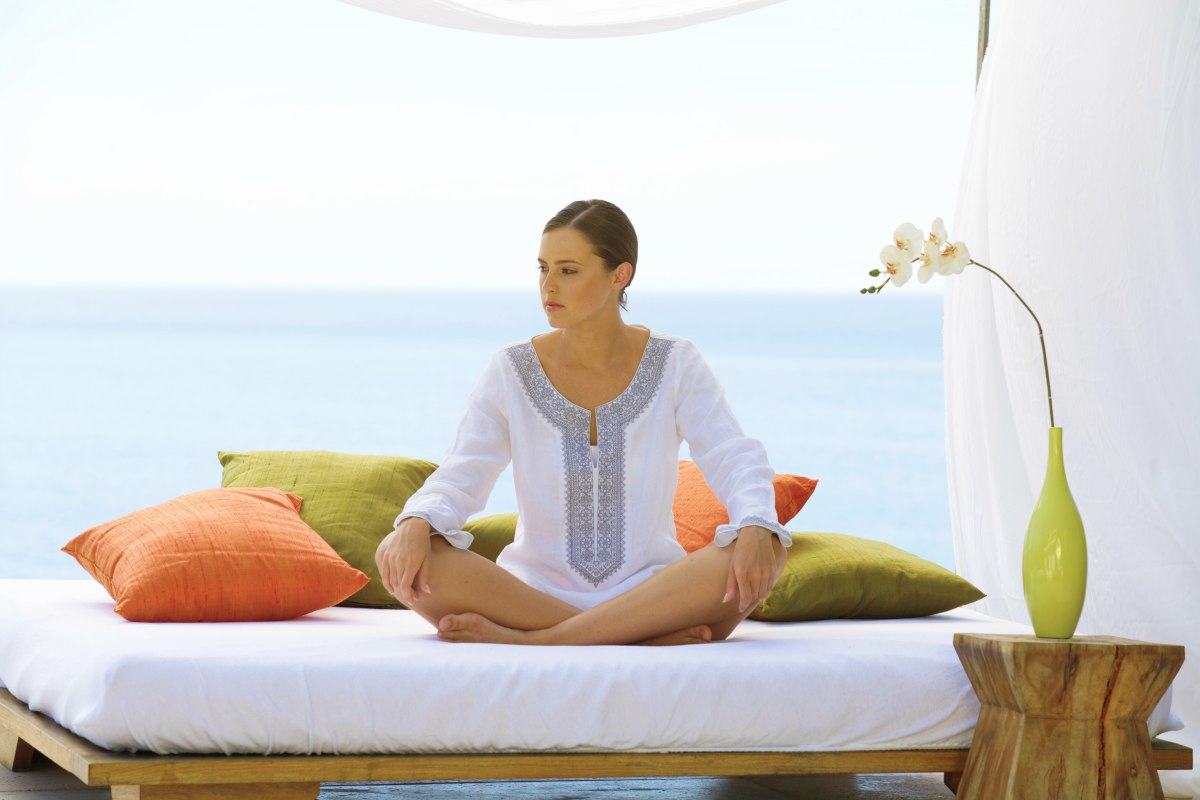 A traditional garment worn in Morocco, Africa, and the Middle East, kaftans are experiencing revived popularity as plus size cover ups. What's great about them is that you can dress them up or down, making them perfect for any casual or formal look.
This luxuriously comfortable and breezy clothing is a reliable, go-to item for special beach events because of its versatility. Pair it with accessories and a trendy beach bag, and get ready to party all night long.

It comes in many styles, patterns, and colors to fit your taste. This naturally slimming garment hides bulges, making it great on all shapes.
7. Kimono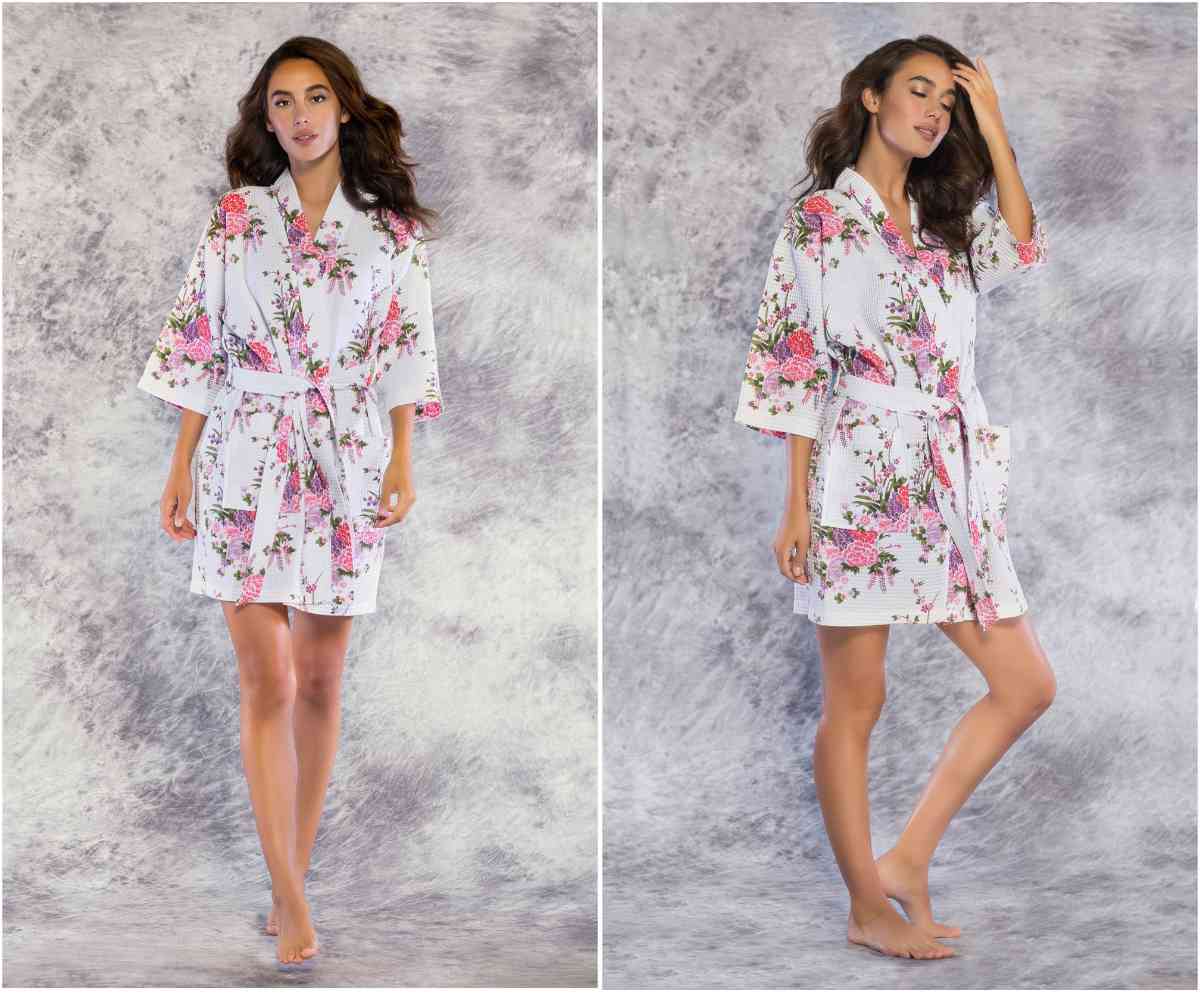 This traditional Japanese garment is fast gaining popularity as beach a cover-up. This adaptable and versatile piece is normally worn ankle length, but most beach kimonos are knee length with sleeves that reach a little below the elbows.
With an oversized, floaty design, you can easily add elements to enhance your overall beach look. For a stylish, boho vibe, pair your kimono with an oversized straw hat, jean shorts, a bikini top, pair of open-toe sandals, and cool shades.
8. Wrap Dress
The wrap dress on a breezy summer's day. #classic pic.twitter.com/DScWrt04VQ

— Jui Chaska (@GlobalmodelsJui) July 24, 2019
For an effortless resort-wear look, go for wrap dresses. These easy-to-wear garments are notoriously flattering on all body shapes and sizes, making them great beach cover ups.
If you are pear-shaped or looking to add curves, choose a piece with a V neckline to enhance your bust and slim over the hips. If you have a short torso, choose one with a plunging neckline to get that lengthening effect.
For ladies who prefer a little more coverage, a wrap dress with a knee-length hemline will do the trick. For a night out at the beach, go for a piece with a deep V neck.
9. Maxi Dress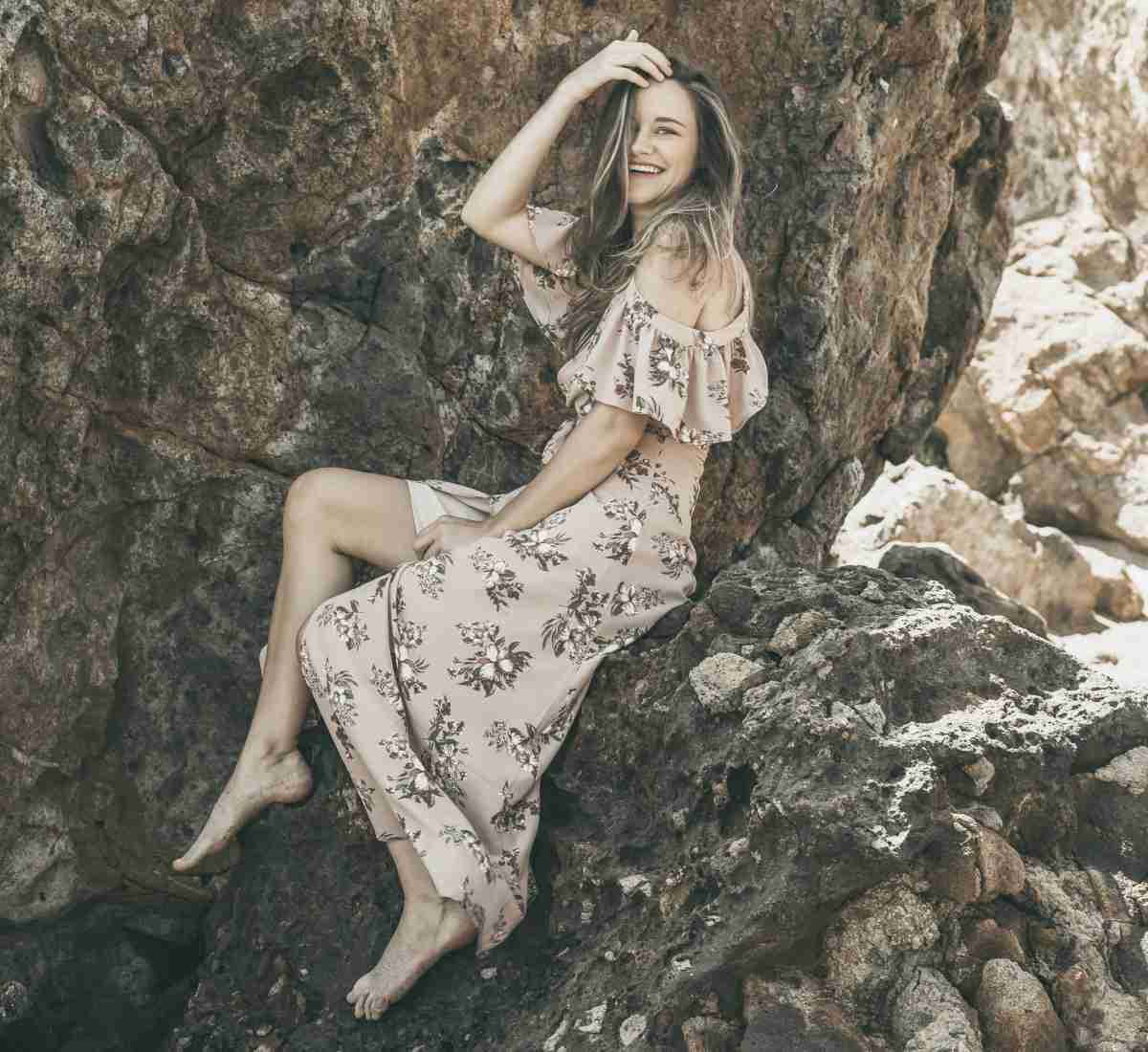 Your summer outfit isn't complete without a maxi dress. It's not just a go-to piece you can easily dress up or down, but also a stylish swimsuit cover up.
Typically form-fitting at the top and loose-fitting at the bottom, one may think it isn't ideal for every body type. But by choosing the right style and color, anyone can create a flattering silhouette that draws attention to a curvy waist.
Here's a way to wear this trend for summer: accessorize with drop earrings, colorful sunglasses, and open toe sandals. Add a headscarf or straw hat for an effortless, casual vibe.
Sometimes, a little bikini isn't exactly the most comfortable to walk or run around in at the beach. Even the most confident women still need some backup when not basking under the sun or swimming. This is where you need the best beach cover ups for your body type. They are not only trendy, but also come in a variety of styles flattering for every body type.
Do you have a favorite beach cover up? Share it with us in the comments section below.
Up Next: