Spa slippers, especially those with nonskid features, may often be a neglected spa accessory, but they can immensely improve guest experience and safety. Here are seven reasons why they're essential for your spa.
RELATED: How To Choose The Right Spa Robes For The Ultimate Luxury Experience
In this article:
Spa Slippers: 7 Reasons Why You Should Invest in Them
1. They Make a Great First Impression on Guests
Businesses should always strive to make a good first impression on guests so they'll be encouraged to return. Thus, it's important to focus on even the tiniest of details that can improve their experience.
Nonskid slippers may be one of those tiny details that could mean the difference for guests. They're one of the first things guests will encounter in the spa and also one of the last things they'll use, so it's important to give them a luxurious experience all the way.
2. Spa Slippers Can Make Guests Feel More Comfortable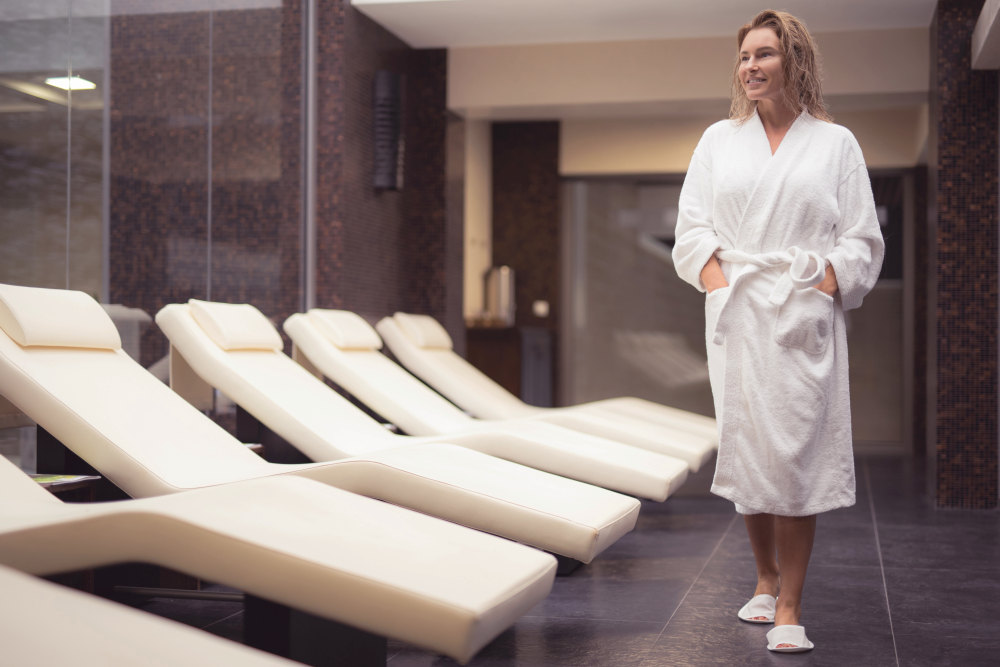 Slippers don't just have to look good, but they have to feel good, as well.
Good-quality spa slippers should keep one's feet warm and cozy before and after the treatment. It's also a plus if they're cushioned, which adds extra comfort and support to the wearer.
3. Nonslip Spa Slippers Can Ensure the Safety of Guests
Whether coming out of the shower or going to the jacuzzi, guests will always encounter wet areas in a spa. Aside from water, additional slipping hazards include oils and creams.
This is why nonskid slippers are a necessary investment for any spa.
4. Nonskid Slippers Protect Your Business From Liabilities
A practical reason for ensuring the safety of the guests is to protect your business from lawsuits and other penalties. Aside from hospital fees, you might also get sued.
Nonslip slippers are especially important if you have seniors as guests since they're more at risk of accidental slips.
5. Providing Spa Slippers Keeps Your Spa Clean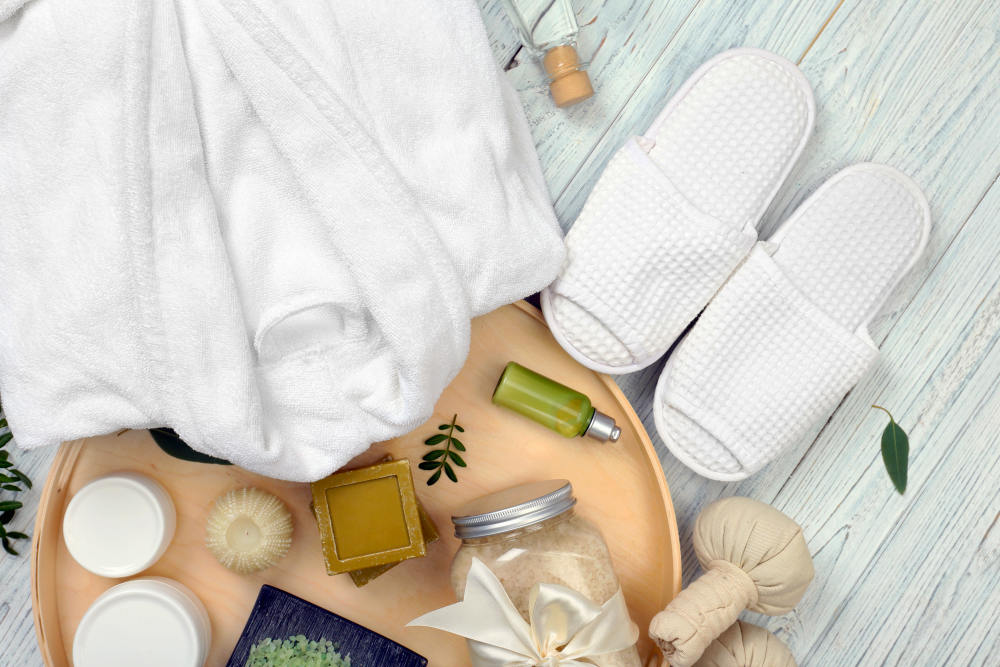 Reputable spas don't allow shoes for a reason — they're dirty and unhygienic. By providing guests with slippers from the moment they enter the shower room, it'll be easier to keep the place clean and maintain a relaxing ambiance.
6. Spa Slippers Can Add Character to the Spa
If you want to improve customer experience and brand retention, you can add subtle hints of your branding around the spa. This can mean a luxurious personalized towel, robe, or even the slippers.

You can also consider getting matching sets to achieve aesthetic consistency in the spa accessories you provide guests. For example, our waffle slippers are designed to match the waffle kimono robe.
After all, you don't want guests to confuse you with another establishment by using generic, impersonal accessories. You can stand out from the competition by investing in simple details like these.
RELATED: The Best Robe To Buy For Your Spa Or Hotel Business
7. They Can Be Used to Convey Luxury
Guests come to the spa to get away and feel pampered. Small things, such as the scent that greets them at reception to the slippers they use, should convey luxury.
After all, nobody wants to receive thin, hard slippers when it's supposed to be their day of relaxation. Remember, even the tiniest details can ruin their experience, so it's better to invest in even the smallest spa accessories.
What to Look for in Spa Slippers: 6 Things to Consider When Slipper Shopping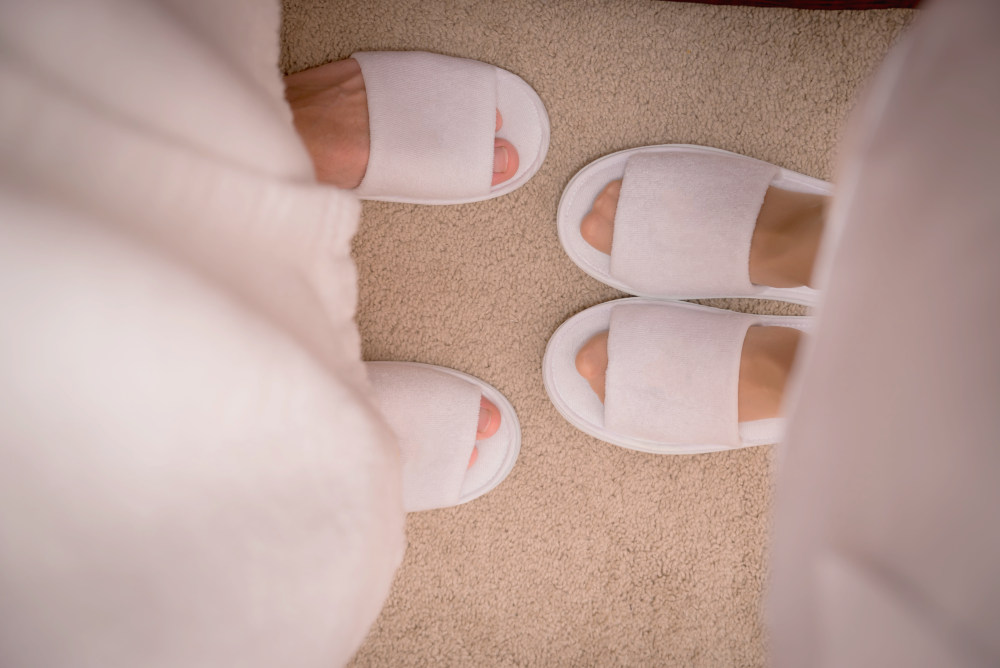 1. Affordability and Bulk Pricing
It's typical for suppliers to provide wholesale prices for spas and hotels. Before making a bulk purchase, make sure you're getting their wholesale prices since you'll be buying in bulk anyway.
2. Nonslip Features
When choosing spa slippers, some of the most important things to look for are the construction and material of the sole. For example:

All our slippers have a skid-free EVA sole to help secure footing.
Additionally, our velour slippers have quick-drying properties, which makes them ideal for wet areas, like shower rooms, hot tubs/jacuzzis, or pools.
3. Unisex Fit
It can be expensive and impractical to get custom sizes for your spa slippers. To avoid additional payments, opt to get unisex sizes.
While shoe sizes are standard, feet width isn't. Adjustable slippers offer the most flexibility in terms of foot width — they allow people with wider feet to adjust the closure for their comfort.
4. Customizability
Even subtle hits of branding around the spa can increase top-of-mind awareness for your brand. This is where personalizing spa accessories can help.
When shopping for spa slippers, it's ideal if the material and style of the slippers offer customizability for embroidering the brand name or logo. Check with your supplier before making a purchase.
5. Material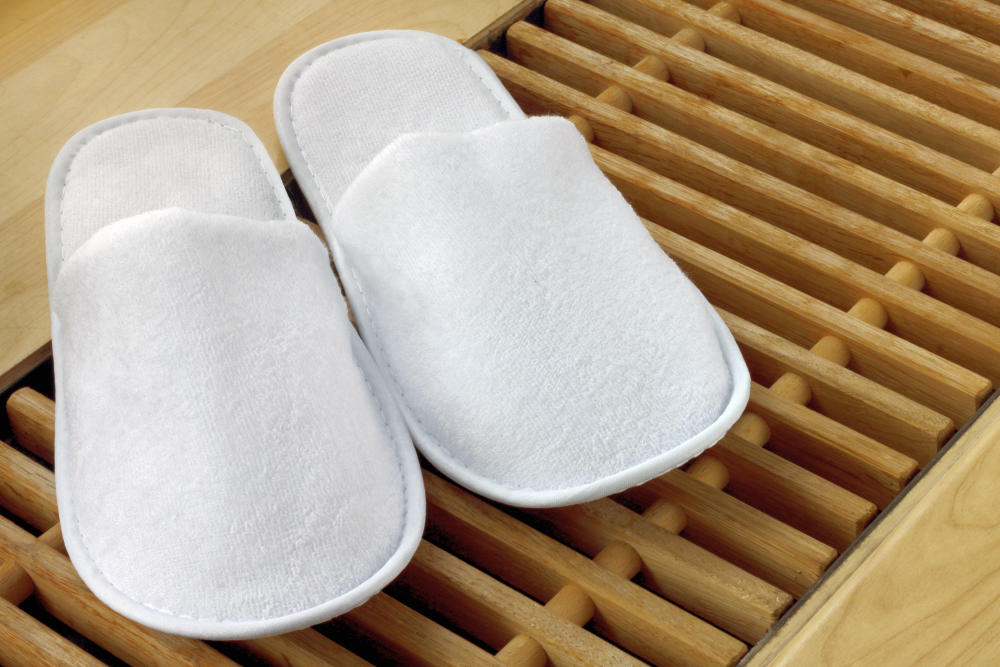 Nonslip spa slippers can be made from different materials. If the material is more expensive, this likely means that the slippers are going to be more comfortable.
Aside from that, you should also check whether the slippers are washable. If they're washable, then they might be sturdier and more practical.
6. Style
Aside from the material of the slippers, you should also consider how the style affects comfort:
Open Toe Slippers: These offer the most breathability since the toes are exposed.
Closed Toe Slippers: These offer more warmth to the feet, and are ideal when guests are lounging pre- and post-treatment.
Adjustable Slippers: These offer the most flexibility to accommodate different feet width. For example, certain guests who have wider feet may need more stretch in the toe area.
Nonskid spa slippers are an essential accessory to any spa. They can improve the experience of your customers and ensure their safety.
If you're looking to purchase nonskid spa slippers for your establishment, feel free to reach out to us. We'll be happy to answer any questions you may have.
Have you ever shopped for spa slippers before? What are some of the things you look for in nonskid spa slippers? Let us know your experiences and thoughts in the comments section below. 
Up Next: