A satin or silk robe is a staple in many bedrooms, but did you know that you could make a fashion statement with these versatile pieces outside, too?
RELATED: 15 Wardrobe Essentials That'll Make Dressing Up For Occasions Easier
In this article:
How To Turn Heads In Your Satin or Silk Robe
Click here to jump to the infographic.
1. Turn Your Satin or Silk Robe into a Coat
The easiest way to wear your satin or silk robe out is to use it as a coat! If you're tired of your current rotation of coats, make a fashion statement by trading in your regular coats for a satin robe!
The great thing about a satin or silk kimono robe is it is designed to be loose, even if you get it in your current size. This makes it a perfect coat substitute because it's really easy to layer over a full outfit!
Tip: This is best done during the warmer seasons. Satin robes are lightweight and won't provide as much warmth as a regular coat would, so adjust your outfit accordingly!
2. Use Your Robe as a Top
Another way to incorporate your satin or silk robe in your outfit to wear it as a top. There are different ways you can repurpose your robe as an elegant top:
Use pins or a brooch – strategically-placed safety pins or a brooch can keep the robe securely fastened as you go about your day.
Tuck it in – tuck in the lower part of the robe into your pants or skirt.
Tie it up – gather the excess robe around your waist and tie it into an elegant knot.
Tip: This works really well if you're using a short silk kimono robe.
3. Wear Your Satin or Silk Robe like a Dress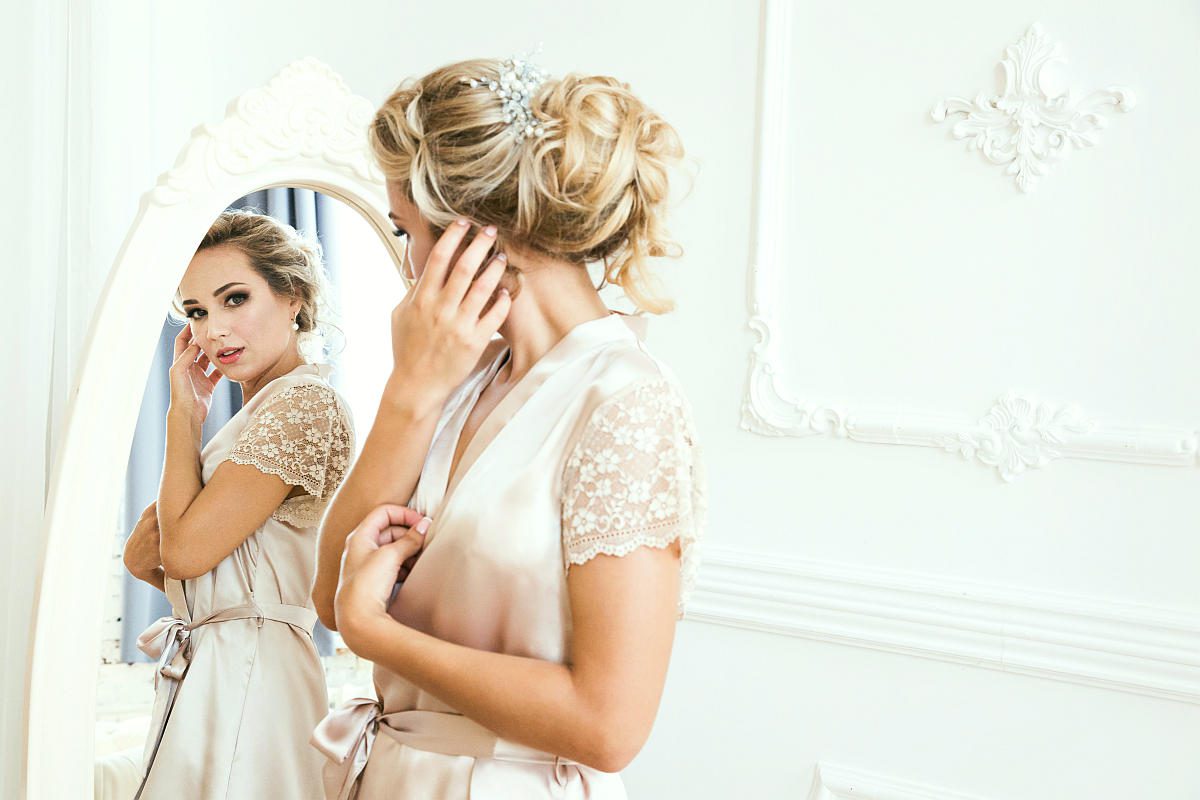 Who doesn't love the buttery feel of a satin robe? Wouldn't it be great if you take that feeling out with you all day long?
Well, you can! Another easy way to wear your robe out is to simply use it as a dress.
Even the shorter, knee-length robes can transform into a comfortable dress. If you're worried about it being too sheer, you can wear a thin slip dress underneath your robe.
When wearing your satin or silk robe dress, it's very important to accessorize! Otherwise, it may look like you've just rolled out of bed.
Trade in your robe's self-tie wrap belt with a leather or studded belt. You'll be amazed at how a simple accessory can drastically change a look!
Don't forget your shoes! Pick a nice pair of heels or boots to go with your robe dress.
Tip: Don't be afraid to experiment with your accessories! Instead of wearing one belt, you can try layering two or three thin belts at the same time.
RELATED: Style Stories: Summer To Fall Transition
4. Dress Up a Casual Look with Your Robe
Everyone has a favorite pair of jeans. The right pair of jeans makes you feel comfortable and confident at the same time.

Unfortunately, jeans are usually seen as casual wear and are deemed inappropriate for certain events. A satin or silk robe is the perfect way to dress up your casual jeans and t-shirt outfit.
Pick out your favorite pair of jeans and a plain, well-fitted top. Throw your satin robe on top of it and you're ready to go!
The effortless elegant satin robe perfectly juxtaposes the casual comfort of denim and cotton. Complete this look by carrying a nice purse and wearing a sleek pair of heels.
5. Throw on a Robe for the Perfect Boho-chic Outfit
What is boho-chic? It's a fashion style that draws its inspiration from hippie influences. Boho-chic outfits often involve layering, free-flowing fabric, and ethnic accessories.
If you're looking for the perfect Boho-chic outfit, you may already have everything you need in your closet! All you need to achieve this look are:
Shorts
Plain tank top
Silk or satin robe
Sandals
Shorts and a tank top are staples in anyone's closet, but you'll see an instant transformation once you put on that robe. Try to choose an earth-tone colored robe to truly capture that bohemian spirit!
Tip: Complete the boho-chic look with the proper accessories! Use a crochet or rattan bag, throw on some bangles, or layer on a couple of different-length necklaces.
6. Use Your Robe to Achieve an Office Chic Style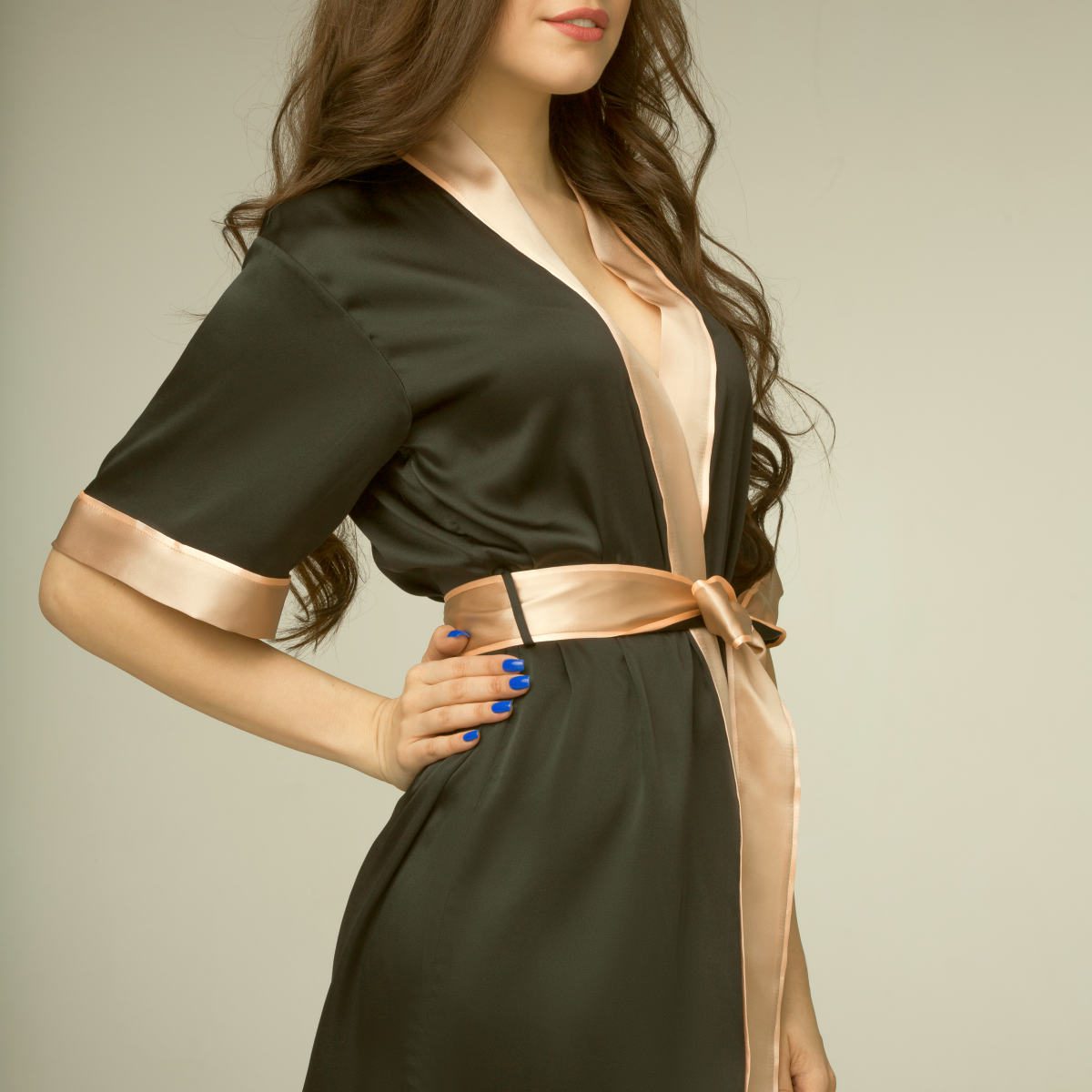 Who knew you could wear a robe to work and still look great? The trick to wearing your robe at work is to choose the right color.
You don't want to wear something that's too loud or will draw too much attention to yourself. Instead, choose a muted color that works with your usual work outfit.
You can wear your robe like a cardigan over your outfit. This works best when your outfit is form-fitting, because it contrasts the flowy fabric of the robe.

You can also pair a short satin robe with a pencil-cut skirt. Tuck the robe into the skirt and it'll look like you're wearing a silk blouse!
Satin or silk robes are so versatile! Integrating a robe into your work outfit is perfect for days when you need your outfit to transition easily from work to a fun night out.
7. Go Full on Formal with Your Satin or Silk Robe
In Japan, kimonos are worn during important festivals and formal occasions. So, you can totally use your satin or silk kimono robe as formal wear!
There are a few ways you can get away with using your robe to black tie events. The easiest way is to use it as a wrap with your formal dress.
You can also pair a short kimono satin robe with a full ball skirt or pleated skirt. Tuck it in or let it rest on top of the skirt.
If you don't tuck in the robe, use a belt to create a visual anchor. That way, it doesn't seem too loose and it'll give you a more cohesive look.
Tip: Go all out on your accessories, hair, and make-up to complete your formal look. Bring out the diamonds, pearls, curling iron, and lipstick!
Don't forget to download, save, or share this handy infographic for reference: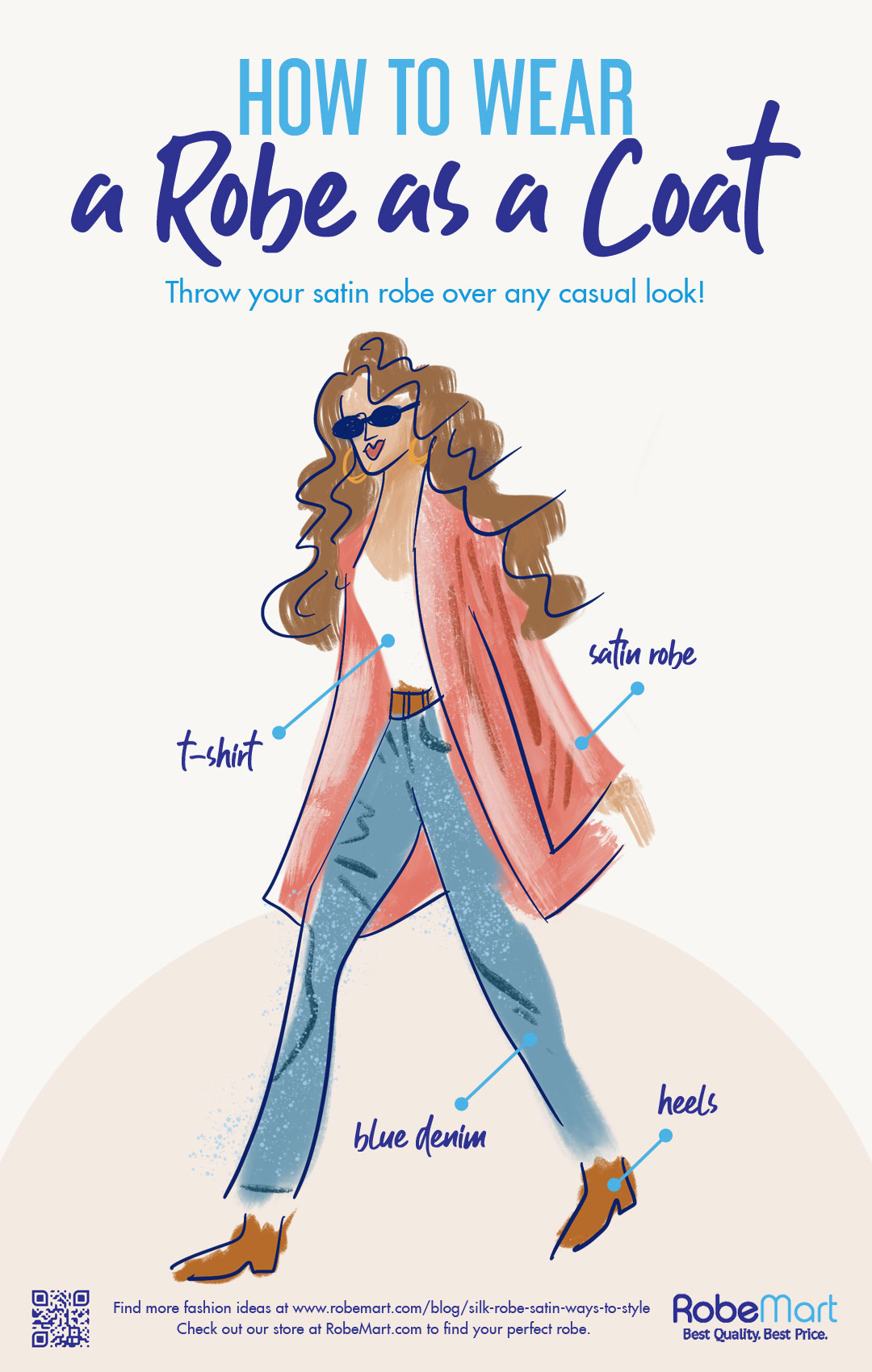 Are you ready to turn those robes into an eye-catching fashion statement? Watch this video below to find out how!
Now that you know you can do so much with a satin or silk robe, don't limit its use to your bedroom! There are so many fashionable ways to add a satin robe into your everyday outfits.
So, have fun with it and experiment! If you don't have a satin robe yet, you can order one right now!
Have you ever tried using your satin robe outside of your home? How did you integrate it into your outfit? Let us know in the comments section.
Up Next: