Show your bride squad some love with these fun bachelorette party favors! Keep reading to find out more.
RELATED: Bachelorette Party Ideas for a Weekend of Wellness [INFOGRAPHIC]
In this article:
9 Bachelorette Party Favors Your Bride Squad Will Love
1. Nail Polish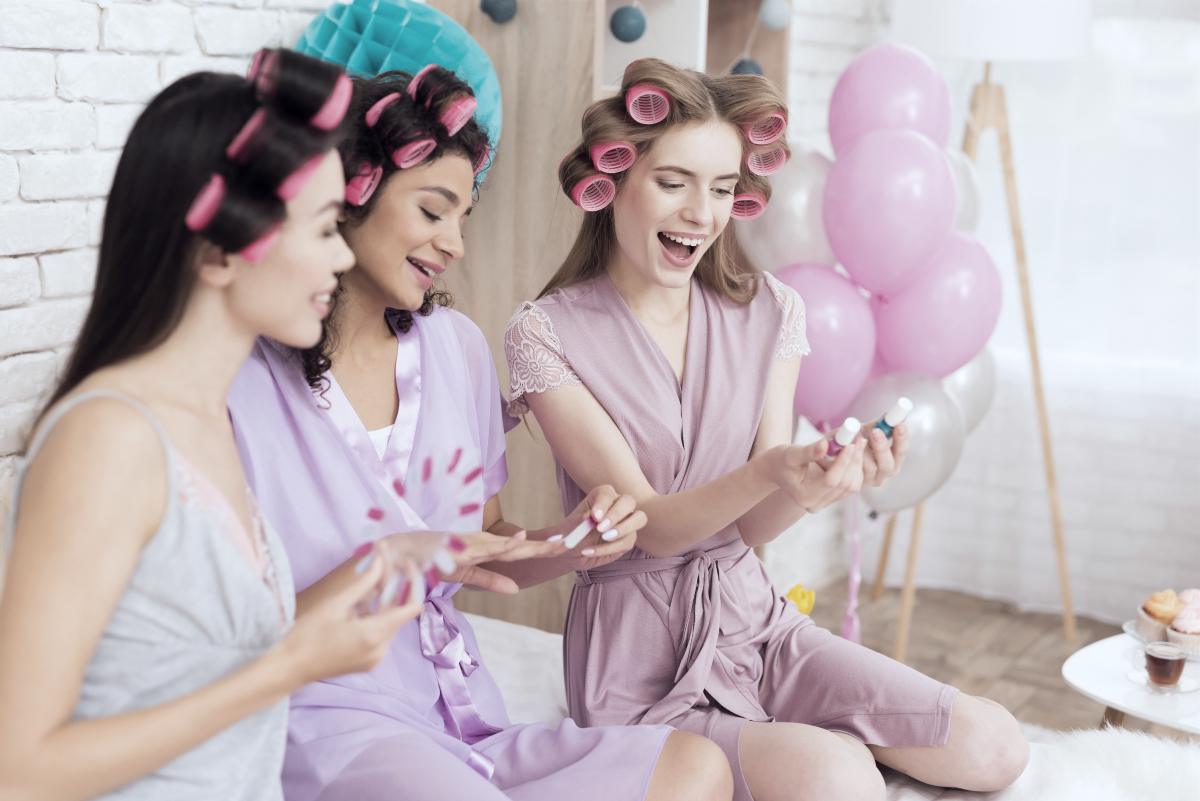 Nail polish is a great bachelorette party favor. It works for spa-themed parties because your bride squad can use them right away for their manis and pedis.
Even if you're not throwing a spa-themed party, it's still one of the best party favor ideas. You can choose a color that matches your wedding theme so that your squad can sport matching manicures on your big day.
Just imagine how cute that'll look in the photos!
Tip: You can make the packaging extra cute by adding a funny card or tag. For example, you can use twine to attach mini cards that say "Mani Thanks" or "Here's to a lifetime of getting NAILED."
2. Matching Sunnies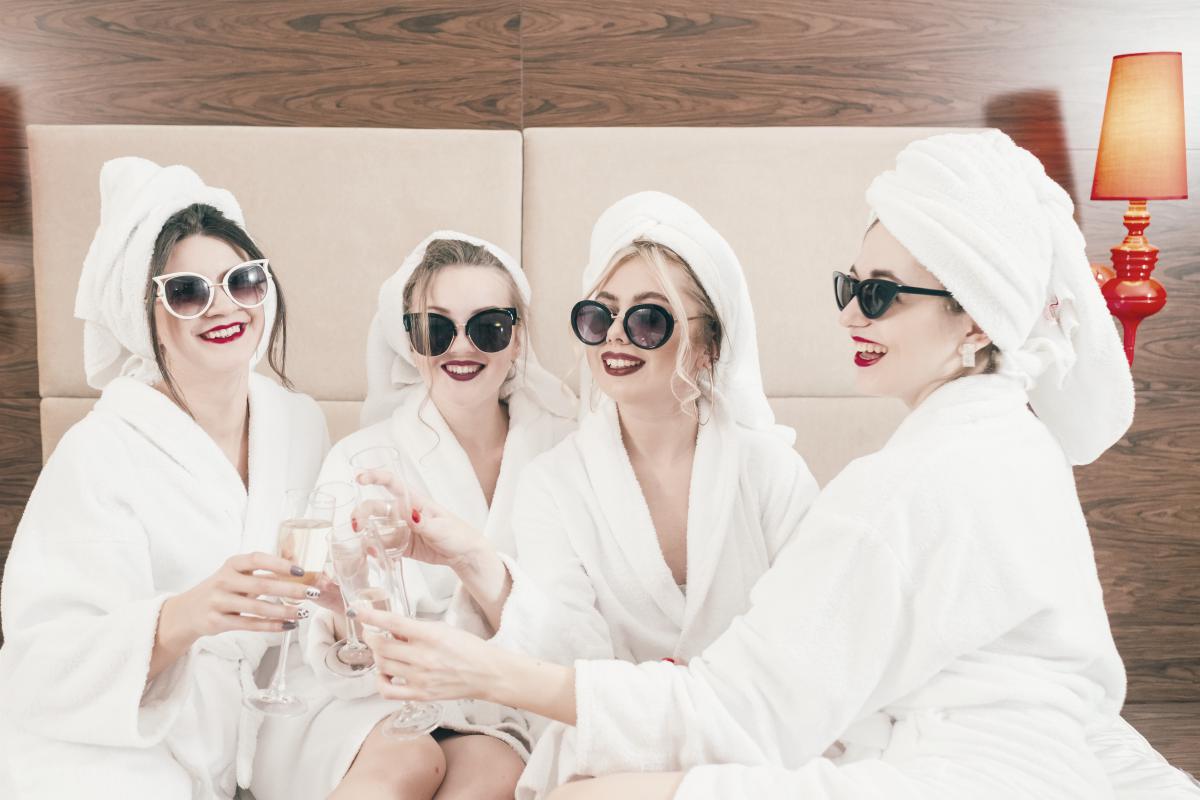 Matching sunglasses are great party favors and supplies, especially for destination bachelorette parties. They are a more subtle option compared to matching t-shirts and sashes, but they can still make your group look cohesive in photos, even if you're wearing different outfits.
They'll also come in handy after the party and celebration—sunnies are a great way to hide the hangovers!
If you're having an outdoor wedding, choose a color for the frames that complements your bride squad's wedding attire. That way, they'll be able to re-use it during the festivities on your big day!
Tip: Choose one color for your bride squad and make sure to get one pair in another color (like white) just for yourself—you are the bride after all!
3. Hangover Kit
How did I become one of those girls who's bf makes her a hangover kit😥 lucky gal @campbell_rory1 pic.twitter.com/kgDvb4pDRt

— emsss (@emilybannonxo) July 30, 2019
If you want your bride squad to let loose and enjoy the party, then a hangover kit is the perfect party favor for your besties! Here's what you usually find in a hangover survival kit:
a bottle of water
mints
travel-sized mouth wash
travel-sized eyedrops
a couple of over-the-counter headache medication, such as Tylenol or Advil
makeup remover wipes
granola bars
bandaids
lip balm
hand sanitizer
facial mist
All of these items will help your bride squad freshen up, re-hydrate, and recuperate from a wild night of fun. Place the hangover kits in personalized tote bags to make them extra special.
Tip: You can personalize the bags with fun quips like "Hangovers only last a day, memories last forever," "Love is the best medicine, but this might help too," or "I regret nothing."
4. Personalized Luggage Tags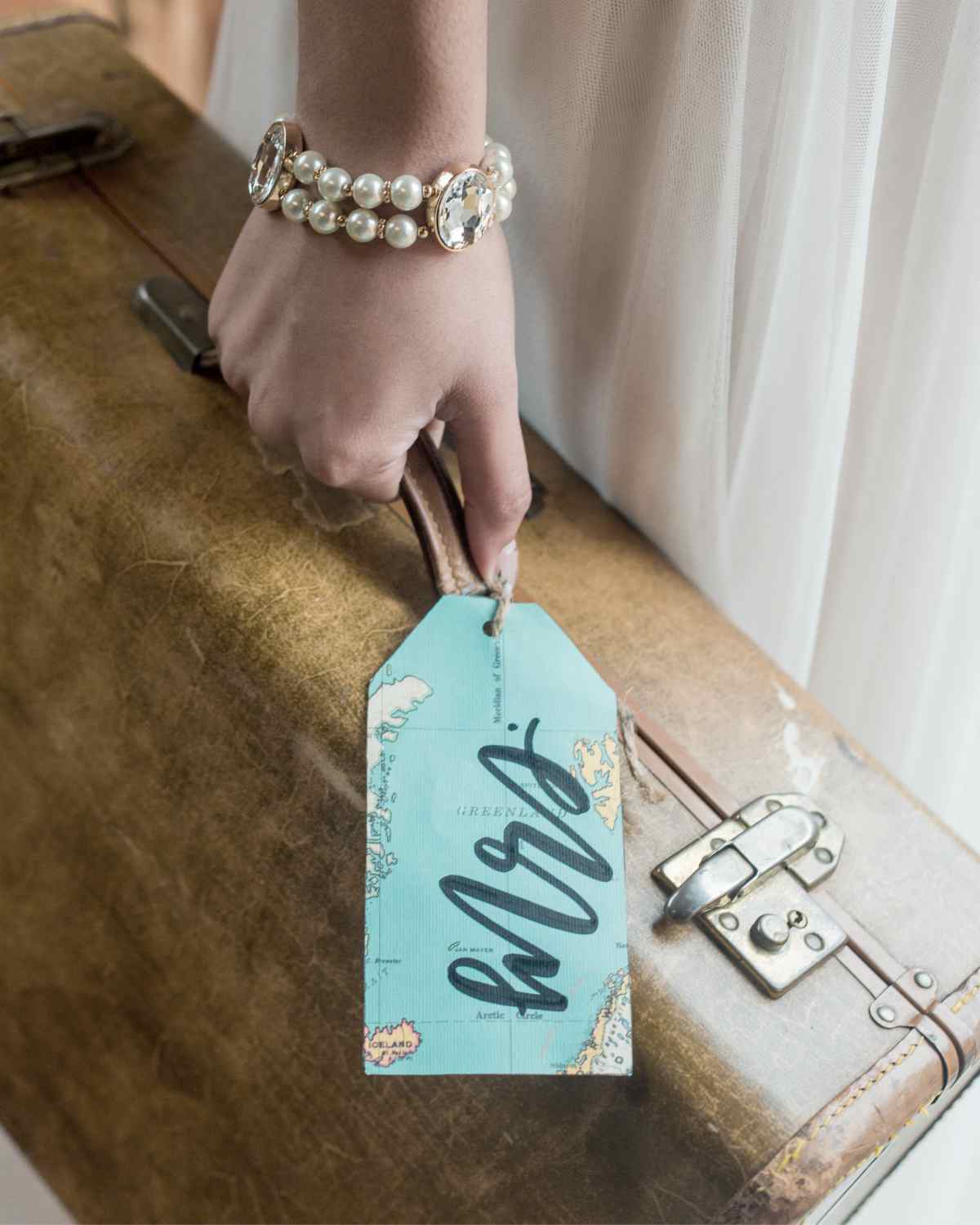 Wedding planning can be stressful! That's why so many brides and their squads opt for a destination bachelorette party—it's a great way to unwind, relax, and spend time with your favorite girlfriends.
A great giveaway for destination bachelorette parties is personalized luggage tags. You can personalize them with their names or their roles in the wedding party.
Tip: Personalized luggage tags are also great DIY personalized bachelorette party favors. You can easily make your own luggage tags with some basic Photoshop skills, some ribbon or paracord, cardboard paper, a laminator, and a printer.
5. Personalized Robes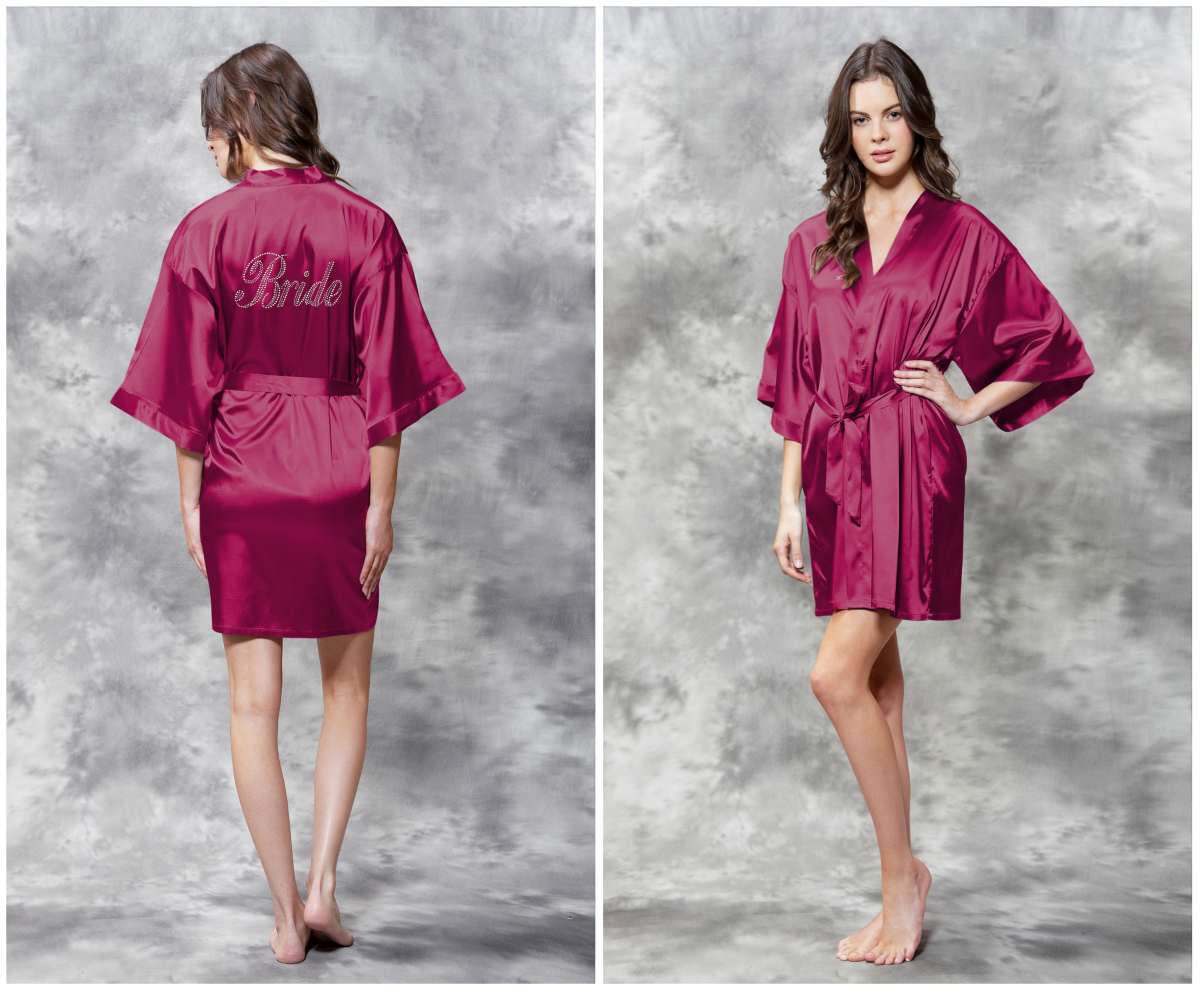 Giving away robes as party favors is the ultimate way to spoil your bride squad! If you're throwing a spa-themed bridal shower, then the kimono waffle robe is the perfect companion for a day of pampering.
RobeMart's kimono waffle robes are customizable, so you can have the words bride squad, their names, or wedding roles embroidered on the robes. You're sure to find the perfect robe for your closest friends because RobeMart offers a variety of styles, colors, sizes, and lengths.
Apart from kimono waffle robes, short satin robes are also great party favors for your besties. This is a great gift to give your girlfriends, especially if you're going to get ready together on the big day. They'll surely pop in the pictures!
That way, everyone will have something elegant to wear while they're prettying themselves up. If you want to make these bride squad robes extra special, you may want to consider RobeMart's rhinestone bridal robes!
These extra luxurious robes are made of satin with the words bride, bridesmaid, maid/matron of honor, or mother of the bride/groom written out in rhinestones. Both the robe and rhinestones come in a variety of colors, so it'll be easy to match them to your wedding theme.
Tip: Don't forget to get your bride squad's sizes before you place your order. A well-fitting robe will make them feel more comfortable.
RELATED: 7 Fun Bridal Shower Ideas The Bride Will Surely Love

6. Personalized Sleep Masks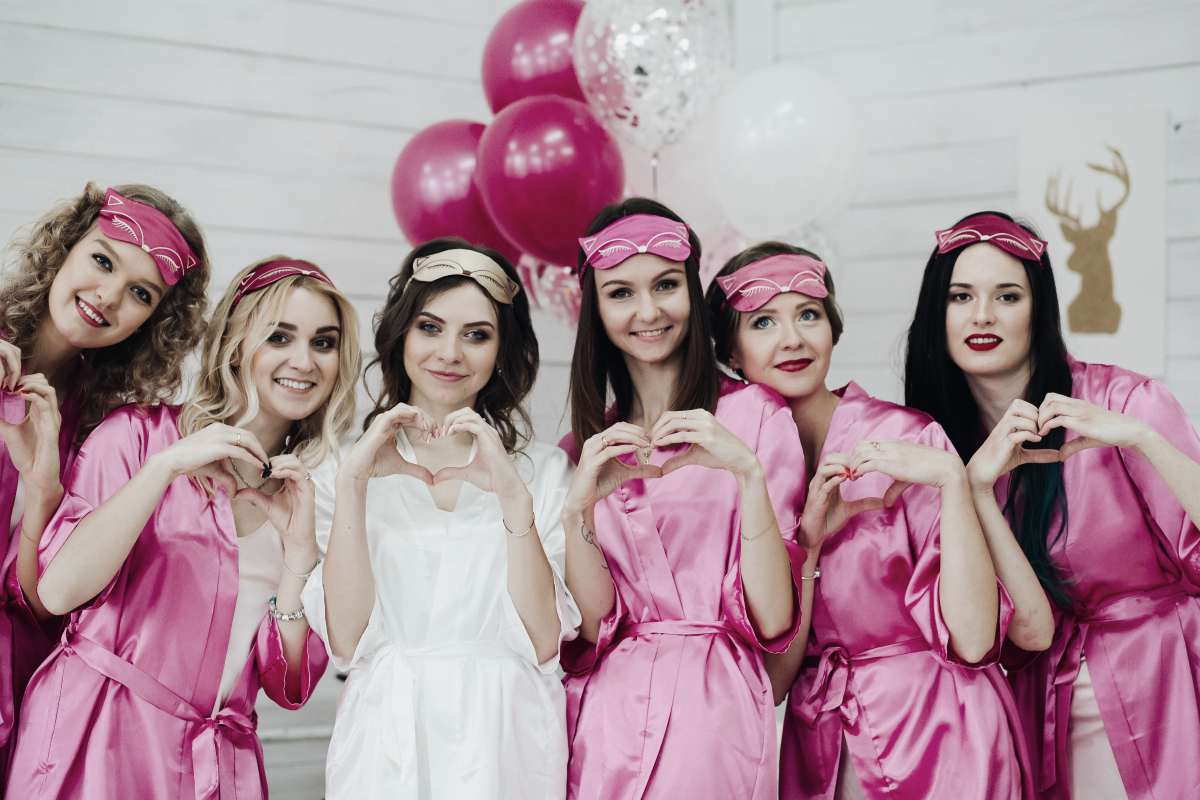 Encourage your bridal squad to get their beauty sleep with personalized sleep masks! After all, don't you want your squad to look their best on your big day?
There are budget-friendly and ready-made bachelorette party-themed sleep masks that you can easily get online. You can also opt for personalized ones where you can choose the colors and text.
Tip: If you really want to make sure your bride squad gets the sleep they deserve, add a set of bamboo lace pajamas. Once your girlfriends put on the sleep masks and luxurious pajamas, they'll be asleep in no time!
7. Makeup Kit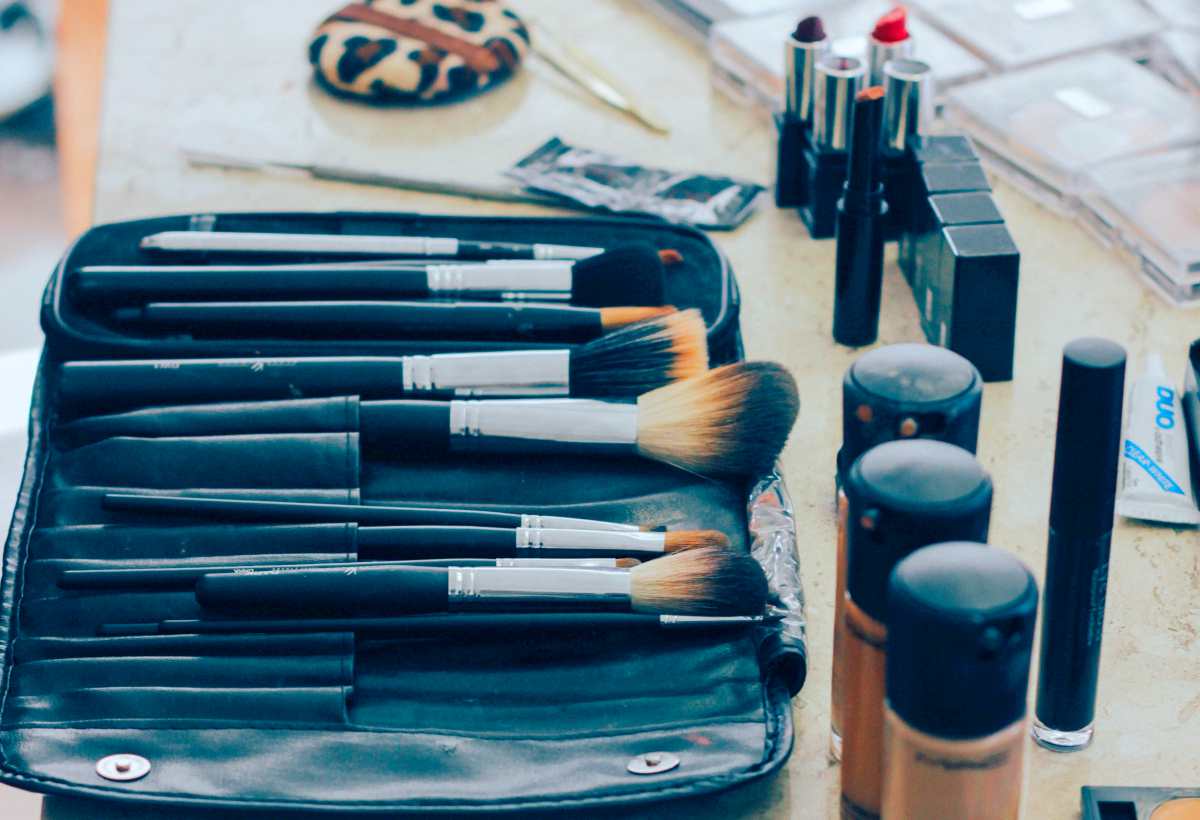 Help your squad prepare for your big day by gifting them with a few makeup items and other essentials. Choose a makeup bag and fill it up with the following items:
nude lipstick
mascara
neutral eyeshadow palette
sewing kit
compact mirror
a small bottle of clear nail polish
blotting sheets
bobby pins
stain remover pen
mini lint roller
These emergency kits aren't only useful during the wedding. Your squad will be glad to have them in a pinch!
8. Hair Ties
Does your bride squad have medium to long length locks? If they do, they'll love this party favor!
No matter how many hair ties you own, you always find yourself looking for one at the most inconvenient times. That's why everyone loves a good hair tie—they're so useful!
They can also be really cute if you choose the right ones! If you're on a budget and you're looking for cheap bachelorette party favors, you can buy a large set of hair ties and make the packaging yourself!
Tip: You can print out little cards with cute phrases like "To have and to hold…your hair back" or "Will you help me tie the knot?"
9. Fanny Packs
Fanny packs are making a comeback, so you'll totally be on trend if you gift your squad with personalized fanny packs. These retro bags may look a little silly, but no one can deny how useful they are.
All you have to do is strap them on and voila—you won't have to worry about losing your personal belongings! This is perfect for a night of partying.
There are different ways to personalize your fanny packs. You can have a dark-colored fanny pack with the word "SQUAD" printed on it for your guests and have a white one with the word "BRIDE" on it for yourself.
Tip: You can also fill up the fanny pack with a few party essentials you think your girls might enjoy. On the other hand, you can turn it into a gag gift by throwing in hand towels, washcloths, or robes with funny statements.
Cool Bachelorette Party Ideas
Even if you have the coolest bachelorette party favors, they won't mean much unless the actual party is a hit. Now, if you're having your friends plan the bachelorette party, you can make it easier for them if you give them a vague idea of what you want to happen.

Some cool bachelorette party ideas you can try are:
1. Cross-Country Wine Tasting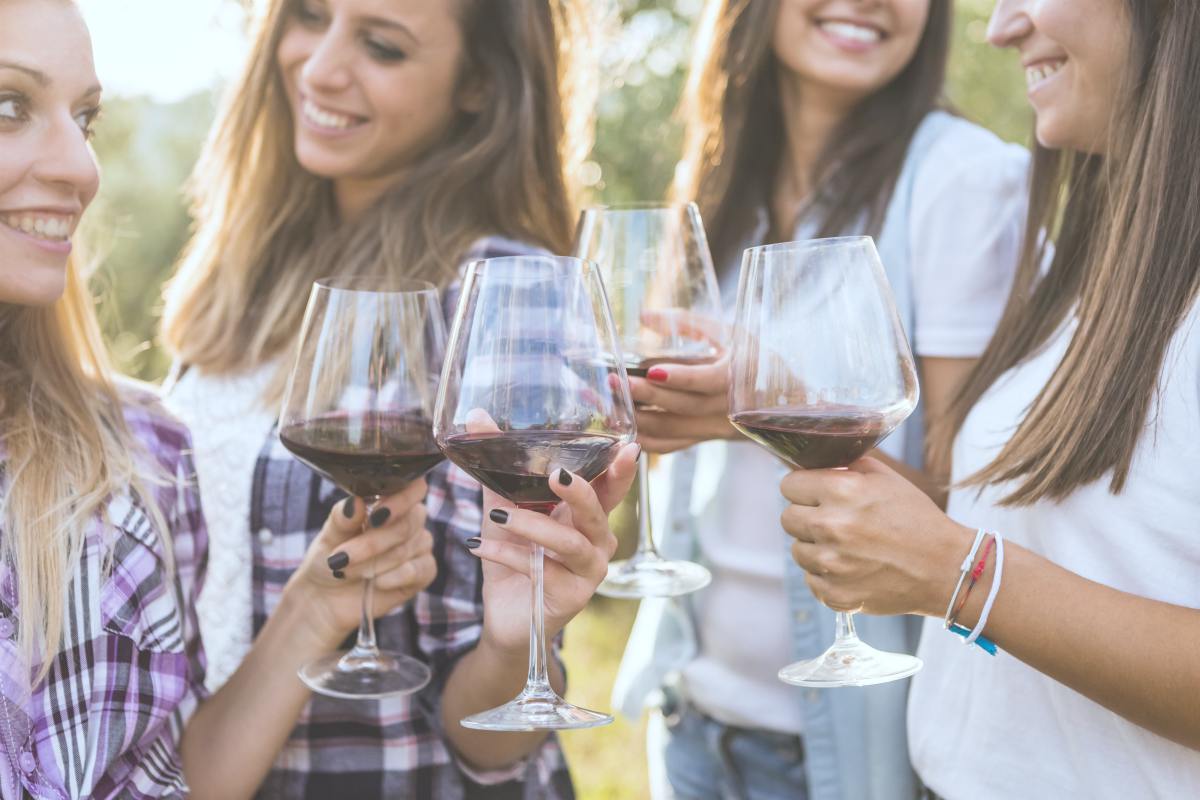 Get to see beautiful sceneries while indulging in sweet, aromatic wine! Tell your bride squad you want to go wine tasting so they can do their research on where the best destinations are.
Some essentials for this trip are comfortable transportation, high-class lodging, and of course, top-notch wineries!
Tip: If you already have a destination in mind, feel free to share it with your girlfriends. That way, they won't waste time trying to figure out which wineries you'd be happiest to visit.
2. All-Night Clubbing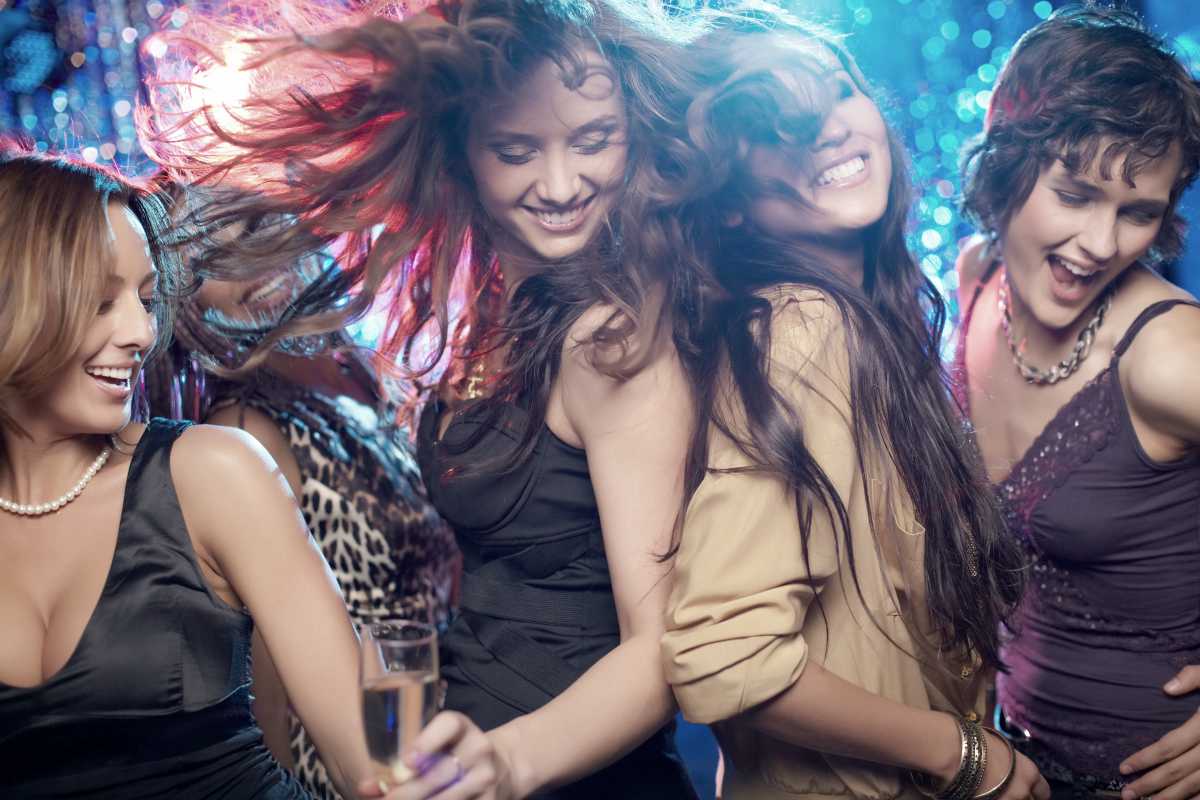 Want to do something on your bachelorette party that you won't do much of once you're married? Then opt for an all-night clubbing event!
Look for the hottest clubs in town and have the girls book a table in advance. If they can get a place that's exclusive to big names and celebrities, then that'd be great!
3. Spa Day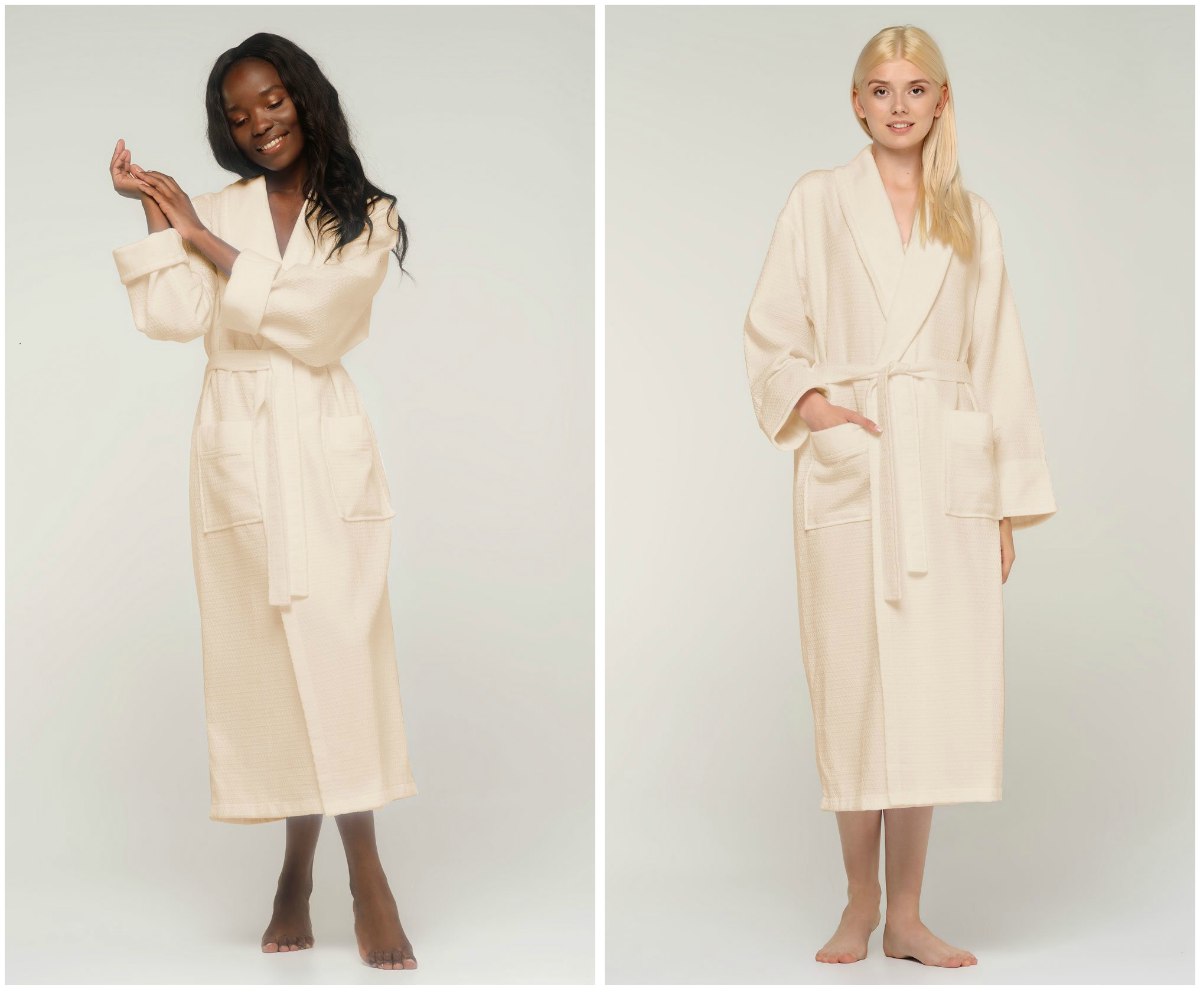 If partying and clubbing aren't your thing, then opt for a relaxing all-day spa treatment sesh with the girlfriends! Wear super comfy spa robes, coat your face in relaxing masks, and have experts massage your body's aches and pains away.
To make the party more exciting, make it a destination trip. Have your girlfriends look for the best out-of-town spas and resorts with scenic views and great services.
4. Beach Trip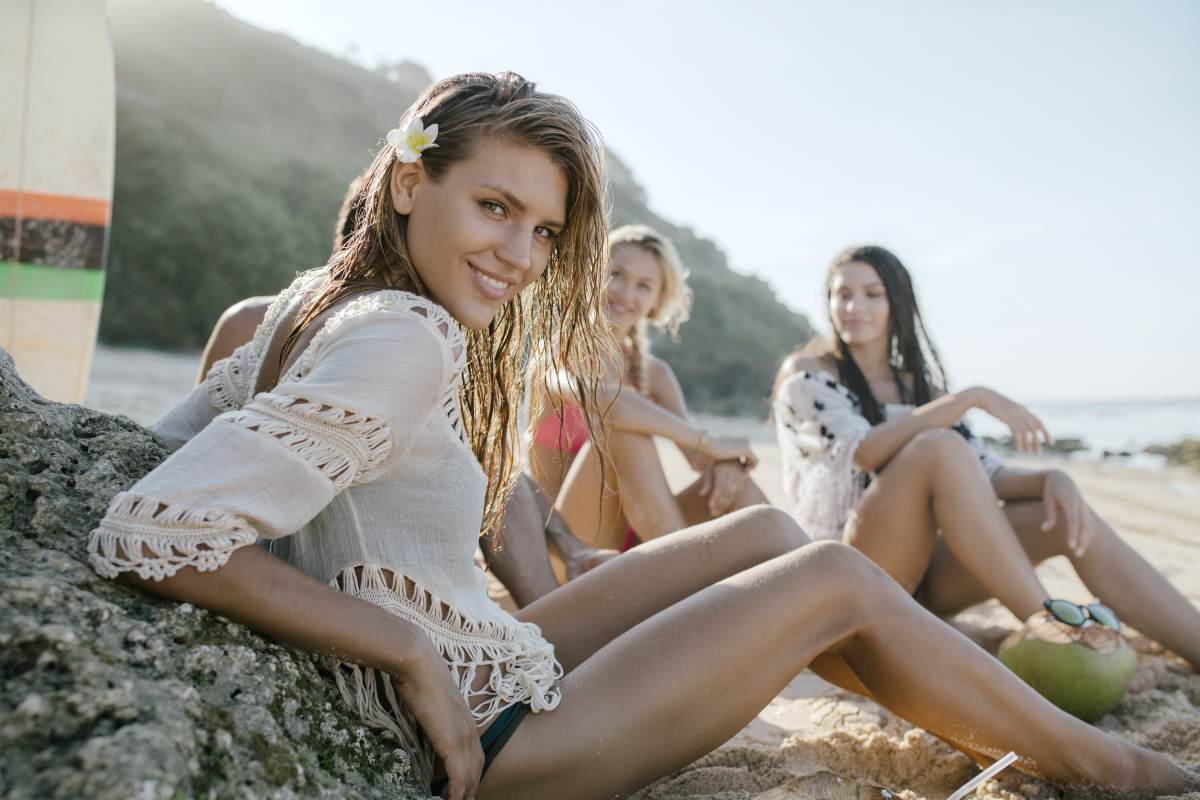 Rent a beach house in the countryside where you can all relax and just get away from the hustle and bustle of the city.
There, you and the bride squad can do various beach bachelorette party activities such as hiking, cycling, swimming, and even trekking, if there's a nearby trail around. Similarly, you can also opt for a more relaxed, laid-back vibe and just lounge around the entire time.
5. Book an Evening Cruise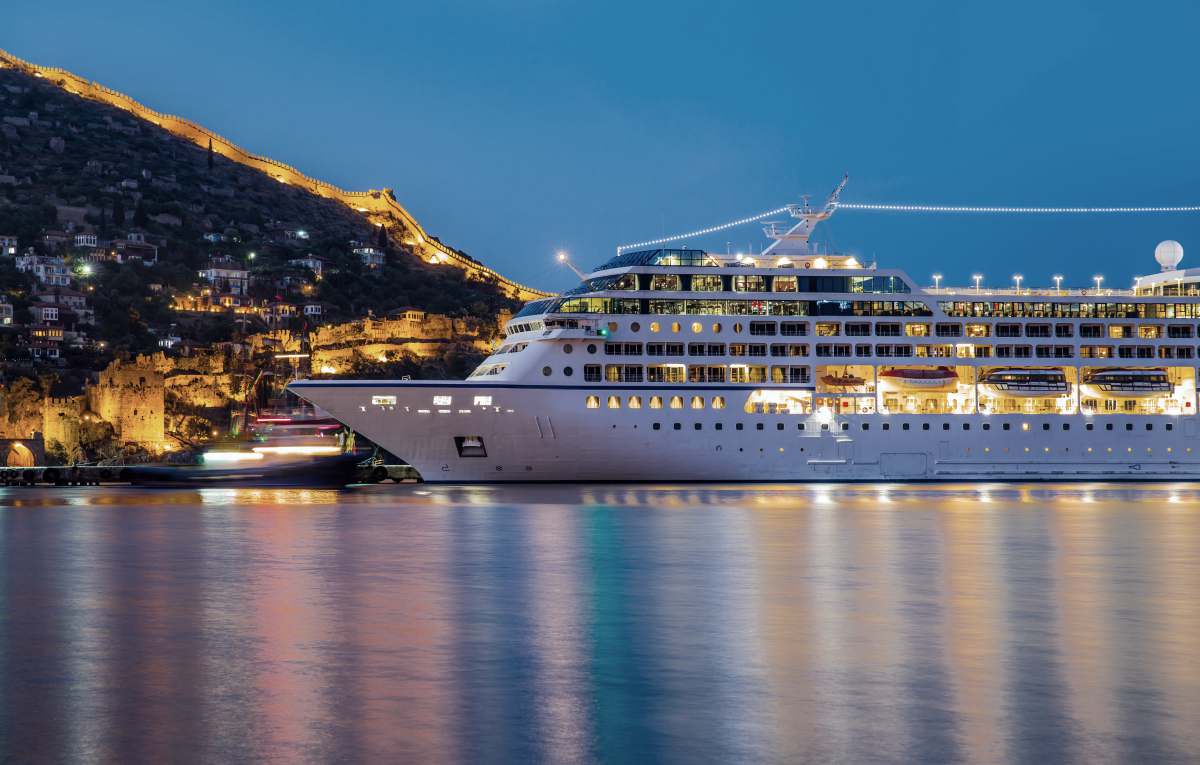 There are plenty of evening cruises around the country. They offer a wide array of food and drink selections, entertainment sections, and fun activities for the guests to try.
This is ideal for women who find the idea of having to throw a personalized bash too tiring. All your girlfriends will have to do is book a good cruise and then let the staff do the rest of the work.
6. Go Camping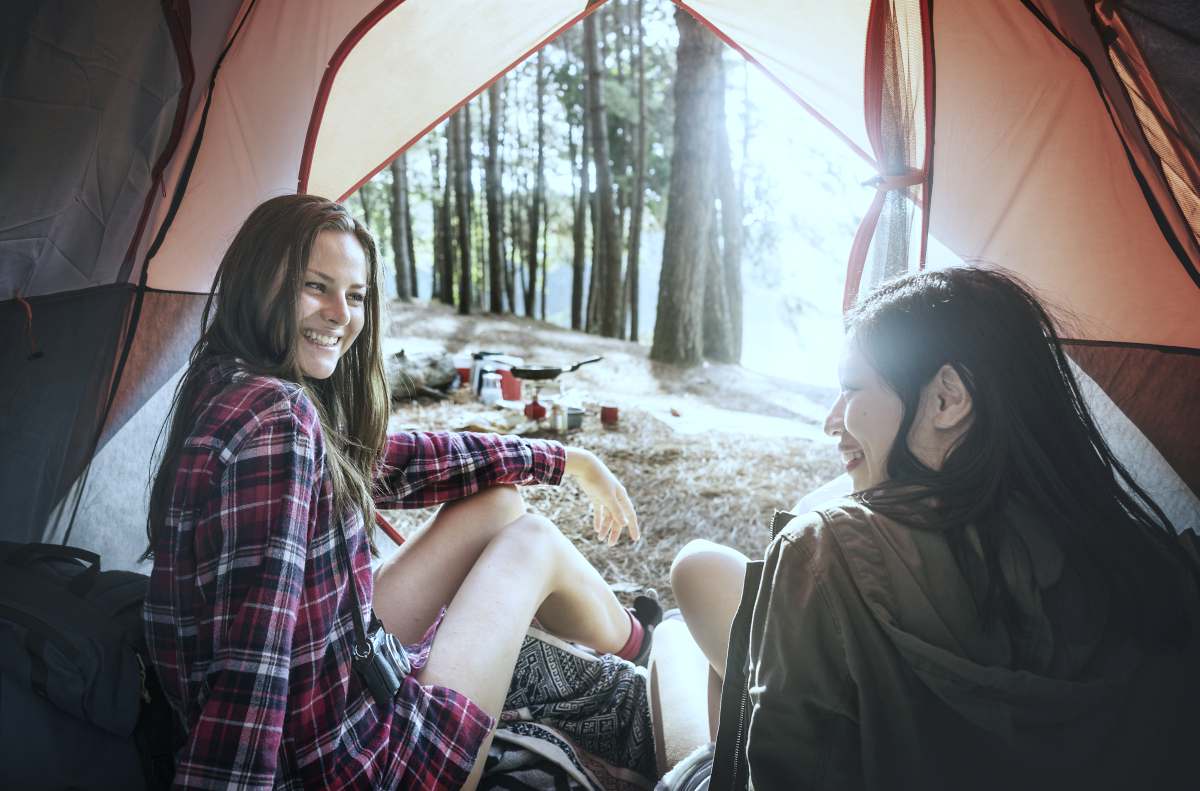 Looking for something unique to do before you start your married life? Then why not go camping with your girlfriends!
Choose a nearby trail or mountain, bring the necessary camping essentials, rent a truck or SUV, and then head off into the wild.
For this to work though, everyone has to enjoy these kinds of outdoor activities. Once you're out in the mountains, there's no quick way to back out and change the party's itinerary.
No matter how stressful wedding planning can become, try and carve out some time with your best girlfriends before you tie the knot. It's a great opportunity to bond and celebrate your friendship.
A fun party favor is a wonderful way to express your love and gratitude. So go ahead and pick a few items off of this list of party gifts and shower your squad with some love!
Is your squad throwing you a bachelorette party? What party favors do you have in mind for them? Let us know in the comments section below.
Up Next:
Editor's Note: This post was originally published on August 12, 2019, and has been updated for quality and relevancy.