Create wonderful memories with your friends and family by throwing a cool pajama party!
RELATED: Bachelorette Party Ideas for a Weekend of Wellness [INFOGRAPHIC]
6 Steps To Throw The Most Epic Pajama Party Ever
In this article:
Step 1: Make a Guest List
The first thing you need to do is decide on your guest list. It's important to start with the guest list because it will inform all of the other decisions you need to make about your party.
Are you thinking of throwing a pajama party with your favorite girlfriends? Or maybe you want to throw a family-friendly pajama party where kids and husbands are welcome to come.
If you or your girlfriends have kids, a family-friendly pajama party may make it easier for everyone to attend. That way, no one needs to make childcare arrangements to join in on all the fun!
Whichever type of party you decide on, make a list of all the people you want to invite. This will give you an approximation of how many people you need to prepare arrangements for.
If you're thinking of throwing a family-friendly party, it might be helpful to jot down how many adults and how many kids you're expecting. This will make planning a lot easier!
Step 2: Choose a Date and Make Invitations
Once you know who to invite, it's time to settle on a date! It's best to pick a date that's convenient for you and your guests.
A pajama party doesn't necessarily have to be a sleepover. If it is though, make sure you take that into consideration when you're choosing the date of your party.
Once you've settled on the date and the duration of the party, it's time to make your invitations. Here are some important details that you'll need on your invite:
Date – add the day of the week when you indicate the date to avoid confusion.
Time – indicate when the party will begin and when it's expected to end.
Venue – add your complete address, nearby landmarks, and a map.
Theme – include the party's theme in the invite so your guests will know what to expect.
Attire – inform your guests of what you expect them to wear to your pajama party.
Things to bring – include a list of things that they'll need to bring for the party. This is especially important if it's an overnight party.
RSVP information – provide your guest a means to respond to your invite. It may also be helpful if you give a deadline for their response.
Once you have these details in order, you're ready to create your invitation! You can choose from a variety of invitation options, including:
ready-made cards
electronic invitations
DIY invitations
professional, custom-made invitations
After making your invitations, send them out to your guests! Try to send your invitation 3-4 weeks ahead to time to give your guests time to schedule in your party and respond to your invitation.
Tip: Instead of printing out your invitations, you can make the most out of your budget by choosing free electronic invitation services that are widely available online. You can even choose an online service that will track RSVPs for you too!
Step 3: Make a List of Activities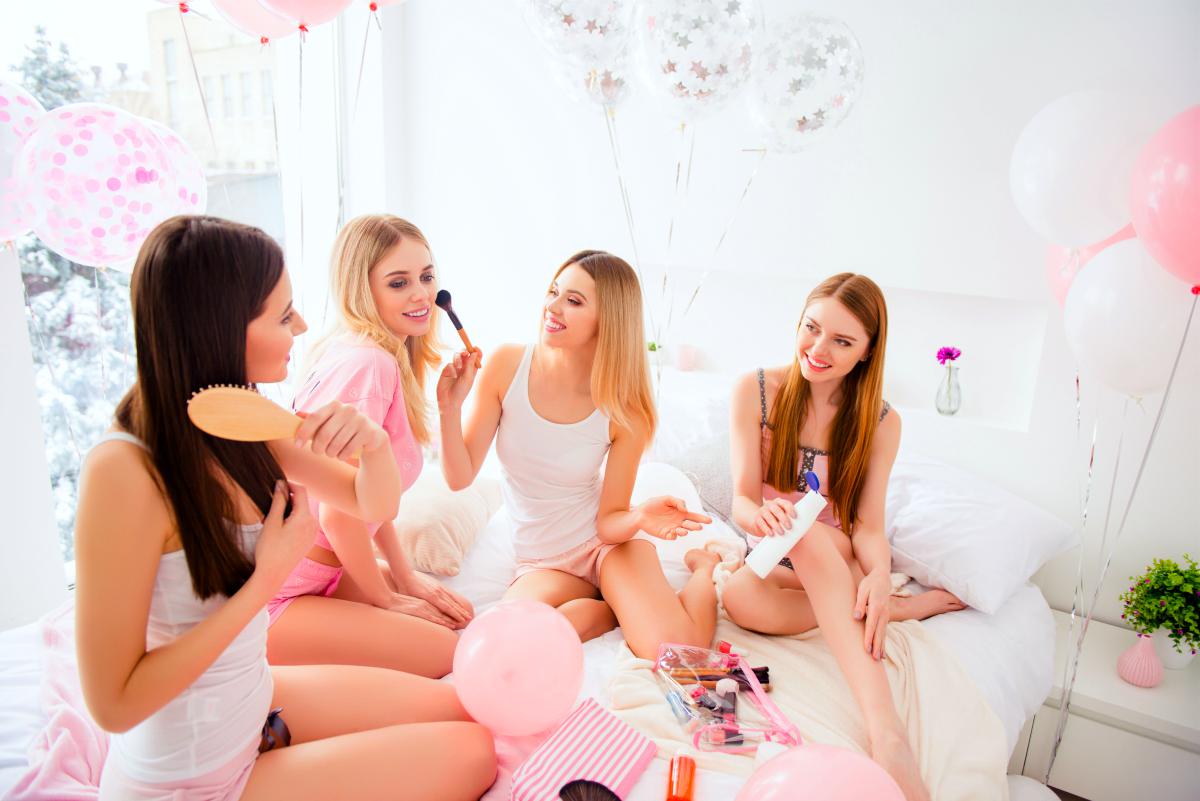 While you may not want an overly structured and programmed party, it's always a good idea to list down a few group activities and prepare for them in advance. Give your guests the freedom to mingle with one another and enjoy each other's company, but these activities will come in handy when you notice things slowing down.
You may want to give the adults a breather by setting up kid-friendly activities separately, to keep the little ones occupied enough for moms and dads to put up their feet, too.
Here are some fun pajama party activities you can do with adults:
competitive group games (charades or Pictionary)
makeovers
drinking games
karaoke
Truth or Dare
Here are some fun pajama party activities you can do with children:

Story time or a puppet show
Board games (Scrabble, Monopoly, or Snakes and Ladders)
Arts and crafts
Here are some fun activities everyone can enjoy:
DIY photo booths
Movie screening
Pajama dance party
Hide and seek
Build a pillow fort
If your guests include young children, then it's definitely a good idea to jot down some activities and have the materials you need nearby. You'll want to keep the young children entertained for most of the party to keep things from getting too chaotic.
RELATED: Follow These 7 Tips To Throw The Best Pool Party For Kids
Step 4: Decide on Party Favors
What's a party without party favors? These days, you have many party favor options, but the best party favor is something your guests will want to keep for a long time.
The perfect party favor for a pajama party is something they can already use during the party itself—pajamas, robes, or even both! Your guests will surely remember your party if you pamper them with RobeMart's luxurious spa-quality robes or stylish pajama sets.
An added bonus: the pictures of your party will look so chic with everyone in matching robes or pajamas!
If you're planning a family-friendly party and you're expecting kids to come, don't worry—RobeMart hasn't forgotten them!  They have a great selection of plush kids robes to choose from!
Step 5: Decorate and Set-Up Your Party
Pajama party decorations don't need to be too elaborate. The pajamas and robes truly already set the mood for the party.
If you want to add some decorations, you can hang streamers and balloons to make the space more festive. Make sure to have an abundance of large pillows and blankets in your party area for your guests to cozy up in. Additionally, scatter some plush stuffed animals or decorative cushions around the party area to enhance the cozy ambiance.

It's helpful to designate an area for the food and beverages. If you've invited children to your party, it might be fun to set up some indoor tents for them to sleep in.
Step 6: Prepare Food and Beverages

The last thing you should prepare for your pajama party is the food! Pajama parties are all about relaxing and having fun with your family and friends, so don't overthink the refreshments.
Pick out a few crowd favorites and you're good to go! Pajama party staples include:
Popcorn
Chips and dip
Pizza
Pretzels
Pigs in a blanket
Marshmallow treats
Assorted pastries
Cookies
Soda, wine, or beer
Juice boxes (for kids)
You can set up your buffet table about an hour before your guests arrive. If you want your buffet table to look extra special, you can add tablecloths, some printed food cards, interesting serving plates or bowls, and a few fun accessories around the table.
These days, it isn't difficult to host a pajama party. While it may require some planning, you can actually get a lot of it done online!
From your invites to your party favors, your fun pajama party may just be a few clicks away! So, the next time you're in the mood to celebrate with your friends, throw a good old fashioned pajama party!
Are you thinking of throwing a pajama party? What party favors did you have in mind? Let us know in the comments section.
Up Next: