Want to step up your towel game and invest in luxury towels? Here are some tips to help you choose the best towel for your needs.
RELATED: Use This Guide Next Time You Buy Bath Towels
In this article:
Luxury Towels Buying Guide: 7 Tips to Help You Out When Buying Them
1. Check the Weight
The best luxury bath towels are those that absorb water well, but at the same time, feel as if you don't have anything on. We measure towel weight in grams per square meter (GSM).
Lightweight (350 gsm and below) — While these towels feel light when wrapped around you, they don't absorb water well.
Medium weight (400-600 gsm) — Many luxury towels fall around this range. They're almost as absorbent as heavyweight towels but light enough to be comfortable.
Heavyweight (650-900 gsm) These provides great absorbency, but at the cost of its overall weight and drying time.
If the seller doesn't disclose the towel's GSM value, use a GSM calculator to compute it based on the towel's weight and dimensions. You may also want to check it out in person, too, so you can accurately gauge the towel you're eyeing.
2. Mind the Fabric
While there are many kinds of fabrics out there like bamboo, polyester, and flannel, cotton is still king as far as the striking that balance between absorbency and softness is concerned. However, not all types of cotton look and feel the same, and there are still some things you need to consider.
Here are some cotton varieties you can find in the best luxury towels:
Egyptian: You can spot Egyptian cotton towels from their long, silky fibers. What you get are soft and fluffy towels you can use for a very long time.
Turkish: Turkish cotton has long fibers with its characteristic loops. This allows them to absorb more water. The high-quality Turkish cotton towels also get better with every succeeding wash.
Supima: If you want high absorbency, Supima cotton should be your go-to. These make towels that are both soft and strong.
Xinjiang: These are your best bet if you want ultimate softness. Celebrities and other powerful figures travel all the way to Japan just to get their hands on this cotton.
Modal: Because they're mixed with synthetic fiber, modal towels don't cost as much as the other cotton types on this list. They resist shrinking and are good at keeping odor at bay.
3. Pick the Right Towel Size for Its Purpose
With many sizes to choose from, picking which one to get depends on what you'll use your luxury towel for.
The softest, best quality ones are normally used as bath towels. They can range from 27"x54" to 35"x60" and are typically used in small bathrooms like the guests' and kids' bathroom
Bath sheets are ideal for the master bath or as a pool/beach towel and for those who are larger. They're made for complete cover-ups after a long lounge in the tub or a dip in the beach, with sizes ranging from 35"x60," 35″x65," and 40"x70."
For your smallest bathrooms, invest in some finger towels. You can fold them in a variety of ways to add some flair.
Hand towels are at 16"x29" and 16"x 30" and make a great addition to any bathroom. Like finger towels, hand towels can also double as a bathroom accessory.
Washcloths are small (usually around 13″x13″) and are ideal for scrubbing.
Don't buy more towels than you need. As a rule of thumb, buy just two of each towel size per household member.

RELATED: 5 Reasons to Choose Turkish Cotton
4. Check the Loops (Among Other Things)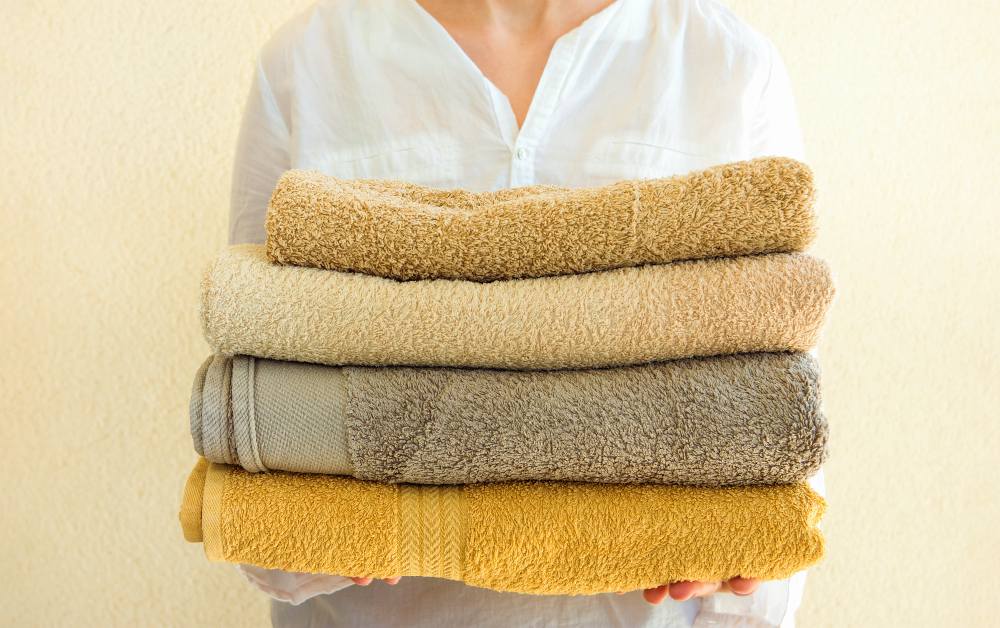 Many towels look and feel very similar to each other. How can you tell the difference between the run-of-the-mill towel and a luxury towel?
Check the towel loops. The denser and longer the loops are, the more water the towel can absorb.
Look for towels with 1000 loops or more if you want a luxury towel that can soak in lots of water. Other things to consider to check a towel's craftsmanship are reinforced edges and loops for easy hanging.

5. Ask Yourself if You Need Other Features
Some luxury bath towels have some nice-to-have features to make the experience even better. Here are some of them:
If they're made from special materials that went through special processes to reduce weight and drying time like Aerocotton, Hydrocotton, etc.
Self-cleaning properties that can detect if bacteria are present
Extra pockets for your gadgets you always keep within reach
Trackers that take note of how you use your towel and detect when it's time for them to be washed.
Decorative designs like custom embroidery that make your towels stand out from the rest
6. Learn How to Properly Take Care of Your Luxury Towels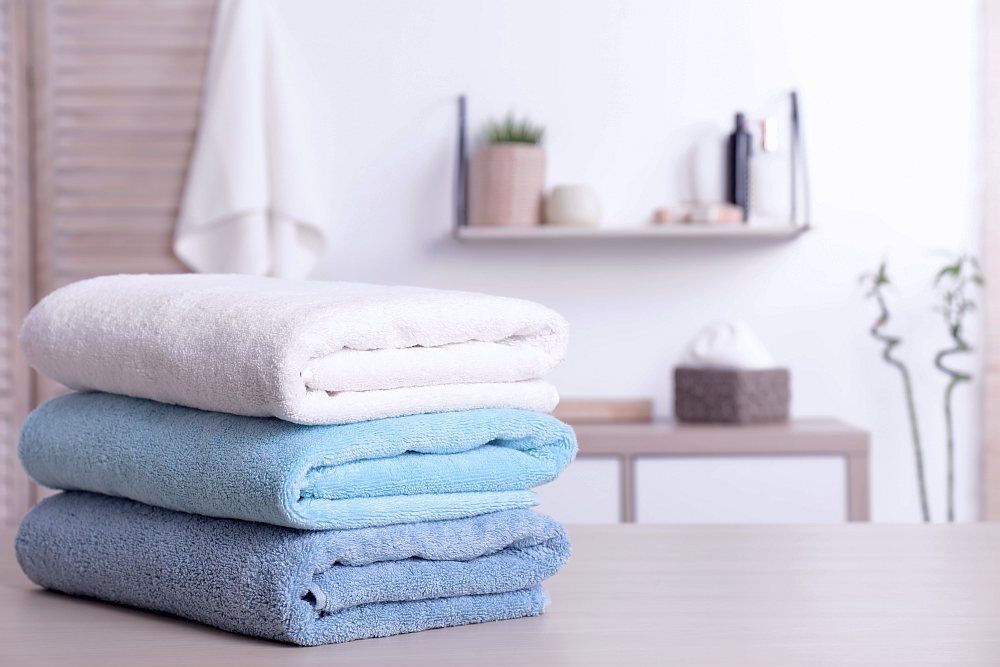 Even the best towels won't look and feel their best if not properly cared for. Here are some ways to take care of your towels so they can stand the test of time:
Read the care labels carefully before cleaning.
Avoid using fabric conditioners on your towels.
Group your towels by color and don't wash white towels along with colored ones.
Use only a small amount of mild soap when washing them.
Avoid putting bleach on your towels, even on white ones. The bleach can weaken the fibers and make them less absorbent.
Hang your towels on a rod instead of a hook to make it dry faster.
7. Brush Up on Your Towel Speak
Buying luxury towels online doesn't give you the chance to go in and make a close inspection of the towels on offer. Here are some terms you may encounter on online luxury towel listings and what they mean:
Ring-spun cotton: Has tightly-twisted towel loops that make them stronger
Combed cotton: Cotton that's brushed for maximum softness
Terry cotton: This is a type of cotton known for its long loops, which is associated with high absorbency.
Twist: Describes how the yarn is twisted. Low-twist towels make for a plusher towel, while high-twist towels are stronger.
At the end of the day, what matters most when shopping for the perfect luxury towel are your preferences. Choose any color you want and any finish you prefer as long as it's something you'd want to use regularly.
It also helps to know you're buying from a reputable seller that only offers premium quality.
What do you normally look for in a luxury towel? Let us know in the comments section below!
Up Next: