With so many types of robes and fabric to choose from, it can be hard to decide on which is right for you. Here is everything you need to know about all the different types of fabric robes come in before you decide to purchase one.
RELATED: The Ultimate Guide To Bridal Robes And Why You Need Them
15 Best Robe Fabric Types For You To Choose From
Click here to jump to the infographic.
1. Wool
Wool is often the first thing that comes to people's minds when thinking of fabric types that provide optimal, snuggly warmth. The slight bulkiness of this fabric makes it great at retaining heat.
It does, however, often hold water, which can make the robe a little heavy. Fortunately, combining it with other fabrics, like polyester, can counteract this problem, as this makes it lighter and more comfortable to wear.
2. Fleece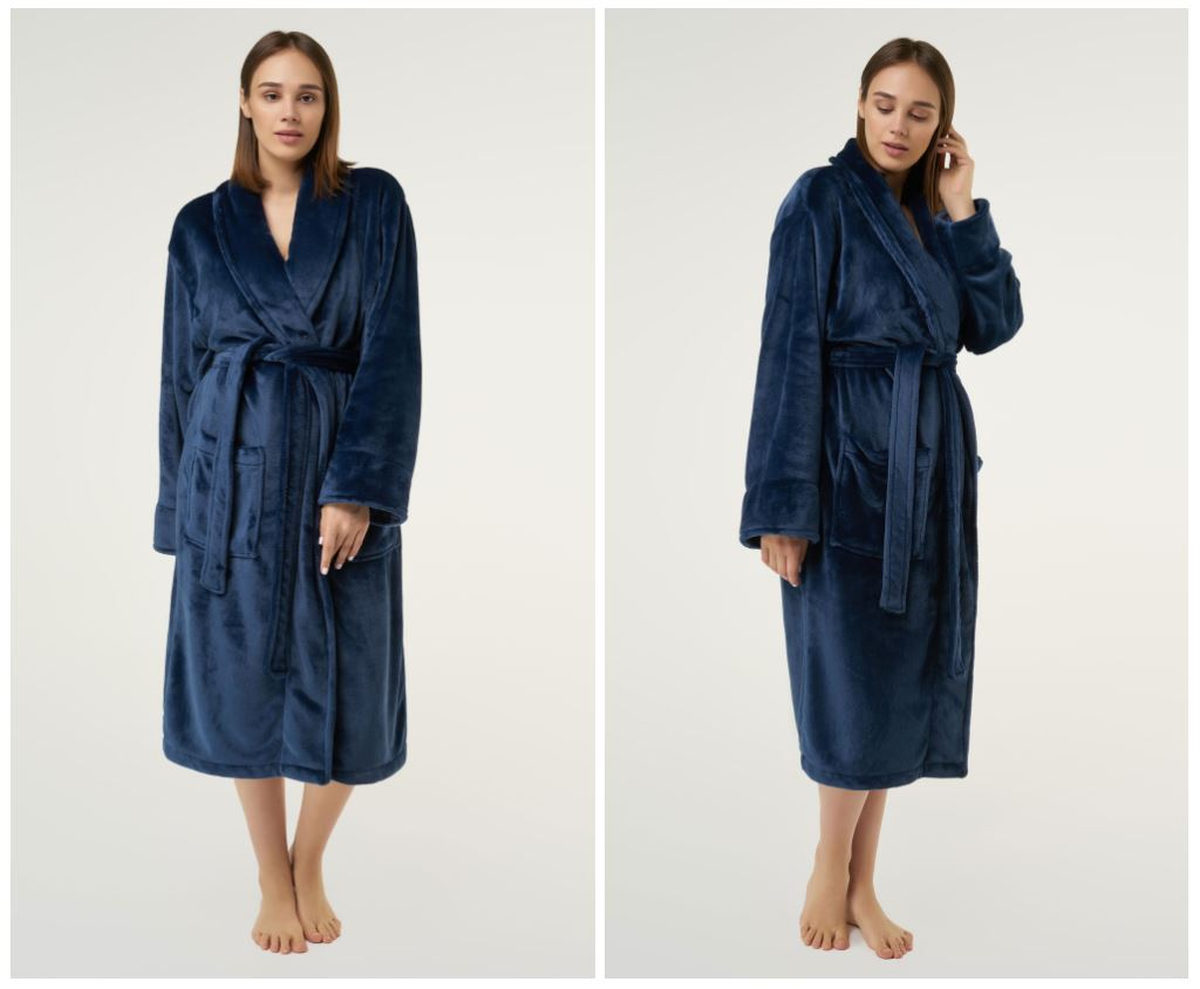 Sourced from polyester, fleece is a great material for bathrobes because of its smoothness and insulating properties. These types of robes mimic the great qualities of wool, but with a few additional pros.
In comparison with other wool bathrobes, fleece fabric is lighter and more affordable. This makes it popular among those looking for low-cost, high-quality robes.
It is also machine washable, though it is somewhat prone to pilling if one does not wash and store robes the right way. It is also eco-friendly because manufacturers can make the fabric from reprocessed PET containers.
Pilling Definition: Pilling is a surface defect caused by wear,  commonly found on textiles. A pill, more commonly known as a fuzzball, lint ball, or a bobble, is a small ball of fibers stuck on a piece of cloth.
3. Flannel
Flannel, similar to wool, is great at keeping its wearer warm. Though many may think that flannel is one of the more old-fashioned fabric types, bathrobes made of it are considered a classic for good reason.
While formerly made from wool, the material is now blended with cotton, giving it that fuzzy, comforting feel. Flannel robes are soft on the skin, making it a great choice for those who want to stay warm on a cold, winter night.
4. Cotton Waffle
The unique diamond or square-checked robe fabric patterns are what makes waffle-weaved cotton robes easily distinguishable. Cotton waffle robes made of 100% cotton, making them absorbent; unfortunately, this also gives them the tendency to shrink when not washed properly.
These robes often undergo pre-shrinking treatment to retain its good quality. If you do get a cotton waffle robe, make sure you follow the instructions on the tag when it comes to care.
Though not as soft as other types of fabric, it is a common hotel robe that businesses in the hotel and spa industry often purchase because they are reasonably priced. A lot of companies also give them away as promotional items.
5. Cotton Terry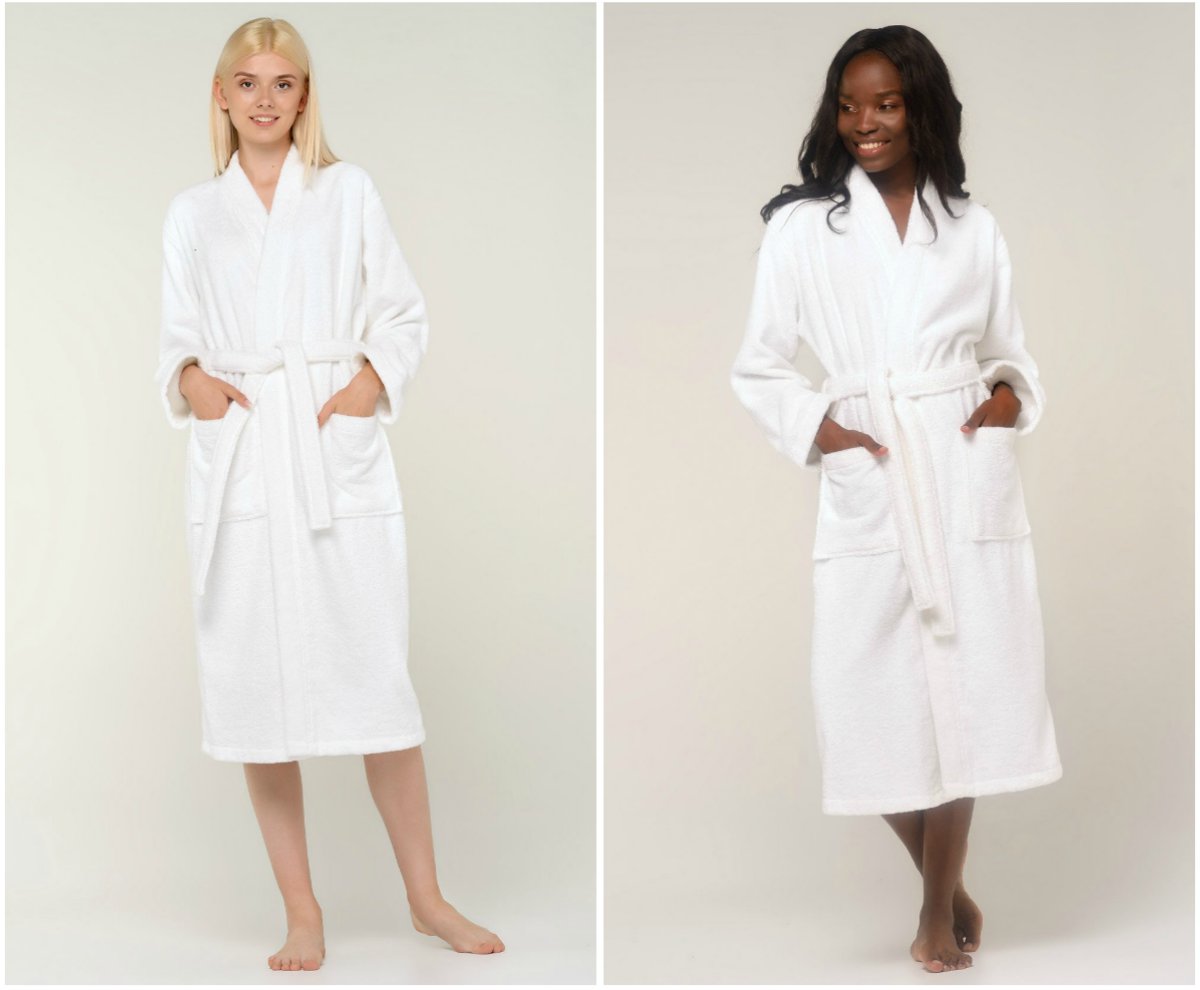 Egyptian and Turkish cotton are some of the oldest and most common fabric choices especially for towels and classic bathrobes. They have great water absorption qualities.
This makes them great for use in shower robes and towels, though they can get heavy and thick when they absorb water. Additionally, their cotton composition also makes them prone to shrinkage, making it necessary for them to undergo pre-shrinking treatment.
However, cotton terry robes still remain a great choice for those who want to throw on a cozy robe after leaving the shower. It's certainly quite luxurious!
6. Cotton Velour
Velour feels a lot like velvet because it is a piled fabric. The material is soft and thick, making it one of the best robe fabric types.
The best quality robes made of this material contain a minimum of 80% cotton.
The only downside to cotton velour robes is that they are bulky and a bit pricier compared to other robes. They are, however, great as an insulating bathrobe especially during winter. It's a good investment if you live in an especially cold climate!
RELATED: 9 Tips Before Washing A Terry Cloth Robe
7. Satin and Silk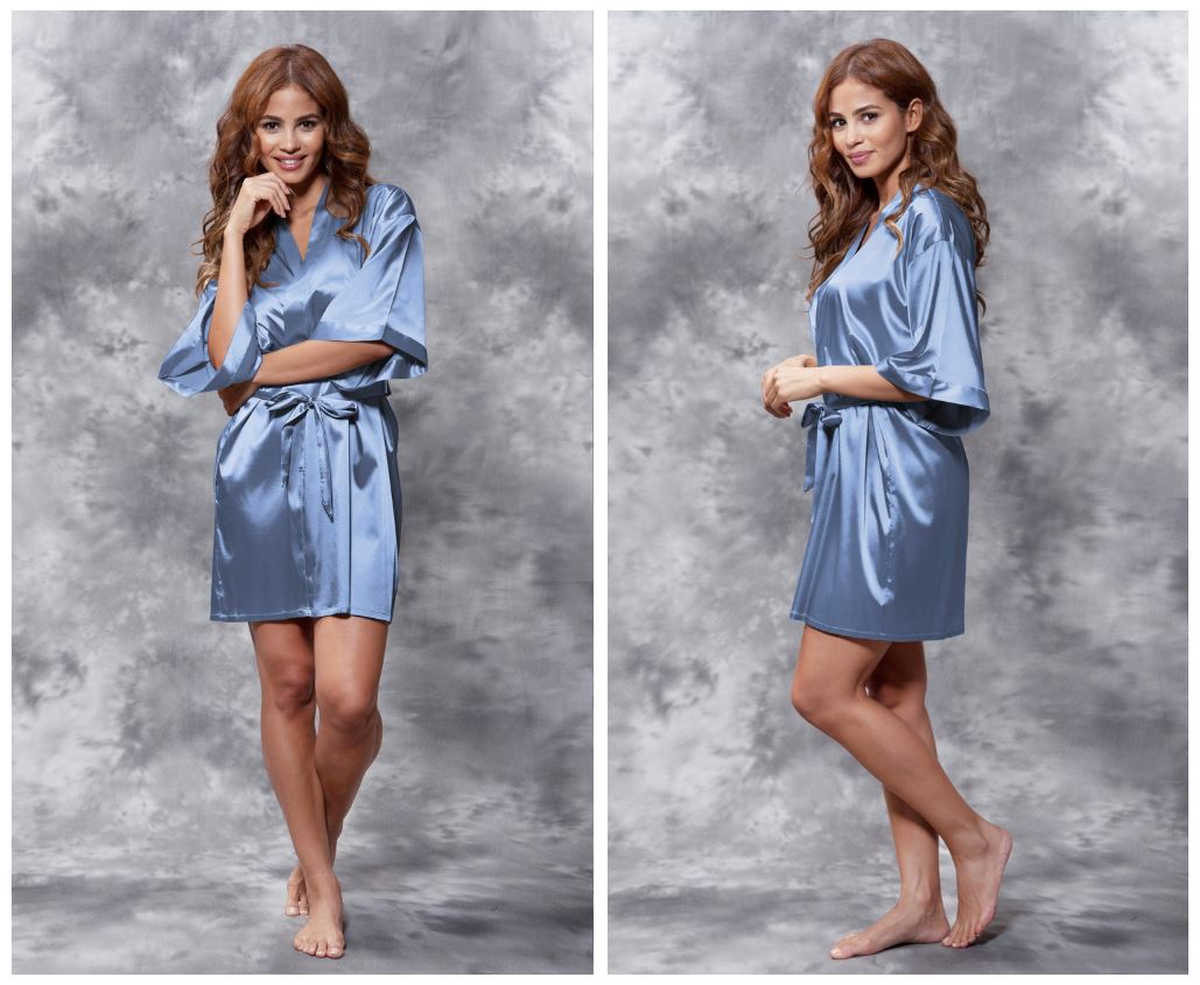 Satin and silk robes have a smooth feel and make great lounge wear. If you are looking for a robe to wear during your next beach holiday or romantic getaway, then satin and silk robes are the perfect choice.

Unlike cotton, these provide very little water absorption. Instead, they are extremely fluid and light, making them perfect for relaxing in.
Satin and silk robes require delicate care. They aren't the best option for heavy use, but they're perfect for special occasions (even if that occasion is just a spa day in your own bathroom).
8. Cashmere
Cashmere fabric is one of the most expensive fabric types on the market today. Because of this, you should make sure that you get your money's worth when you buy robes made of this material.
These robes use special animal fur or hair fibers that are collected when animals begin molting and shedding hair. People often use this fabric for lounge wear during cold seasons.
Though lacking water absorption qualities, they are well-insulated and lightweight, making them perfect for snuggling in.
Cashmere robes are costly and have to be dry-cleaned. To make the most of your purchase, make sure you get good quality robes when purchasing them.
9. Chenille
Chenille robes, especially ones made using micro-chenille, have seen a great rise in popularity in the past few years. They are made using pure polyester, making them great for insulation as well.
Oprah's Favorite Things segment helped popularize the product with their endorsement. However, their ubiquitousness means that you might end up with a chenille robe of poor quality.
High-quality chenille robes are light and soft to the touch. Low-quality ones might look exactly the same, but you will certainly feel the difference.
Chenille robes also have low water absorbency and can also lose their shape when washed. If you do decide to get chenille robes, make sure to touch the fabric and feel it before buying.
10. Microfiber
Recent advances in manufacturing technology made the creation of microfiber robes possible, as it makes fibers 1/6 the size of human hair. They are finer than silk, and more lightweight and breathable compared to other natural and synthetic fibers.
One can also weave and brush them into a suede finished fabric to give it a soft and luxurious feel similar to satin and silk. Alternatively, one can also place it into a splitting process, creating millions of tiny loops that make it extremely water absorbent, enhance its softness, and make it lightweight.
Microfiber robes are quite expensive especially in comparison with traditional robes that most spas use. However, they are worth the extra cost and are considered to be the ultimate in luxury.
While microfiber robes are still relatively new, their popularity is quickly growing, especially in upscale spas. They can be used in any season and are great for lounging in.
BONUS: 11. Cotton Terry and Microfiber or Spa Robes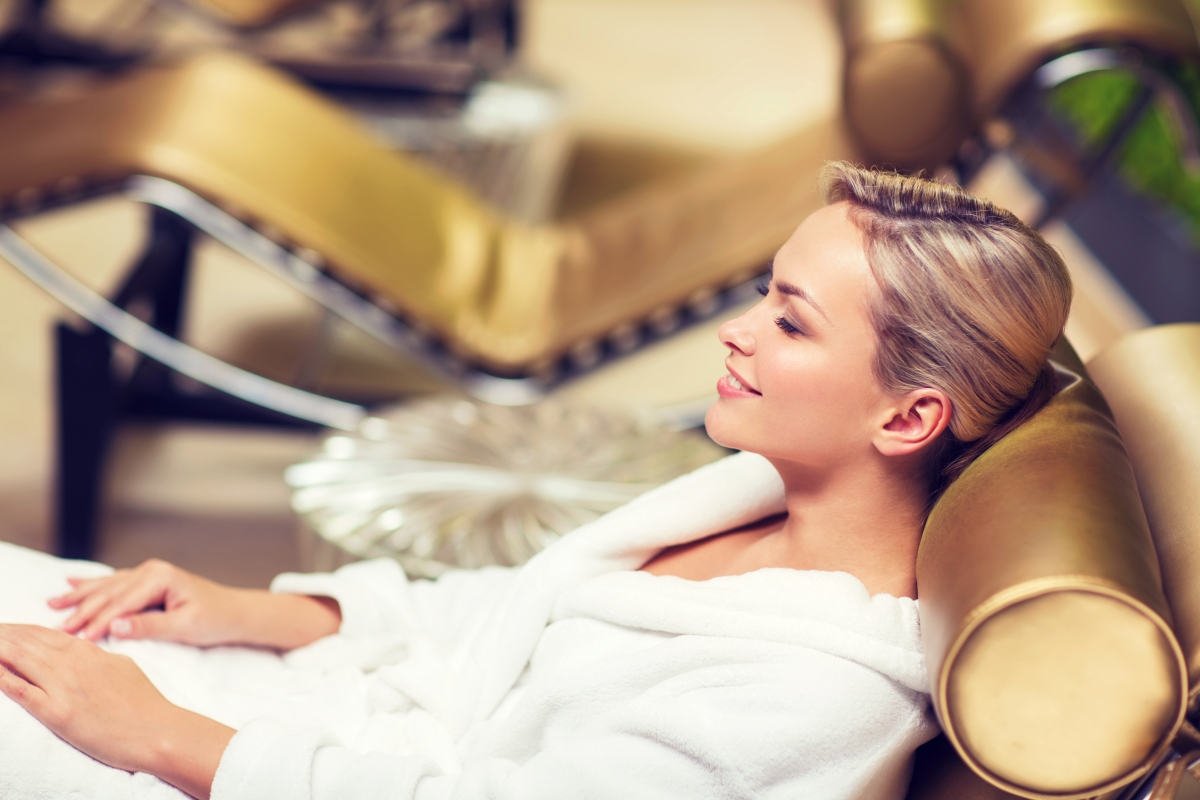 Most popularly combined in spa robes, cotton terry and microfiber blend together for a luxurious robe experience. Its outer layer is made of brushed microfiber while the inner layer is composed of cotton terry fabric.

This creates a bathrobe that gives the wearer the best of both worlds. The terry interior gives the robe great water absorbency along with a soft feel, while the silk exterior provides it a fresh look with a suede feel.
A lot of modern luxury spas use these as their guests' main robes. They also make for great gifts for weddings, baby showers, anniversaries, and the like.
Their only downside is that they are a bit pricey, with some day spas selling them at around $120. However, for the comfort that they provide, one can guarantee that their money is well-spent. Also, if you do your research, you can be sure to find a robe seller that offers great quality at a fair price.
12. Cotton Sherpa
Sherpa is a heavy fabric typically used as lining for coats. Most Sherpa fabrics are synthetic, and a lot of Sherpa robes are blended with cotton.
It has great absorbency and even after several washes, the robes still remain as soft as they were when brand new.
13. Fleece and Polyester
Fleece and other polyester-based fabrics get a bad rap for being a man-made fabric (unlike natural fibers like cotton and silk).
But fleece definitely has its good qualities. It's inexpensive, it holds its shape very well, and it's easy to just wash and wear.
If you need a garment that's durable and machine-washable, then this fabric does the job very well. It tends to retain a lot of moisture though, which could make it very uncomfortable for some people.
14. Bamboo
Mostly popular in locations where shoes aren't worn indoors (like Japan), bamboo rayon is a vastly underrated fabric that's excellent for use in bathrobes due to a unique combination of tensile strength and unmatched silkiness. It's especially perfect for people living in warmer climates due to its high breathability.
It also happens to be more inexpensive than other types of fabric and requires less maintenance. Just wash it once in a while and it will be good as new.
Unlike cotton or silk, which are labor-intensive and not as sustainable in the long run, bamboo grows on its own with a yield as much as 10 times more than cotton. It also requires less amount of pesticide to grow, making it perfect for those who have the environment close to their heart.
One drawback is that because it's so thin, it's not very suitable for cooler temperatures.
15. Acrylic
Acrylic is a great alternative for those who either have sensitive skin or are allergic to fabrics like cashmere and wool but want a robe to keep themselves warm with. It is also machine-washable and doesn't fade even after several washes.
Which Robe Fabric Type is Right for Me?
Different types of robes have different uses. The kind of robe material you should get for your next purchase depends on various factors:
Weight: Weight dictates how cool and comfortable your robe will be and affects every other criterion in the book.  If you're living in a cooler climate, you may want a heavy fabric which has great insulating properties (like flannel and wool bathrobes). A thinner fabric (like bamboo) is a better fit if you live in a warmer location.
Upkeep: Certain fabric types (like cashmere, which needs to be dry cleaned) require a bit more care and are best used for special occasions. You may opt to choose a lower-maintenance fabric for everyday use.
Absorbency: Choose a fabric with a high absorption capacity if you plan to take it with you to the bathroom or swimming pool. Satin and silk robes don't absorb a lot of water so they're better off for lounging around at home.
Price: It goes without saying, premium fabrics command higher prices. If you intend to buy robes made out of expensive fabrics, make sure to physically check them to verify that the fabric is not an imitation of the real thing.
Also, make sure the robe is the right size. What's the use of a great fabric if the robe doesn't fit, right?
Don't forget to download, save, or share this handy infographic for reference:

The vast options for robes in various fabric types can make choosing your own a little daunting, but being knowledgeable about the strengths of each type of robe can make finding your best fit a little easier. At the end of the day, all of these robes have the same goal: To make sure you're as comfortable and relaxed as possible.
Do you have other questions about the different robe fabric types? Ask us in the comments section below!
Up Next: