Maximize your space with these bathroom towel storage ideas!
RELATED: Use This Guide Next Time You Buy Bath Towels
Make Space with These 9 Bathroom Towel Storage Ideas
1. Use Baskets
Towel storage for small bathrooms can be tricky! Rolling your towels instead of folding them is a great way to maximize your space, and baskets are the perfect containers for rolled towels.
Here are some ways you can repurpose old baskets as towel storage for the bathroom:
If you have some free floor space, use a classic woven basket. Roll up your towels and insert them in the basket in an upright position—that way, it'll look like you have a bouquet of towels in one corner of your cozy bathroom!
If you have some free wall space, you can flip a basket on its side, hammer it onto the wall, and voila! Instant shelves!
If you have a wired basket, you can install paint-safe, heavy duty hooks on your wall and easily hang the basket. Wired baskets are great if you're trying to achieve a rustic bathroom look.
Baskets are very versatile. Most baskets are quite light, so you can easily add them to the free areas in your cozy bathroom.
2. Repurpose Wine Racks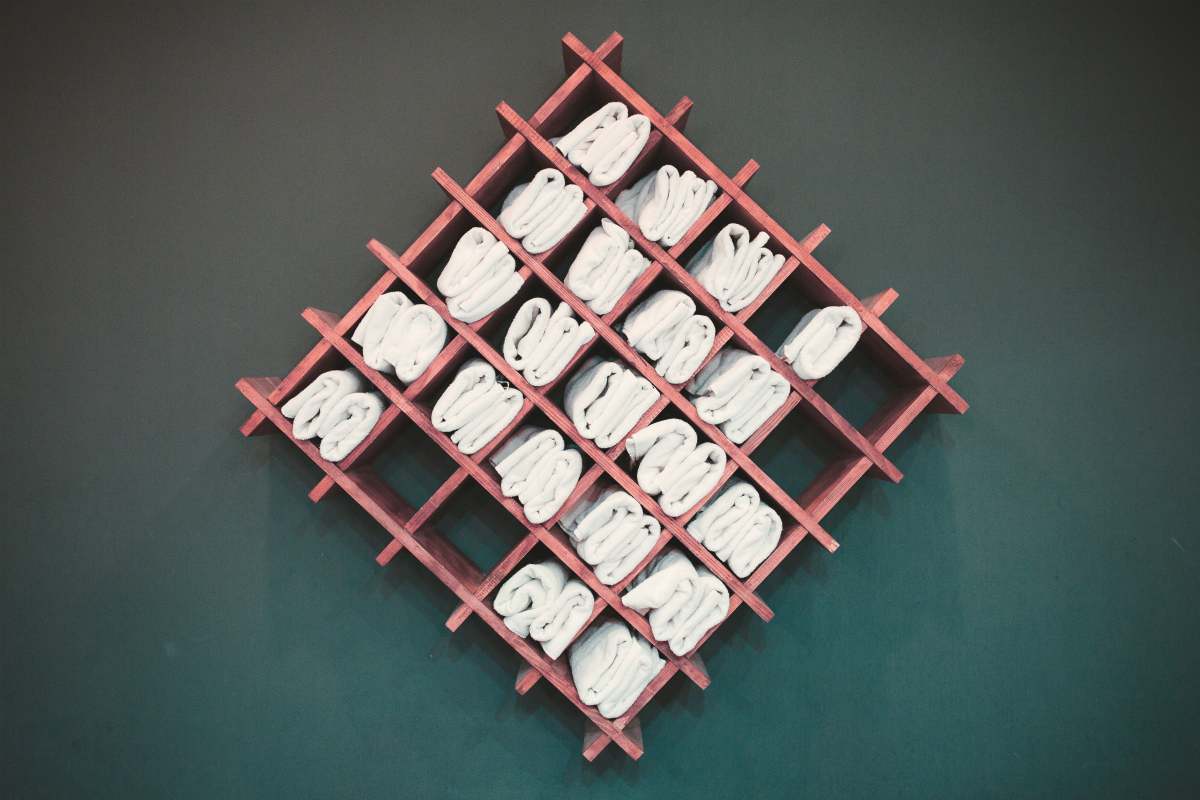 Standard wine bottles are roughly the same size as a rolled up bath towel, so wine racks double up nicely as bathroom towel storage. You can easily place a rolled-up bath towel in each bottle insert.
Find a corner in your bathroom where you can place the wine rack. if you prefer to use wall space over floor space, you can even use hanging wine racks.
Sometimes, the best storage solutions are already in your home. You just need to see them in a different light.
3. Use a Rolling Table or Cart
Flexibility is an important feature when you're trying to maximize small spaces. If you're not too keen on installing permanent towel storage (or you're a renter), then a rolling table or cart may be perfect for you!
Think of it as a movable side table in your bathroom. Try to get a rolling table/cart with two or three layers so that you can use it to store other things as well.
4. Prop Up a Ladder
Ladders in bathrooms are all the rage these days, but it isn't just because they look nice. They're also very functional!
While many people use ladders in their bathroom as a towel drying rack, you can also use it as a storage space for new towels. Simply attach a basket or two on the rungs.
Tip: If you don't have a whole free wall to prop up a full ladder, you can still find other ways to incorporate a ladder as storage in your bathroom. Try looking for a smaller ladder and use the wall space above your toilet.
5. Use Multi-Purpose Cabinets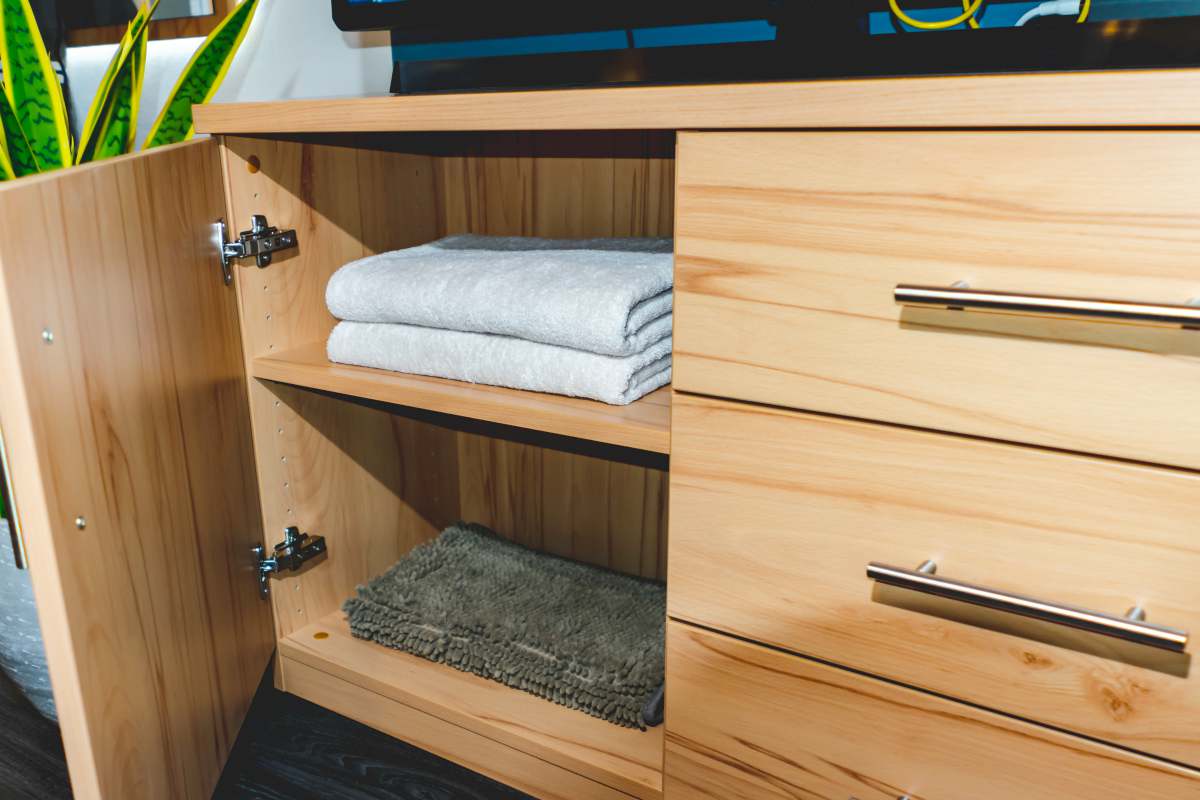 A common mistake that people make when shopping for their bathroom is staying in the bathroom section of the store. If you find yourself uninspired by the made-for-bathroom cabinets, go on an adventure and explore the other sections of the store.

You may be surprised at what you'll find in the living room, bedroom, or even kitchen sections! For example, a bar cabinet may actually make the perfect bathroom towel storage.
You can use the wine slots for your towels and use the rest of the space for other toiletries. Buffet cabinets also come in all sizes and they usually come with ample storage space for your towels and other bathroom items.
RELATED: How To Get Sour Smell Out Of Towels
6. Use Double Curtain Rods
If you already have a shower curtain in your bathroom, you may want to consider installing a double curtain rod.
What are double curtain rods? Double curtain rods are usually used in living areas such as bedrooms and living rooms. It allows homeowners to combine two curtains to add some depth to their window treatments.
While double curtain rods are usually used for decorative purposes in other areas of your home, they're also a functional addition to your small bathroom. You can use the second curtain rod as a towel hanging rack for your used towels.
You can also hang baskets on the rod to store clean towels. The best thing about using double curtain rods as towel storage is that it doesn't require any additional floor or wall space!
7. Install Towel Bars
Installing towel bars in your bathroom can save you a lot of space. You just have to know where and how to use them.
Here are a few ways to maximize your space with towel bars:

Install two or three towel bars behind the bathroom door. If you install more than one, make sure that there's enough space in between so that the towels aren't overlapping in any way.
Install a vertical towel bar on the wall. A vertical towel bar will allow you to store a couple of rolled up towels.
Install a towel bar on the wall above the toilet.
Add hooks to your towel bar to hang multiple towels.
Hang a basket on a towel bar to store rolled towels.
Towel bars aren't just great for storage, but it also allows you to dry your towels properly in between use.
8. Find Wall Space for Shelves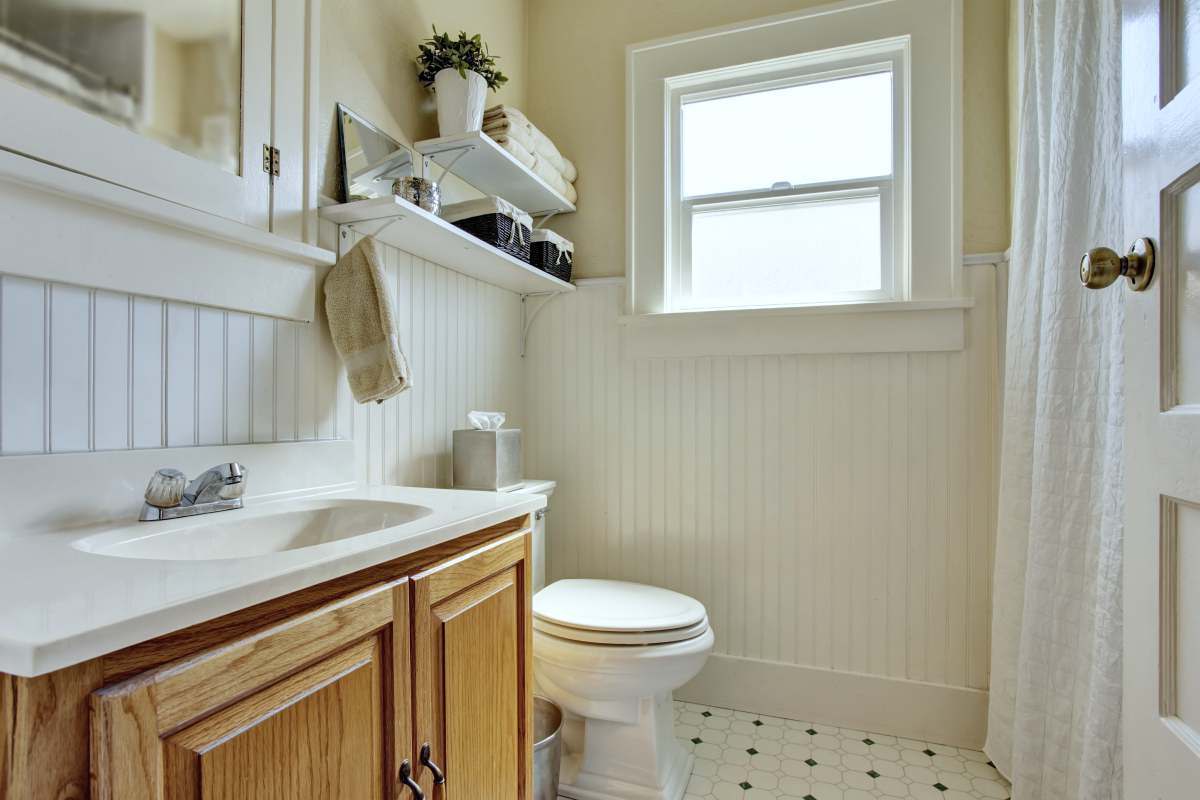 Installing shelves is always a great way to increase the storage capacity of your space. But if you're working with small spaces, you have to be a little creative about where you put the shelves.
You want to make sure that your shelves won't restrict you in any way. You want to be able to move freely and comfortably in your bathroom.
Here are a few out-of-the-way spaces that you may want to consider for bathroom towel storage:
The wall space above your door
Wall space above the bathtub
Space under the sink
The wall space above or beside the toilet
You can install shelves on any free bathroom wall. But if you're dealing with a narrow space, you may want to avoid shelving that will limit your range of motion.
9. Build Multi-Purpose Dividers
If you're lucky enough to be able to build your bathroom from scratch, you may want to consider building multi-purpose dividers. Most bathrooms have structures that divide the bathing area from the rest of the bathroom.
Some bathrooms also have a narrow space in between the bathtub and wall. Use that narrow space or divider and turn into a shelf for your towels.
You may end up with smaller-than-usual shelves, but you can use that space to store rolled up bath towels. And the best part is, you're using space that would otherwise go to waste!
Everyone deserves a comfortable bathroom, even if it's a small one! And creating a dedicated space for your towels will help keep your bathroom neat and organized.
Make sure that you're using towels worthy of the space you created. RobeMart offers the best bath towels for the best prices, so check them out today!
How do you store your towels in your bathroom? Let us know in the comments section below. 
Up Next: