Bathrobes are a daily essential item that requires extra care, especially if you want to maintain its quality and texture. Read on for some quick and easy-to-follow robe care tips.
RELATED: Bathrobe Size Chart: Guide To Choosing Robes That Fit You
5 Easy Steps To Take Care of Your Bathrobes
Step 1: Pay Close Attention To The Label
The small things matter! If you really want to take care of your bathrobes, give importance to the label.
Manufacturers of bathrobes often put specific care instructions on the labels of bathrobes. These give a lot of information on how to take care of the robe.
Often, they contain the composition of the bathrobes, what materials they are made of, and how to handle them with care. They also offer washing instructions for the robe, the temperature of the water to use, and even how and where to store the item.
If you want to maintain the brand-new quality and look of your bathrobes, make sure to check the label before doing anything with it.
Step 2: Know The General Rules For Washing Bathrobes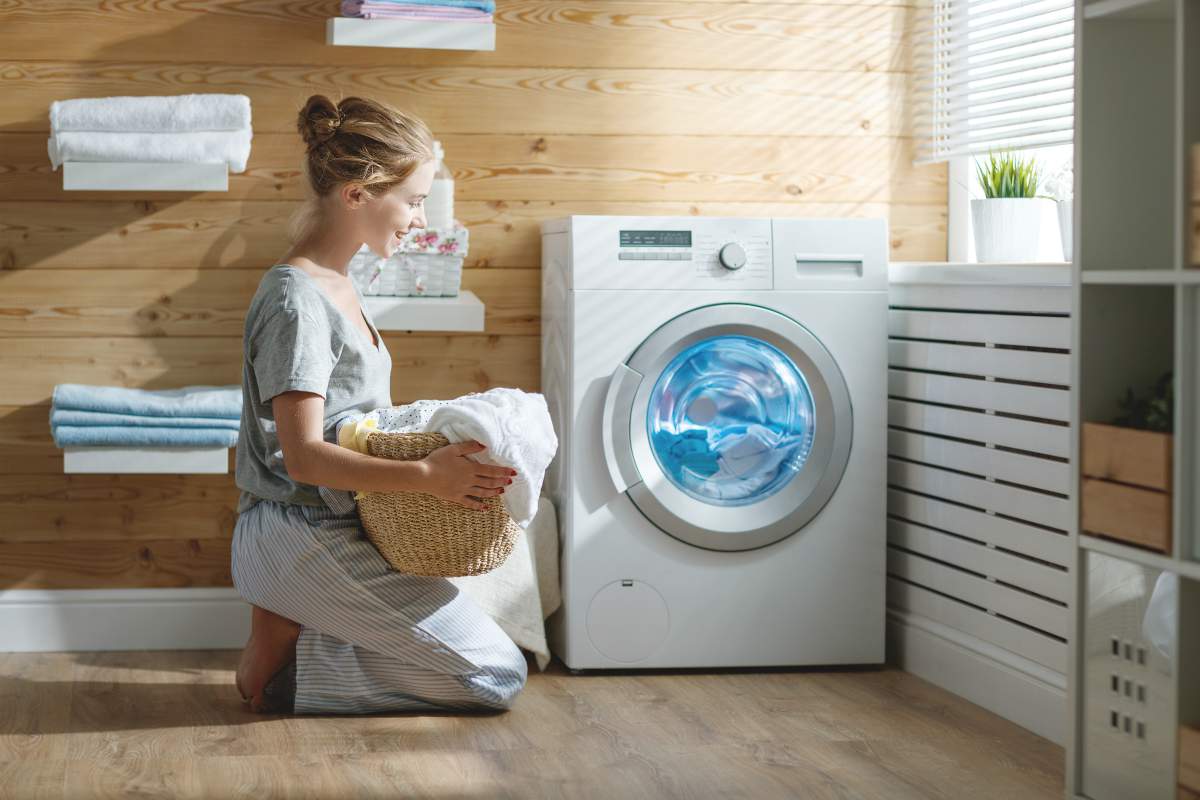 Most people do not take the washing of bathrobes too seriously. Maintaining their softness and fluffiness requires extra care.
Fortunately, you do not have to wash your robes too often. Unless you spill something on it, it should remain relatively clean for some time.
The first thing you have to note when it comes to washing bathrobes is that regardless of the type of fabric your robes are made of, you should never wash them with other beddings, towels, or garments. While it may be fine to wash two bathrobes made of the same material and color, you should never combine them with anything else.
A lot of people make the mistake of simply sorting laundry by color. They include bathrobes in this, washing them along with other clothes, pants, and the like.
This could be damaging to the robe, which is often made of delicate material.
Additionally, you should give your bathrobes a cool machine wash with no detergents when you first get them. This should help remove any remaining residue that may have been left behind during the packing process.
It also improves absorbency, especially from the first use.
You should also avoid using fabric softeners on bathrobes. These can build up even more than regular detergents.
Build-up can be difficult to remove. It can also permanently strip away at the material, causing stiffness regardless of the number of times you wash your robes.
If you feel like your robes are becoming stiff and are losing their softness and fluffiness, it may be because of the build-up of detergent and fabric softeners. Act on this immediately by running it on a water-only wash.
If this makes no difference, add a small capful of vinegar and run it again.
These washing tips should help maintain the softness and texture of the robe.
RELATED: Cotton Robe Buying Guide | How To Find The Right Robe For You

Step 3: Sort Your Bathrobes By Type Then Wash Accordingly
A lot of people buy different bathrobes for different events or uses. There are robes for weddings, robes for spa days, robes for pregnancy and nursing, and even robes for just lounging around in.
These different robes are often made for special occasions and might not be used often. As such, it is important to always maintain its cleanliness, especially before storage to keep it at its finest quality.
Different robe fabrics require different types of care. Below are some of the things you should note before washing your robes, depending on the type of fabric your bathrobes are made of.
1. Cotton
Cotton bathrobes are the easiest to clean among the many types of bathrobes out there. It is durable, allowing you to simply toss it into the washing machine.
Use only warm water and a normal washing machine cycle on the robe. Additionally, the amount of detergent you use should only be half of what you would with other cotton garments.
If any detergent lingers, give the robe an extra rinse.
If this doesn't do the trick, add half a cup of distilled white vinegar. This should wash off any remaining detergent or soap residue.
2. Polyester
In many ways, polyester robes are similar to cotton robes. Most of the time, they are machine washable and need to use warm water.
Again, check the label. Though rare, some polyester blends require dry cleaning instead of normal machine washing.
3. Silk
Silk robes can be fragile, but they are actually easy to wash if you take the necessary precautions.
While some silk robe labels might say that it is safe to machine wash, it is better to err on the side of caution. As much as possible, hand wash silk robes.

Avoid using bleach to clean silk robes because the chlorine can damage the fabric. Make sure as well to not dry them under direct sunlight.
4. Linen
Linen bathrobes require a few washes to reach their maximum absorbency. Similar with cotton, you need to make sure to wash them before use.
Again, avoid using fabric softeners as this can take its toll on the robes' absorbency over time. If you must, use fabric softeners very sparingly.
Step 4: Dry and Hang
To dry bathrobes, take the garment out of the basin or the machine and lay it flat between two towels. Roll the towels and press until you get all of the excess moisture out of the robe.
As much as possible, avoid using a dryer unless the label recommends it.
Use only low heat and a longer cycle as higher heat settings can damage the robe. Additionally, never hang them out to dry under direct sunlight.
Once the robes are done drying don't just leave them lying around or hanging from the collar.
Bathrobes are often made of delicate, sensitive materials. Keeping them on a hanger helps preserve the integrity of the garment.
It maintains the pristine quality of the robes and keeps them looking and feeling like they are brand new.
Step 5: Store Them Properly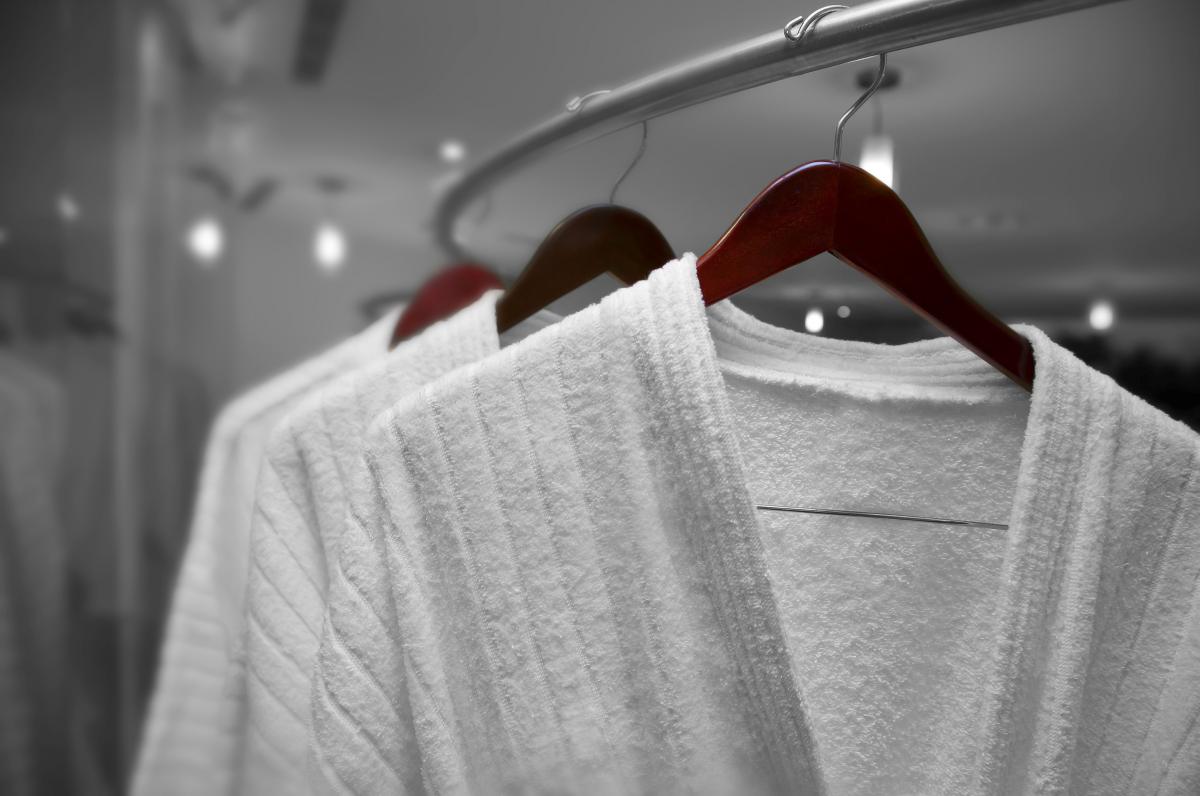 Different seasons, different events, and different settings all call for different bathrobes. With that in mind, storing them properly matters if you want to maintain the quality of your bathrobes. You can hang them, as previously mentioned, but you can also fold them properly per fabric type.
Store them in a place that is neither too dry nor too cool. Use dehumidifiers to get rid of damp, humid air that could cause the formation of mold.
Additionally, you can also use cedar balls that can help repel moths, roaches, and other insects or pests.
Bathrobes are essential for comfortable living. Take care of them as they take care of you!  Follow the steps above and your robes just might last forever.
Do you have other tips on how to take care of bathrobes? Share them with us in the comments section below!
Up Next: