After months of sunny, humid days and ruined hairdos, the air gets kissed with a hint of crispness, signaling that special in-between time when the blazing hot days of August give way to the cool and breezy days of pre-autumn.
From the office to the countryside, layered getaway clothes to luxurious loungewear, we've put together the ultimate shopping checklist for chic transitional looks. With inspiration from top fashion bloggers and influencers, get ready to fall into style during that awkward end of season period when it's too warm for cashmere and leather but too chilly for summer frocks and mini skirts.
Location, Location, Location
For a put-together look that also expresses your personal style, it all comes down to choosing the best outfit for the geographical location:
Northern Exposure
For style blogger Cheryl Tucker, living in the mountains pushes her faster into sweater season thanks to cool temperatures in the north. But that doesn't stop her from wearing her favorite looks from summer. "I love to add fall colors to a summer style. It is fun to wear a lightweight dress, and add a fall accent like camouflage and then a cute pair of open toed ankle booties," she says. Another way to get more style leverage out of your strappy summer dresses is by adding more shoulder and neck coverage with a classic turtleneck. For an Instagrammable look, pair with boots to frame your silhouette and strike a pose!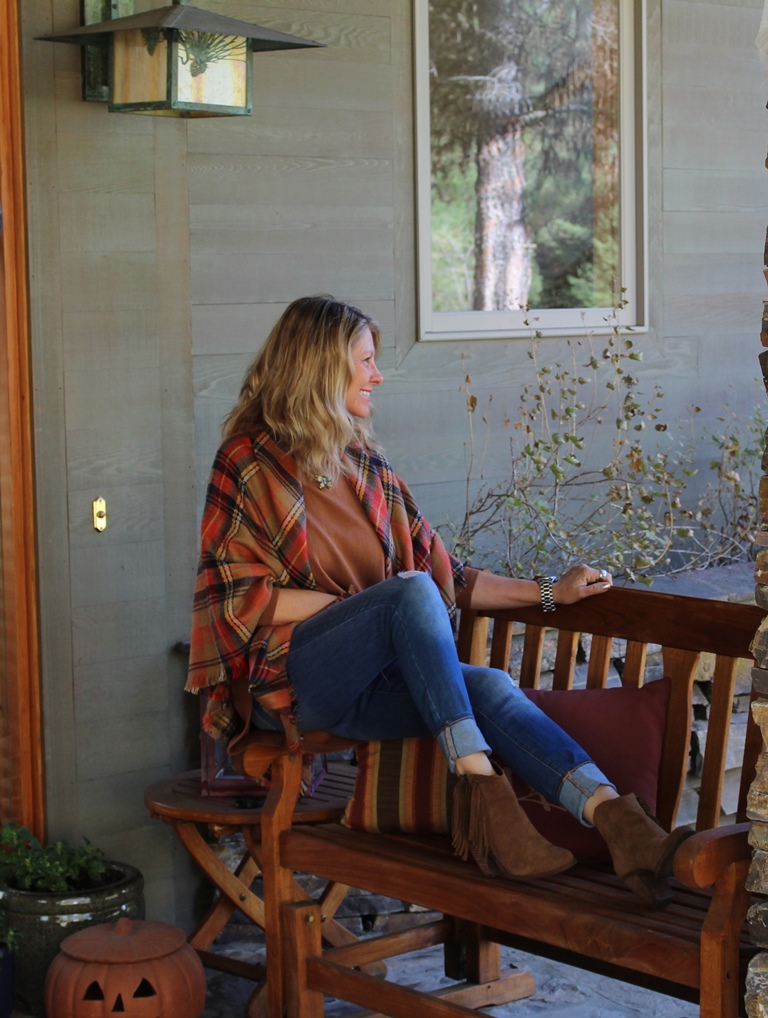 During the early stages of fall, the mild and pleasant weather might trick you into thinking you don't need a jacket, but all it takes is a gentle breeze to get chilled and covered in goose bumps, especially for those who are more accustomed to milder temperatures.
Lifestyle blogger Chrissy Rowden at Granola and Grace brings summer into fall with lots of layers, her answer to weather fluctuations in Georgia during late August. "There are lots of options for layers in the fall such as blazers, cardigans, denim jackets, scarves and even the latest trend – kimonos!" You can even take the trend home on those late summer evenings with a kimono style waffle robe in your favorite color or a lovely floral print!
For those who live in California, especially the northern regions, having a good transitional summer to fall wardrobe is a must, especially with climates that vary by region and from day to evening. Keyma of Style Weekender recommends having key transitional pieces as part of your wardrobe, the perfect solution for the microclimates of Northern California and the changing temperatures during the seasonal change from summer to fall. For Keyma, her answer to the transitioning season is a lovely long-sleeved frock: "As the summer is slowly coming to an end, I'm looking forward to investing in more transitional items. This dress is so good for summer evenings and also it's the perfect transitional dress. The sleeves are long yet they can be scuffed half-way up the arm…"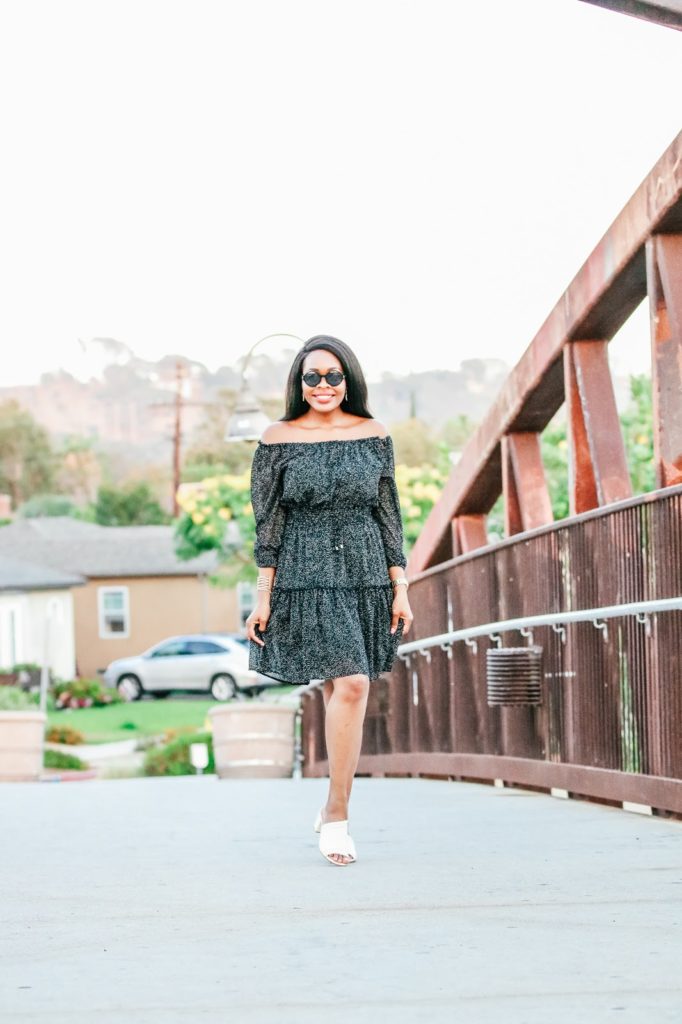 Give your summer to fall wardrobe a stylish update by playing up contrasts, like a beautiful long-sleeved dress in a neutral color accompanied by a colorful scarf. You can also give your evening look a casual touch by pairing a little black dress with a hoodie and sneakers, which go perfectly with the changing temperatures as the sultry summer blends into the crisp fall climate. For skirts and dresses with short hemlines, wear a pair of knee-high boots or leggings and booties to elongate your legs and keep you warm.
Dressing for the Occasion

Whether you live in the north, the south, or somewhere in between, you also need to consider the dress code for every occasion:
The Office
During the summer, offices tend to blast the AC to accommodate not just for the heat outside, but for all the employees in the building radiating heat as well! The difference in temperature from inside to outside requires light layers that can take you from your busy workday to enjoying the last bit of summer sun, all while still being work-appropriate.
For a casual yet stylish outfit, try layering a mash-up of fall fashion staples and your favorite looks from summer. Get some mileage out of your long-sleeved pantsuits by pairing it with an open-front collared shirt. Add an oversized leather clutch and your favorite chunky heeled boots and you've got a fabulous #OOTD (Outfit of the Day).
Another must-have for your office wardrobe is a pair of wide leg trousers, the fashion obsession of the season. A perfect summer-to-autumn outfit, wear it with a thin knit top in a bright pastel color to pay tribute to summer while also staying warm and comfortable when the air gets a little chilly. For those in warmer climates, try a variation on the wide leg trouser with slouchy sailor-style pants worn with a t-shirt.
No Place Like Home
Just because you're in the comfort of your home doesn't mean you have to look like the Dude from The Big Lebowski. As the fall season approaches, take your lounging to the next level by updating your wardrobe with a luxurious waffle kimono robe. Made with a blend of medium weight cotton and baby-soft knits, the mid-length robe is a must for your shopping checklist. The soft cotton isn't overly bulky but still gives you an oh-so-soft feeling against the skin.
Pair it with a matching bamboo sleepwear, slip on plush slippers, and linger over coffee on a sunny yet crisp early autumn morning. This versatile and ultra comfy outfit also makes the perfect loungewear for movie night. One of the most versatile styles of leisurewear, a classic white waffle robe can also be dressed up with silky undergarments worn underneath.
Date Night
If it's a low-key dinner for two, keep it casual and comfy in a lace cami framed by a structured blazer. Add your favorite pair of love-worn skinny jeans to balance your silhouette and anchor the look with strappy sandals, a tribute to the last days of summer.
For a romantic evening, make it a memorable occasion when you step out on the town in a sleek little black dress, a must-have for every woman's closet. When fashion designer Coco Chanel debuted a smart and striking black dress in 1926, Vogue predicted that the LBD would become "a sort of uniform for all women of taste." Give this timeless classic a stylish update when you wear an off-the-shoulder style framed by a scarf that drapes languorously across the neckline. For a fun 90s throwback, wear a statement choker made of lace or pearls, then finish the look with classic pumps, an outfit that's red carpet ready.

Shopping Day
One of the best times for snagging end-of-season deals also happens to be during the transition from summer to fall. But even if you're not hunting for bargains, heading out for a blissful day of retail therapy gives you a chance to take your favorite statement pieces out for a spin.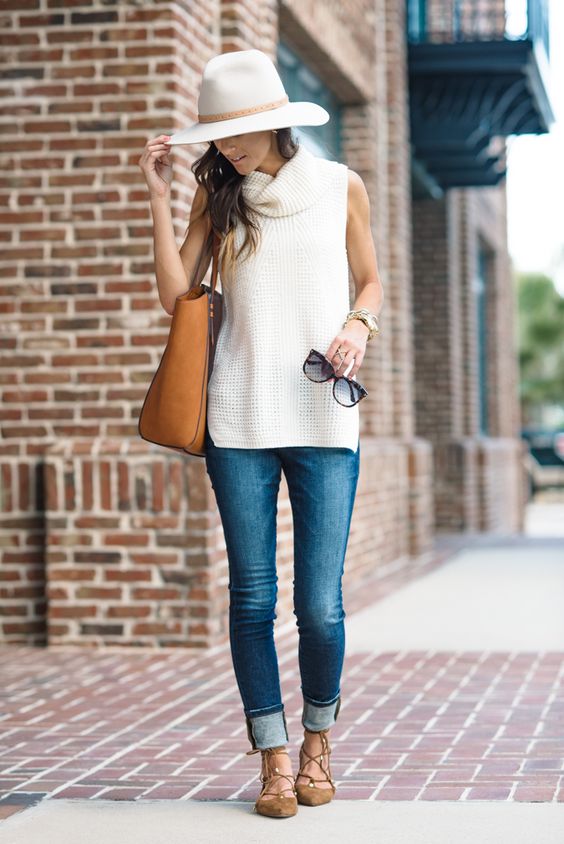 Get ready for your Instagram close up with an outfit that's perfect for #TBT (Throwback Thursday). For a modern update on 80s glam rock, transform your denim mini into a full outfit by pairing it with a soft and fuzzy knit sweater. Look for bright and cheerful shades like yellows and pinks, the perfect colors for celebrating the end of summer.
Another Instagram-worthy look is a graphic t-shirt worn under an oversized jacket. Add a scarf and roll up the sleeves for a look that's stylish but also comfortable and cozy. Wear it with your favorite pair of sneakers for a sporty style that's easy on the feet.
A major plus of the shift from summer to fall is the moderate and pleasant temperature, which gives you the perfect excuse for getting back in touch with the great outdoors. You can turn this classic outing that defines nostalgic Americana into an epic event when you park your picnic basket in the best spot for #sunset.
Strike a pose for Instagram when you showcase a bright statement dress with bold prints and a long black overcoat with a sleek, tailored fit. Look for a frock with a short hemline, which shows off your legs by lengthening your frame with the trendy high-low effect.
If you're not ready to part with your favorite summer outfits, bring your summer floral prints into fall by toughening up pretty colors with a leather Moto jacket, a playful contrast that adds a touch of punk luxe. Another summer-to-fall essential for your fashion playbook, take your favorite off-the-shoulder maxi dress from summer casual to autumn trendsetting by layering it over a solid colored tank top or body hugging t-shirt.
With a playful mix-up of nostalgia-tinted styles and Instagram-worthy trends, the anything-goes spirit of today's fashion makes it easy to master the transition from summer to autumn.