You don't have to steal hotel robes just to have a high-quality bathrobe for yourself. Keep reading for everything you need to know about where to find the best hotel robes.
RELATED: You Don't Need To Steal Hotel Towels To Own One
In this article:
FAQs About the Best Hotel Robes and Where to Find Them
Can You Take Hotel Robes Home?
Plenty of guests can't resist the alluring softness and tenderness of hotel spa robes and bathrobes. The warm, gentle feeling of being enveloped in soft fabric is not something you can easily forget.
As a result, guests contemplate whether they should take the hotel robes home with them. Some try to sneak them in their luggage or bags to fool the hotel staff, while others simply ask the front desk about it.
Is it really okay to bring home hotel robes? The short answer: no!
Most hotels and motels do not allow guests to bring home hotel robes. Similar to towels, the hotel reuses them a certain number of times before disposing of them.
If you decide to take home hotel robes, you'll have to pay for them.
Also, don't think you can sneak them out easily. The staff often inspect rooms for missing items, especially towels and bathrobes, before letting the guest go.
What Are Hotel Robes Made Of?
The most common materials used for hotel robes are:
Egyptian Cotton: These are thick, dense fibers with great absorbency. If you're looking for super absorbent robes to wipe the water off of your body right away, go with Egyptian cotton.
Turkish Cotton: Turkish cotton is not as absorbent as Egyptian cotton, but it's much lighter and easier to wear. This makes it ideal for beach trips, pool parties, and overall loungewear. Plus, since the fabric isn't as heavy, it won't look beat and rundown as easily.
Silk: Robes made of silk are extremely stylish and elegant. You can use them as a comfortable nightgown, a cover-up when you're at the pool, or as part of an ensemble if you're feeling fashion-forward.
Where to Buy Hotel Robes?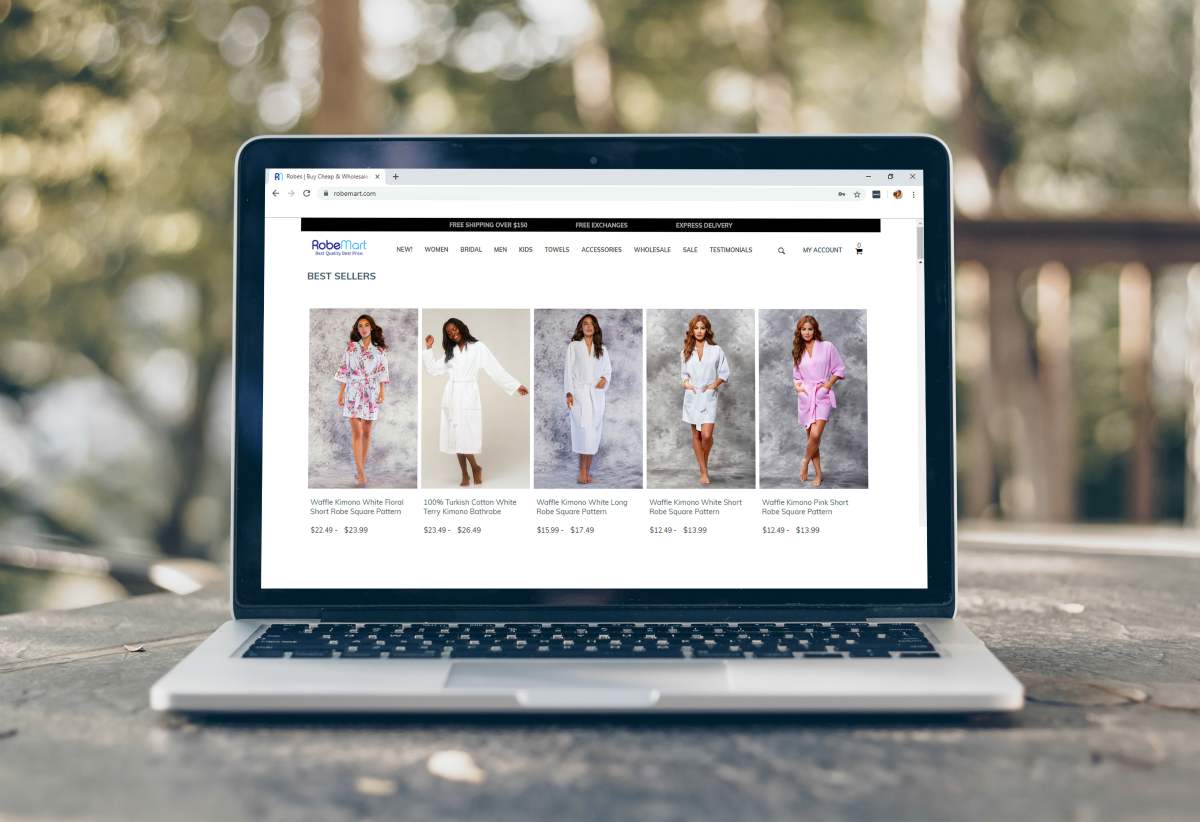 Rather than sneakily bringing home bathrobes from your hotel rooms, opt to buy your own set. If you're looking for the best hotel robes on the market, here are the best reasons to check out RobeMart's collection:
1. Personalization Option
We make sure each bathrobe is designed specifically for a specific market's needs. In fact, we have different hotel robes for women, men, and even kids!
They differ in style, texture, and function, among others, so feel free to look for one that perfectly expresses your style and personality.
For example, our women's collection has above-the-knee lace robes with sensual, seductive patterns and designs that'll make you look sexy but, at the same time, carefree. Meanwhile, the bathrobes we market to men are primarily long, thick ones that give a sense of power and prestige.
2. Durable Materials
Durability is very important when choosing your bathrobes. Make sure you choose strong, long-lasting ones that don't easily break when you wash them.
3. Stylish Designs
You choose from our wide array of colors, styles, and patterns.

For women, we have various colored and printed robes made of different materials such as cotton, satin, and even silk.
You can use silk if you want to look sexy and naughty. Meanwhile, go with cotton if you want maximum comfort.
For men, you can choose from our long, comfortable cotton and terry robes. We offer an array of colors such as gray, blue, white, beige, and black.
RELATED: 5 Reasons Why Turkish Towels Are A Must For Your Hotel
4. Comfortable Wear
Even if you're looking for sexy lingerie robes, they still need to feel comfortable. Never sacrifice comfort for style and aesthetics.
If you really want the tender warmth of a soft robe, then you should go with waffle kimono robes. They're made of soft, gentle cloth which makes them feel like fluffy clouds when wrapped around the body.
5. Absorbency Power
One of the main purposes of a bathrobe is to absorb water, whether it's after swimming at the beach or pool or after taking a bath or shower.
As much as possible, you should have at least one thick, absorbent bathrobe made of cotton or soft fleece.
How to Take Care of Hotel Robes?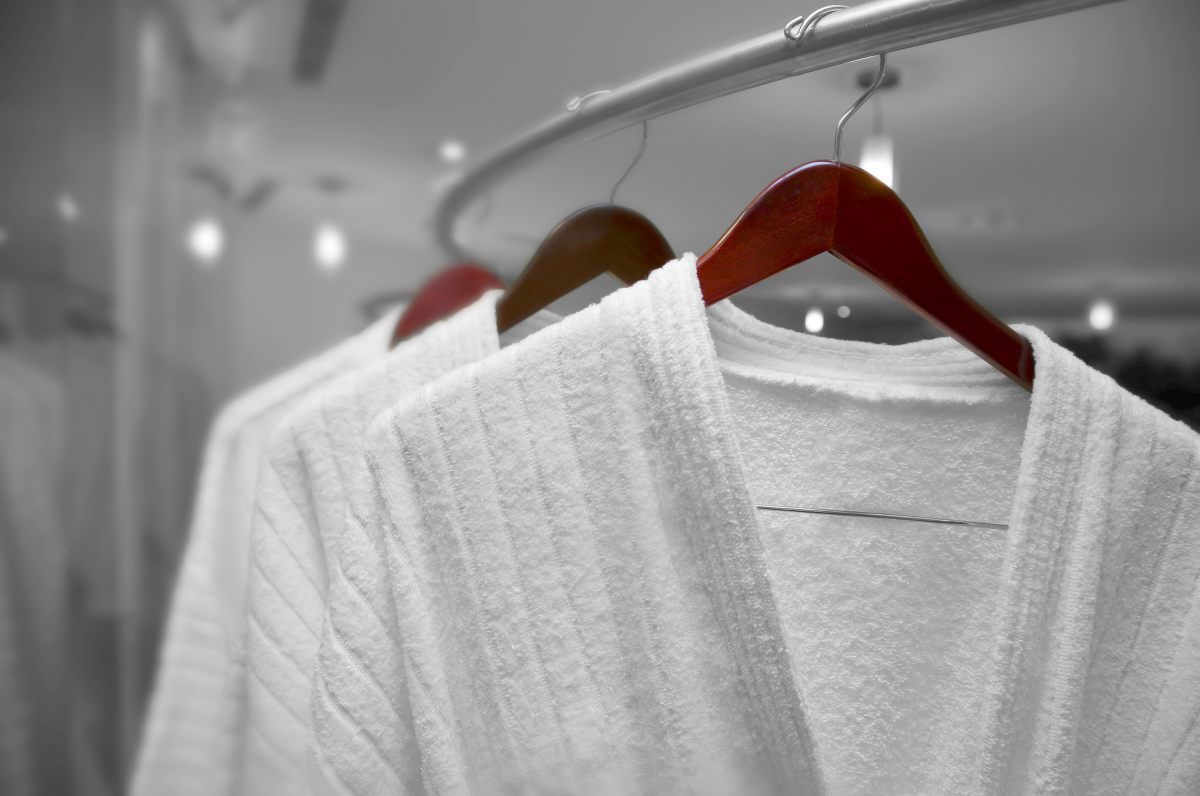 Having enough funds to buy the best hotel robes isn't enough. You need to know how to properly take care of them or they won't last long.

Some tips you need to keep in mind are:
1. Don't Abuse Detergents and Fabric Softeners
One common mistake people make when washing robes is abusing detergents and fabric softeners. Using more detergent won't clean your robes better, and abusing fabric softeners won't make them feel fluffier, too.
Don't rely on these chemicals alone to take care of your robes because it'll have the opposite effect. In fact, using more detergent makes the fabric feel stiff and starchy, while using too much fabric softener will make the material lose its color and feel waxy.
If you want cleaner robes, you can mix half a cup of white vinegar in your first wash. For softer, fluffier robes, throw in a clean tennis ball in the wash.
2. Store Them Properly
Don't just throw your hotel robes on the bed when you're done with them. It makes your room look messy, and it ruins the quality of your bathrobe.
You need to hang and air them out properly. Otherwise, they'll have a sour smell that'll be hard to get rid of.
3. Dry Cleaning
Check your robe's label to see if there are any special instructions on how to clean them. Some types of hotel robes have specific cleaning instructions.
For example, polyester should only be dry cleaned, never machine washed.
Similarly, you should handle silk robes with care as well. Even if they're safe for machine wash, it might be best to hand wash these types of bathrobes.
These are just some of the basics of how you can get your hands on some luxury hotel robes. What's important is to assess exactly what your business needs, so you can find the perfect material and design for you.
Robes are versatile pieces of clothing that have gained traction, and they aren't limited to indoor use anymore. Even celebrities have started wearing robes out in public!
What do you love about hotel robes? Share your thoughts with us in the comments section below!
Up Next: