Running out of fresh and unique bridal shower ideas? Here are seven bridal shower themes to help you get your party on!
RELATED: 9 Tips On Choosing The Best Bride And Bridesmaid Robes
In this article:
7 Bridal Shower Ideas For Every Kind of Bride
1. Organize a Spa Night at Home
A spa night is the perfect bridal shower theme for a stressed-out bride. Wedding planning can be nerve-wracking and most of that stress usually falls on the blushing bride.
Help the woman of the hour get some R&R by pampering her with all the spa essentials! Here are a few things you may want to do:
Deck out your party space with comfortable couches and lounge chairs.
Play relaxing music in the background.
Hire a few masseuses and nail technicians for the evening to spoil the bride and guests with massages, foot spas, hand spas, or mani-pedis!
Leave out a few ready-to-use sheet masks for the guests to use while waiting for their turn.
Serve an assortment of finger foods, such as sandwiches, cheese, crackers, and chips.
Pop open a bottle (or two) of the bride's favorite champagne.
Make your spa party extra special by getting the bride and guest matching, personalized robes. Your guests can use the robes during the party and it's a wonderful keepsake too!
Tip: Get your bride a different-colored robe to distinguish her from the guests. Once everyone arrives, have them put on the robe and snap a photo!
2. Hit the Beach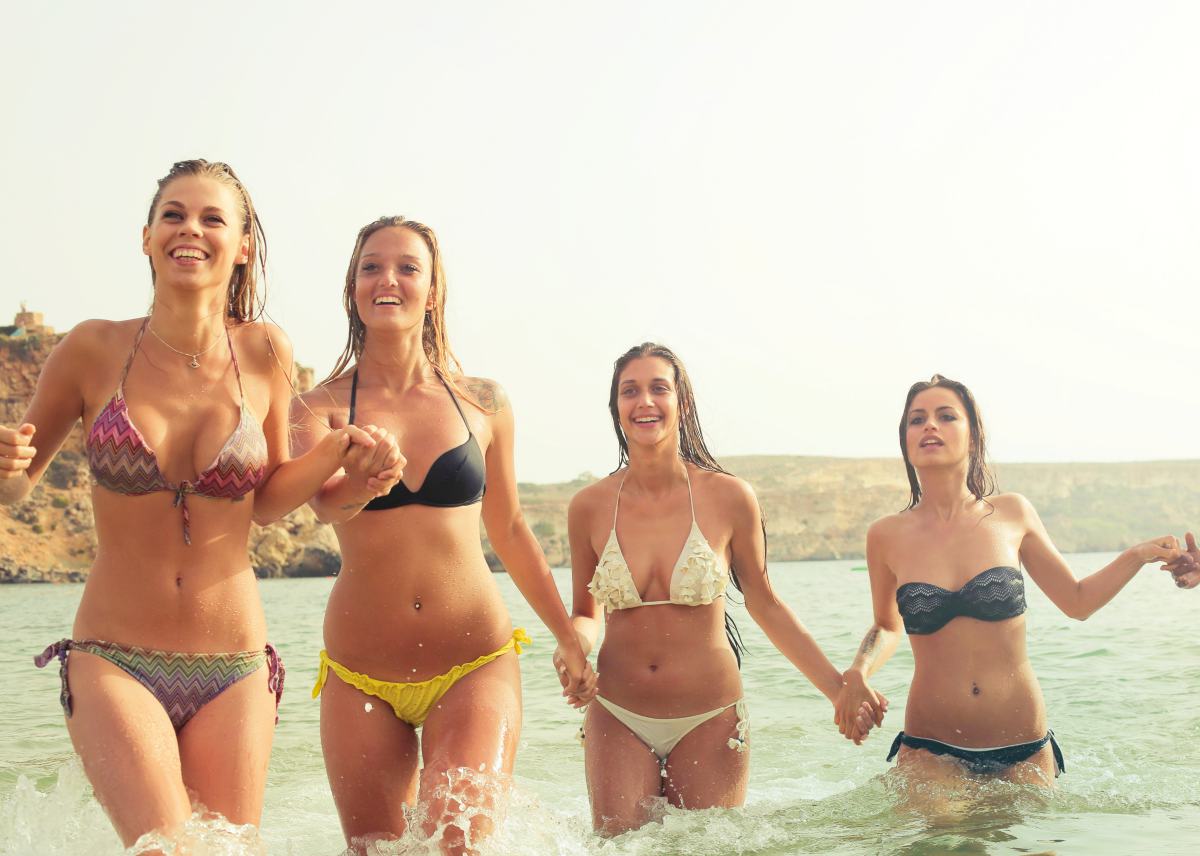 An all-girls beach trip is great for the bride who can't get enough of the sun and sea! Sometimes, a quick getaway is just what the bride needs to get ready for her big day.
Here are some things you can do to make sure the beach party is a success:
Don't over-plan! Give the bride and other guests a chance to enjoy the beach and everything it has to offer.
Think of one or two group activities or games that you can do together. You can organize a sunset boat ride or maybe a relaxing session of yoga on the beach.
Bring a lot of snacks and drinks for the day.
Cute and useful giveaways are the perfect way to tie your theme together. The perfect giveaway for your bridal shower beach party is beach towels!
Tip: Adding little details to giveaways can make a huge difference! You can roll up the beach towels, tie each one up with some twine, and add a small note that says something, like "Last sail before the veil!"
3. Have an Old-Fashioned Slumber Party
For the nostalgia-loving bride, you can throw an old fashioned slumber party! What bride wouldn't appreciate an evening of fun and frivolity with her closest gal pals?
Here are some things you can do to set up the perfect bridal slumber party:
If you're looking for decoration or bridal shower game ideas, use the bride's favorite childhood/teenage television shows, book series, or bands as inspiration.
Don't forget the bubbly! Now that you're all adults, it's perfectly fine to booze up in this slumber party.
Forget your diets for the evening and pig out on junk food—slumber party style! Slumber party staples include chips, popcorn, soda, and pizza.
To make your slumber party even more memorable, why not get matching pajamas for the bride and the other guests? A nice pair of pajamas can help everyone get in the slumber party mood!
Tip: Don't forget to get everyone's sizes beforehand! That way, everyone will look great and be comfortable in their sleepwear.

RELATED: The Ultimate Guide to Bridal Robes and Why you NEED Them
4. Enjoy a Fancy Evening Out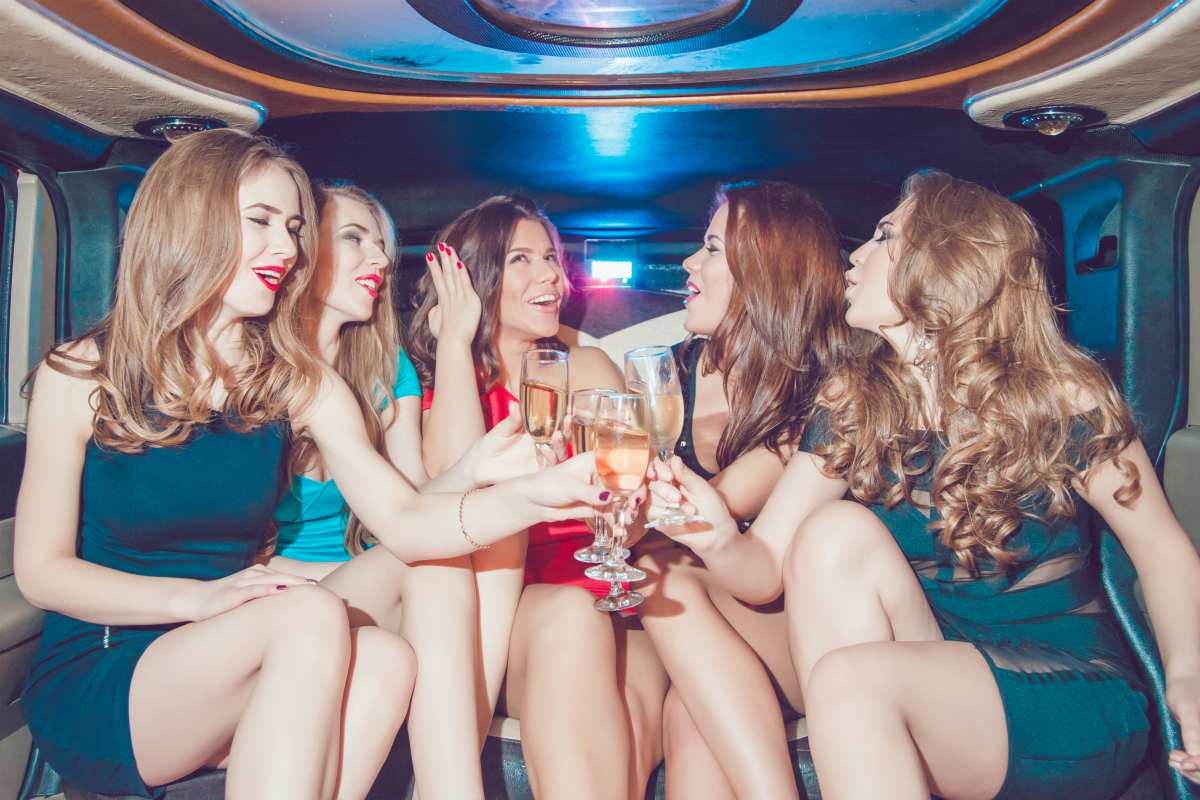 A fancy night out is essential for the bride who enjoys the finer things in life. If the bride enjoys getting dolled up for the evening, then here's what you need to do:
Get a nice town car or limousine to pick up the bride and the other guests.
Make a reservation in the bride's favorite restaurant. If it's possible, get a private room/area for your group.
Think of a meaningful activity you can do over dinner. The guests can present the bride with gifts or each guest make a toast for the bride.
Find a nice place for a nightcap of wine and cheese.
The fanciness doesn't have to end when the evening does. You can give the bride and guests luxurious nightgowns as a party favor.
That way, they'll be reminded of that fun and fancy evening every time they wear it.
Tip: To avoid potentially awkward situations, don't forget to inform your guests about the dress code for the evening!
5. Host a Cook-Off
If your planning a party for a foodie bride, then a cook-off is the perfect way to celebrate! There are different ways you can go about having a cook-off.
Here are some of your options:
Hire a chef to teach the bride and guests to cook a few dishes, then engage in a friendly competition.
Hire a chef to cook for the bride and her guests.
Assign a dish to each guest and spend the entire day in the kitchen cooking together.
Whichever you choose, the end result is the same: a whole lot of eating once the cooking is done! Make sure to have an ample supply of washcloths in your bathroom in case the guests want to freshen up after cooking.
6. Throw a Makeover Party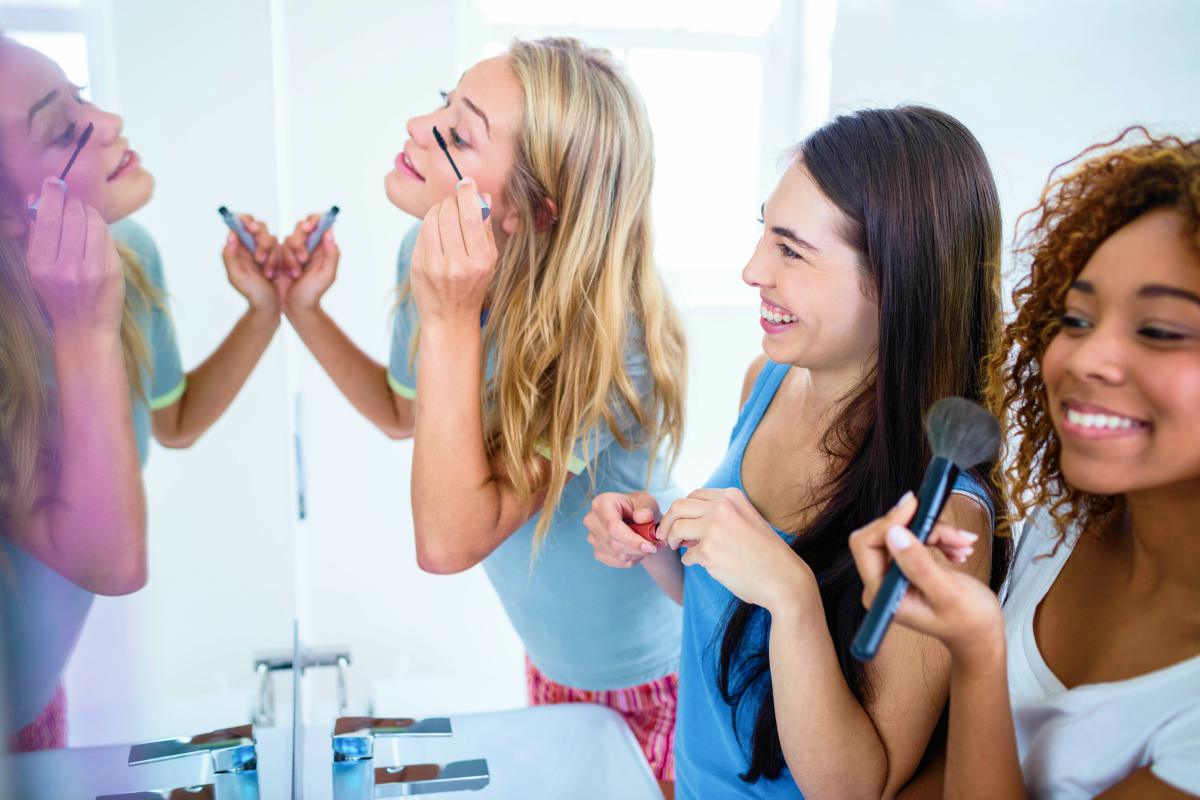 Makeover parties aren't just for little girls. It's actually a perfect bridal shower theme, especially for the bride who remains undecided about her final look for the wedding!
A makeover party can give the bride (and her favorite girls) a chance to try out different styles of makeup and hair. All you need to do is book makeup artists and hairdressers for the day.
Don't forget to supply the bride and guests with a terry headband to keep their hair away from their faces while the makeup artists do their magic! Even though you're technically getting a wedding task done during the party, it's still a party and parties aren't complete without a giveaway!
Another great giveaway for a makeover party is a makeup bag. You can fill it with travel-sized makeup essentials that your bride and guests will need for the wedding.
Tip: Don't forget to take photos of each look! That way, the bride and guests can go over the photos to figure out which make up styles and hairstyles they like the best!
7. Go Glamping
If the bride is an outdoorsy kind of girl, then glamping may be the way to go for her bridal shower!
What is glamping? Glamping is short for glamorous camping. Guests are treated to luxury camping amenities while still enjoying the great outdoors.
The great thing about glamping is that you can still do all of the fun camping activities like bonding over a bonfire, taking a hike, or roasting marshmallows. But at the end of the day, the bride and guests can relax in their comfortable and fully-serviced tents.
Make the bride and guests feel extra cozy at night by gifting them with matching hooded robes!
No matter how busy wedding planning can get, try not to skip the bridal shower. It's a great opportunity to bond, create new memories, and celebrate with the bride before she gets married.
A party favor or giveaway is a great keepsake for both the guests and the bride. Make it extra special by purchasing quality products from RobeMart.
Are you looking for bridal shower gift ideas? What do you have in mind? Let us know in the comments section below. 
Up Next: