Just like the ones you use in hotels and spas, you can (and should!) have the best bathrobe in your own home.
RELATED: The Ultimate Guide to Bridal Robes and Why you NEED Them
7 Luxurious Contenders for the Best Bathrobe
1. Waffle Kimono Robes
Many hotels and spas use waffle kimono robes to pamper their guests. And why wouldn't they?
Waffle bathrobes are lightweight and absorbent at the same time! They're soft and comfortable without the unnecessary bulk.
Waffle robes come in a variety of colors and have three length options:
The short poly-cotton waffle robes start off at $13.99, while the long ones start off at $17.49. If you're looking for something even more luxurious, there are also 100% Turkish Cotton waffle robes which start off at $23.99.
Both poly-cotton and Turkish cotton waffle robes are double stitched for durability. They also include two patch pockets and a self-tie belt.
Tip: Make your waffle bathrobe extra special by personalizing it! You can add your initials, nickname, or logo on your robe for a customized touch.
2. Velour Shawl Waffle Robes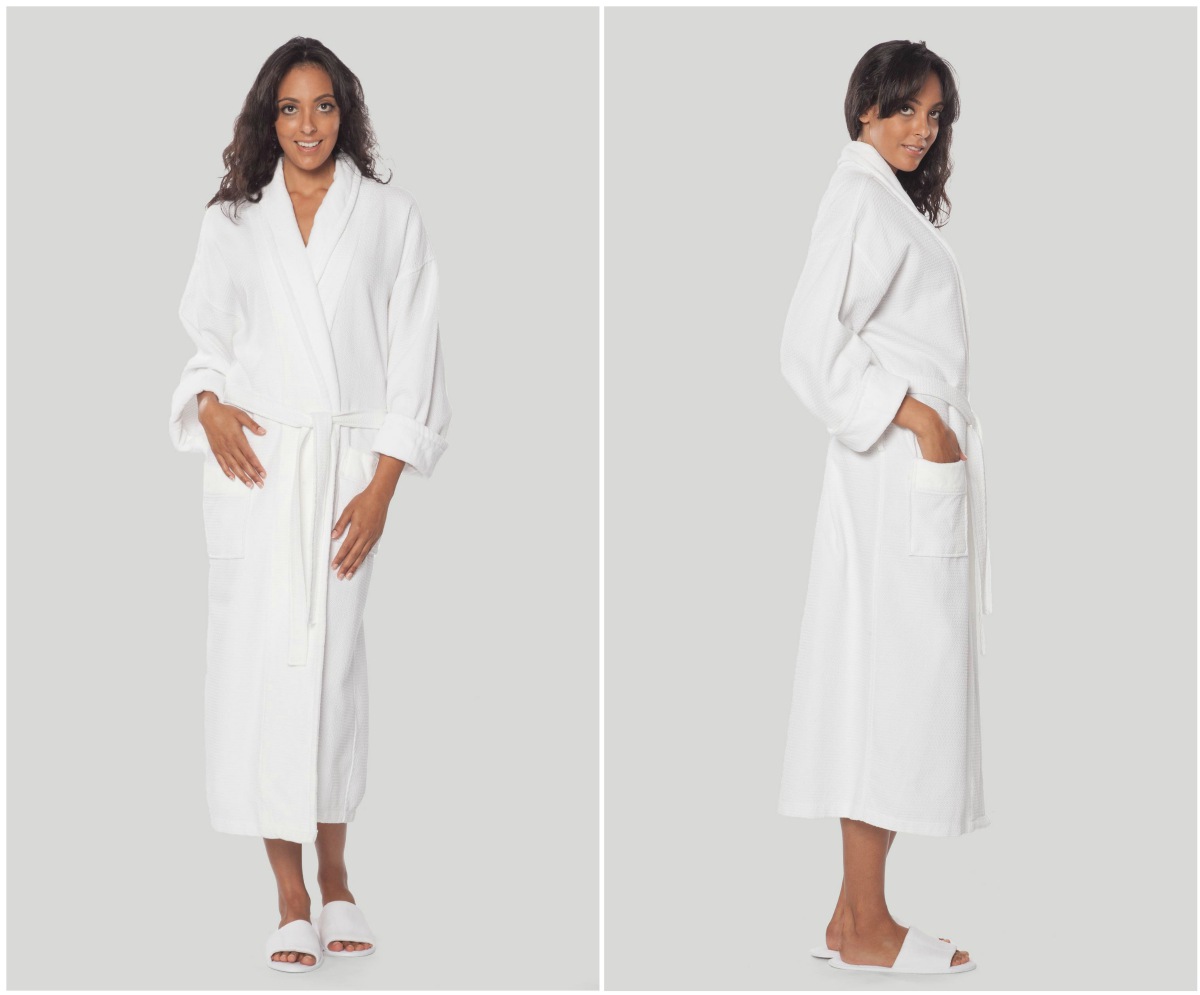 The velour shawl waffle robe is a waffle robe variant you may want to consider. The velour shawl collar is a subtle, but stylish, addition.
It's 100% Turkish cotton and uses the same waffle weave fabric which absorbs excess liquid and will help keep you dry.  Unlike the regular waffle bathrobe, the velour shawl waffle robe boasts an interesting diamond pattern and it's lined with terry cloth.
This is perfect if you're looking for extra warmth. Another great thing about this fabric is that it also expands—so, with the right care, it'll get fluffier with each wash.
This elegant long robe comes in two classic colors: white and beige. It also has the following features:
two deep pockets in front for easy access
double belt loop which allows you to adjust the belt according to your height
integrated hanger loop of easy storage
This bathrobe is not only stylish, but it's also made to last with its double stitching. Velour shawl waffle bathrobes start off at $27.99.
Tip: Keep your feet warm with matching closed toe waffle slippers!
3. Microfleece Plush Bathrobes
RobeMart drew inspiration from 19th century traditional housecoats to design their cozy microfleece plush robes. These plush robes are made from high-quality microfleece.
What is microfleece? It is a synthetic fabric usually made out of polyester. This light-weight fleece variant is often used to make outdoor jackets, gym clothes, and bathrobes.
This robe is microfleece inside and out, giving it an ultra-soft feeling while providing extra warmth at the same time. It comes in six sophisticated colors:

White
Burgandy
Black
Grey
Purple
Navy blue
It also includes a double belt loop for height adjustment, a hanger loop, and two deep front pockets. Microfleece plush bathrobes start at $29.99.
4. Terry Cloth Bathrobes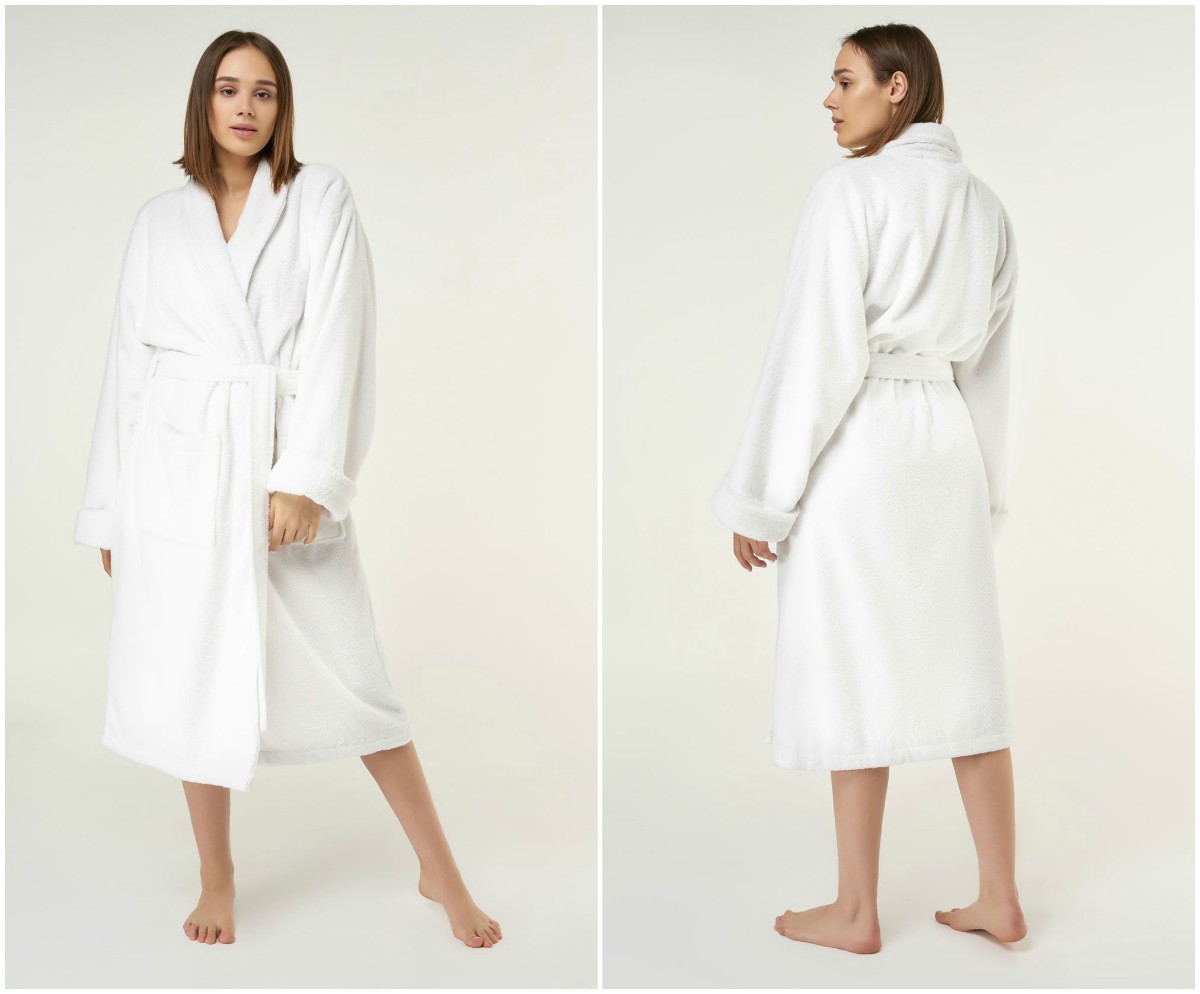 Terry cloth is a type of woven fabric made out of loops. While it's usually used to make towels, it also makes a great bathrobe because of its absorbent quality.
Terry cloth bathrobes are quite common, but not all terry cloth bathrobes are created equally. RobeMart's terry cloth bathrobes are extra luxurious because they're made out of 100% premium Turkish cotton.
It's also terry cloth both on the inside and on the outside, making it highly absorbent. It's lightweight and soft, but it can keep you warm during the cooler seasons.
This versatile bathrobe comes in two designs:
The kimono terry bathrobes come in standard sizes and start off at $29.99. The one-size-fits-most shawl terry bathrobes start at $31.99.
Tip: Match your terry cloth bathrobe with a velcro terry headband!
RELATED: How To Choose The Right Spa Robes For The Ultimate Luxury Experience
5. Terry and Velour Hooded Bathrobe
Hooded bathrobes aren't very common in hotels or spas. But with the right design, they could be right up there with other luxury robes—just like RobeMart's terry and velour hooded robes.
RobeMart's uses 100% Turkish cotton for its hooded bathrobes. It comes with an extra large hood to provide you complete warmth.

The inside of the bathrobe is 100% looper terry for maximum absorbency. While the exterior of the robe is 100% velour, which is a fabric with a rich, velvet-like finish.
It comes in three classic colors: black, white, and red. Prices for this dreamy robe start off at $33.99.
Tip: Don't leave your feet out! Add matching velour slippers to complete your look.
6. Heavy Weight Hooded Bathrobes
RobeMart's heavy weight hooded bathrobe is a special variant of the hooded bathrobe. A heavy weight bathrobe is just what you need to put you in the mood for luxurious rest and relaxation.
Wearing a heavy weight bathrobe is like being enveloped in a cozy hug. You'll definitely want this hug to last because this bathrobe has great features, including:
100% Turkish cotton
100% terry cloth on the inside and out for great absorbency
extra large hood
deep pockets
hanger loop
double stitching
The heavy weight hooded robe comes in three classic colors: white, black, and navy blue.  This cozy, one-size-fits-most robe is $36.95.
7. Plush Bathrobes for Kids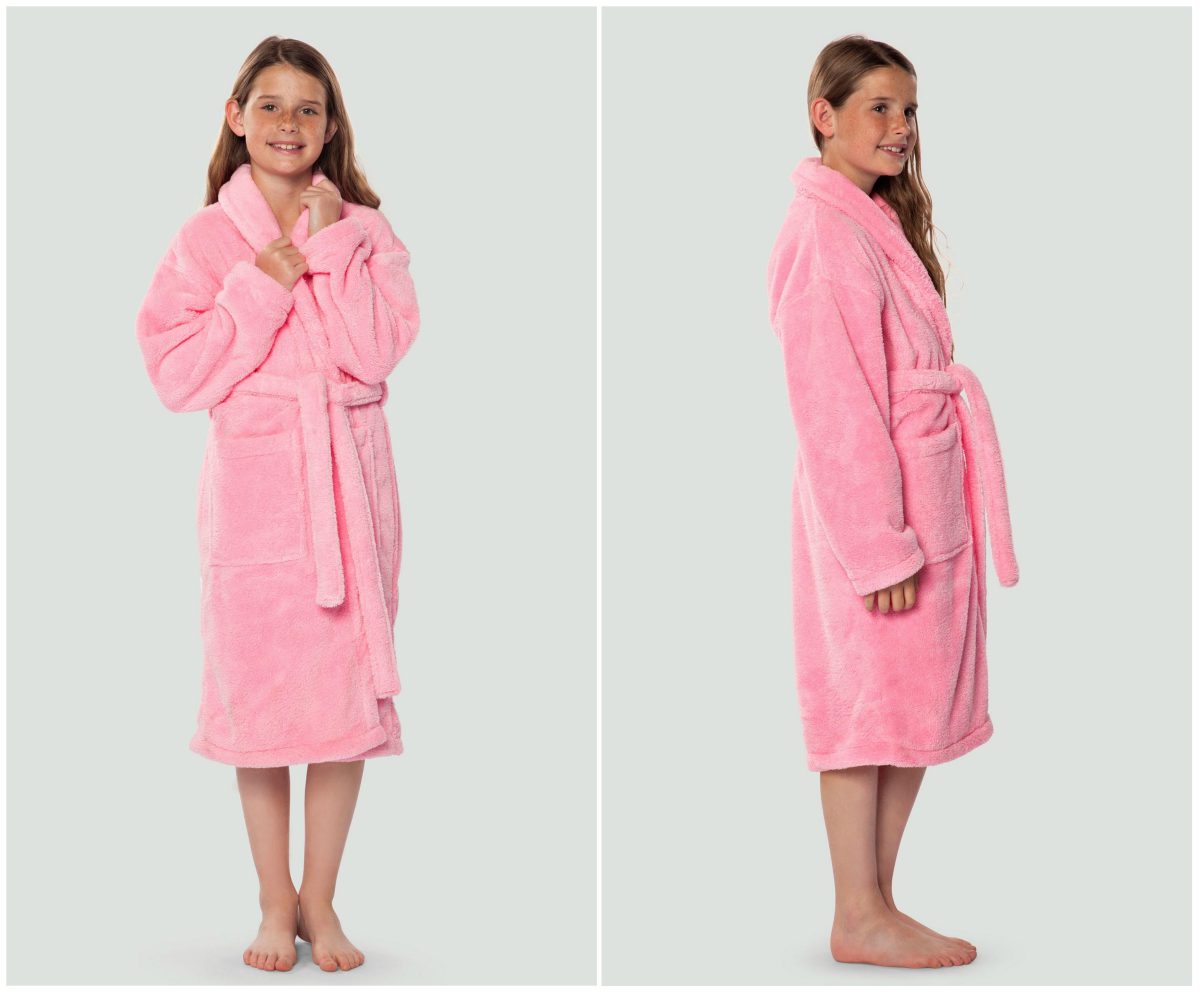 If mom and dad are enjoying the luxury of a hotel-quality bathrobes, why should the kids be left out? Pamper your little ones with RobeMart's fleece shawl kid's robes.
This warm and super soft kiddie robe is made from 100% polyester fleece. It comes in four standard children's sizes: small, medium, large, and extra large.
With eight, child-friendly color options, you're sure to find your child's favorite! This robe comes in:
White
Lavender
Turquoise
Navy blue
Coral
Grey
Royal blue
Pink
This cute and functional kid's bathrobe is only $19.99.
A great bathrobe doesn't have to cost an arm and a leg. And you definitely don't need to go to a hotel or spa to relax in a luxurious bathrobe!
At RobeMart, you and your family can own the best bathrobes at the best prices. With just a few clicks, your dream bathrobe could be on its way to your doorstep in no time!
Would you like a hotel-quality, luxury bathrobe? Let us know in the comments section. 
Up Next: