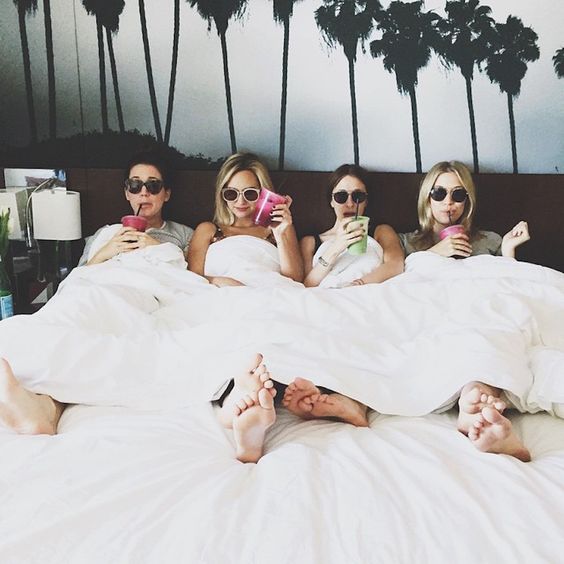 Forget binging on champagne in Miami or Vegas. For the sophisticated bachelorette party, there are many more options for making unforgettable memories. Head to one of these inspiring lesser-known destinations and get ready to say "I do" to the most epic girl's night of your life.
Nashville, TN
Gather your A-List gal pals and prepare yourself for a honkey-tonk good time in Music City. Corral your lucky group of ladies onto the dance floor at Honky Tonk Central, the hotspot on famous Lower Broadway that features three stories of great food, good times, and the best live country music in town. But don't let your fun stop there. After making a dust up on the dance floor doing the cowboy boogie (yes, it's a thing), go bar hopping on the strip and get a sampling of Nashville nightlife.
Where to Stay: For your hard-to-please friends, make them feel like royalty when you stay at Westin Nashville, a luxury hotel where you can enjoy craft cocktails on the rooftop pool or indulge in a spa day with the ladies at the Rhapsody Spa. Situated directly across from Music City Center, its central location puts you close to all the hotspots.
What to Pack: Grab your cowgirl hat and pack your favorite dancing boots, the must-have accessories for country line dancing.
Austin, TX
Known for its thriving local music scene, the Live Music Capital of the World is home to some of the most iconic music venues in the country, including Austin City Limits and the legendary Continental Club.
Where to Stay: To say this hip and modern hotel is luxe is an understatement, because the Kimber Modern oozes sophistication and elegance. It also has a lively atmosphere, which makes it perfect for girls who just wanna have fun.
What to Pack: Austin has a low-key vibe, so pack your suitcase with a few variations of the jeans-and-a-cute-top uniform. Dress up the look with a structured blazer and chunky heeled boots for a casual yet effortless evening outfit.
Savannah, GA
Get a taste of Southern charm and hospitality when you take your group of besties to Savannah, the Hostess City. Start your day with brunch at the Soho South Café in the heart of Savannah's historic district. After an afternoon of sightseeing, make a pit stop and indulge in a round of afternoon dessert cocktails at LuLu's Chocolate Bar, then ride the evening sugar rush into your dancing shoes for a night on the town.

Where to Stay: The historic Bohemian Hotel makes an enchanting and swanky base camp for all your escapades.
What to Pack: Channel the old-fashioned style of the iconic Southern belle with classic frocks accented with lovely ruffles and romantic floral prints. Even in the South, the weather can get chilly in the autumn months, so cover up bare shoulders with an oversized knit scarf.
New Orleans, LA
In the cooler autumnal months, the Big Easy comes alive with its legendary party-in-the-street atmosphere. Bring your bride tribe to the French Quarter for a party that you'll always remember. A rite of passage on any New Orleans visit is getting sufficiently coated in powdered sugar at the historic Café Du Monde—the classic order is a café au lait with a signature chicory flavor and a round or two of beignets. After getting sufficiently caffeinated, take a walking tour of the city and experience the tastes and sounds of the burgeoning South Market District.
Where to Stay: If swanky style is your thing, then there is no place like the Ace Hotel. Located in the center of the action, this hotel helps you keep up the pace with class and distinction.
What to Pack: Lace up your dancing shoes because there are plenty of opportunities to dance in the street. With the funky, anything-goes vibe of New Orleans, wear a statement piece to stand out from the crowd, like a crushed velvet blazer worn over a provocative lace corset. Don't forget something soft to slip into for your beauty rest after your night out!

San Francisco, CA
Let "Frisco" treat you and your friends to an experience that transcends the typical bachelorette cliché; your well-cultured friends will appreciate a world-class art and culture scene that is distinctively San Francisco. For an afternoon of sophistication and elegance, book your seats on the Napa Valley Wine Train and get ready to wine a little and laugh a lot. It's "all aboard" when you start your journey via ferry from San Francisco.
Where to Stay: To stimulate the senses, stay at the Hotel Zeppelin, where retro meets contemporary style with a side of beatnik chic.
What to Pack: Northern California is known for its frequent weather fluctuations, so make sure to pack lots of layers. After a full itinerary of California dreamin', get comfortable in matching satin robes and head to the hot tub for some luxurious lounging.
When you book a special trip for your bachelorette extravaganza, it shows that you're 100% committed to having an amazing adventure.

Sources:
http://www.savannah.com/savannahs-jam-packed-bachelorette-party-package/
http://austin.culturemap.com/news/entertainment/04-12-17-austin-original-best-live-music-venues-clubs/
https://greenweddingshoes.com/how-to-throw-a-fab-bachelorette-weekend-in-new-orleans/