This season, make the most of your precious 'me' time with a luxurious hotel robe, the best investment you can make in your everyday wellness routine. A must-have for every wardrobe, the classic waffle robe from Robemart is everything you could want in a luxe hotel robe: plush, fluffy, and oh-so-soft. Here are the benefits of their bestselling waffle hotel robe and why you NEED one:
Many Style Options
Besides the unisex fit and clean lines, the signature waffle robe from Robemart is available in an exclusive selection of trending colors. For a pop of color, choose from feminine pastels, or keep it classic with popular colored robes like black, pink, red. At Robemart, you can also add a personalized touch with embroidered monogramming or a special hashtag. With the largest collection of waffle hotel robes in the U.S., Robemart also offers different lengths, including long for optimum leg coverage and knee length for a more lightweight style. With so many colors and styles to choose from, the mix and match potential of the classic waffle robe is seemingly limitless. It can be worn alone as stylish, everyday loungewear or dressed up with layers of matching underwear or PJs underneath. This makes it a perfect choice for lazy mornings or cozy nights to wear. 
Durable & Easy to Care For
Besides its ultra soft fabric and comfortable fit, Robemart's waffle robe is also known for its durability, which is why it's one of the most popular robes for hotels. Double stitched and made with a diamond-shaped waffle pattern, the blend of cotton knits gets softer and softer with every wash. Simply toss it into the washing machine on the normal cycle, tumble dry on low, and keep your hotel robe in pristine, just-like-new condition for many years.
An Affordable Luxury
Robemart's customers are always surprised at the incredibly low price of these high-quality hotel robes. Available at low wholesale prices, their waffle hotel robe gives you the look and feel of luxury but without the high price tag. As an added bonus, they also offer shopping incentives like free shipping on orders of $150 or more, which saves you even more money. With prices this inexpensive, you could buy several for yourself as a self-care present, plus a few extra ones to be given as intimate gifts for special occasions. With their quantity discount, the more you buy, the more you save. And since everybody could benefit from a hotel robe, it's a win-win all around!
A Versatile Robe for Any Occasion
The waffle robe, Robemart 's signature item, is made with a soft cotton blend in a woven waffle pattern, which makes it lightweight and absorbent. Thanks to its quick-drying action, it keeps you feeling warm and cozy when you get out of the shower or bath. With breathable fabric and a relaxed fit, the waffle robe can also be used as a classic and elegant cover-up for the pool or spa. Its wide sleeves and roomy silhouette also provide the perfect fit for men and women of all shapes and sizes.

The light material allows the waffle hotel robe to fit easily into a carry-on suitcase, making it an essential item on your travel checklist. It's the ideal companion for your travel. Another benefit is its versatility: The cotton knit blend is both lightweight and soft, which feels comfortable in any temperature.
If you choose to personalize your hotel robe, it could also be a thoughtful gift for bridal parties and other once in a lifetime events. For a bachelorette party that's glamorous and extra special, make your bridal party feel like royalty in matching waffle robes with their initials or title embroidered in rhinestones on the back.

Easy On/off Action & Functional Design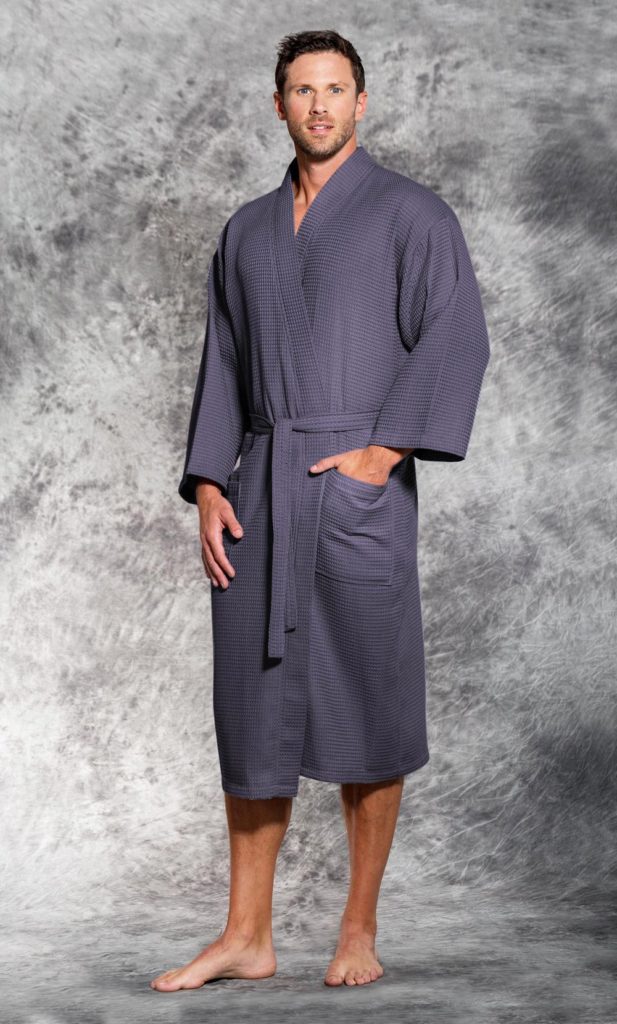 Whenever you want to feel comfortable and pampered, the waffle hotel robe is designed to easily envelop you in its fluffy softness. The robe gives you the ultimate comfort. Along with the sleek and streamlined effect of the flat kimono-style collar, the self-tie belt offers a secure fit with plenty of coverage. The functional design makes it the perfect choice for daily use, including a hanger loop on the inside, which allows for easy storage on wall or door hooks. With every detail in mind for your ease and comfort, the large front pockets also give you easy access to small items like keys, room passes, and other essentials.
Once you experience the softness and comfort of a premium hotel robe, you'll wonder how you ever lived without one. Check out Robemart's extensive selection of luxury hotel robes and get ready to take your lounging to the next level.
Stay tuned for more fashion tips and style stories from the Robemart blog.