Blindly going terry cloth robe shopping can be a waste of money, not to mention cause serious inconvenience. Shop smart by reading this simple step-by-step buying guide below.
RELATED: How to Wash and Store Your Robe
In this article:
How to Buy the Best Terry Cloth Robe
So You've Decided to Buy a Terry Cloth Bathrobe, What Now?
Fabric is everything when it comes to bathrobes and towels. Why shouldn't it be—it's the material that touches your skin and works hard to keep you dry, clean, and comfy.
While there are many worthy fabrics to consider in the market, terry cloth is undeniably one of the best for a reason. Terry cloth bathrobes are made with large, long loops of cotton or cotton-polyester blend fibers, making them water-absorbency champions.
Terry cloth bathrobes are known to be ultimately comfy and warm. To be wrapped in such luxury and comfort after every shower or dip in the pool, or for a cold winter night slumber would be the peak of coziness.
Additionally, these plush luxury-meets-necessity items are also very easy to maintain. The long loops they're made with can survive occasional twisting and pulling, making them highly durable and long-lasting.
After settling on taking terry cloth bathrobes home, what else is there to consider?
Step 1: Consider the Best Cotton that Suits Your Budget
Depending on your budget and purpose, you may choose to buy low-medium grade cotton or high-grade cotton.
Low-medium grade cotton includes blend options and mass-produced items. They're usually at the more affordable end of the price spectrum.
Terry cloth bathrobes made with low-medium grade cotton aren't necessarily bad products. After all, they still get the job done.
However, if you desire the height of comfort and luxury, you can always buy bathrobes made with high-grade cotton. These soft, elegant cottons include Turkish and Egyptian cotton, Sea Island, Pima, and Supima.
One downside to cotton, though, includes wrinkling and shrinking after getting washed. To combat this, some manufacturers blend cotton with polyester or treat cotton bathrobes with shrinkage-free or wrinkle-free finishes.
Step 2: Pick the Design or Cut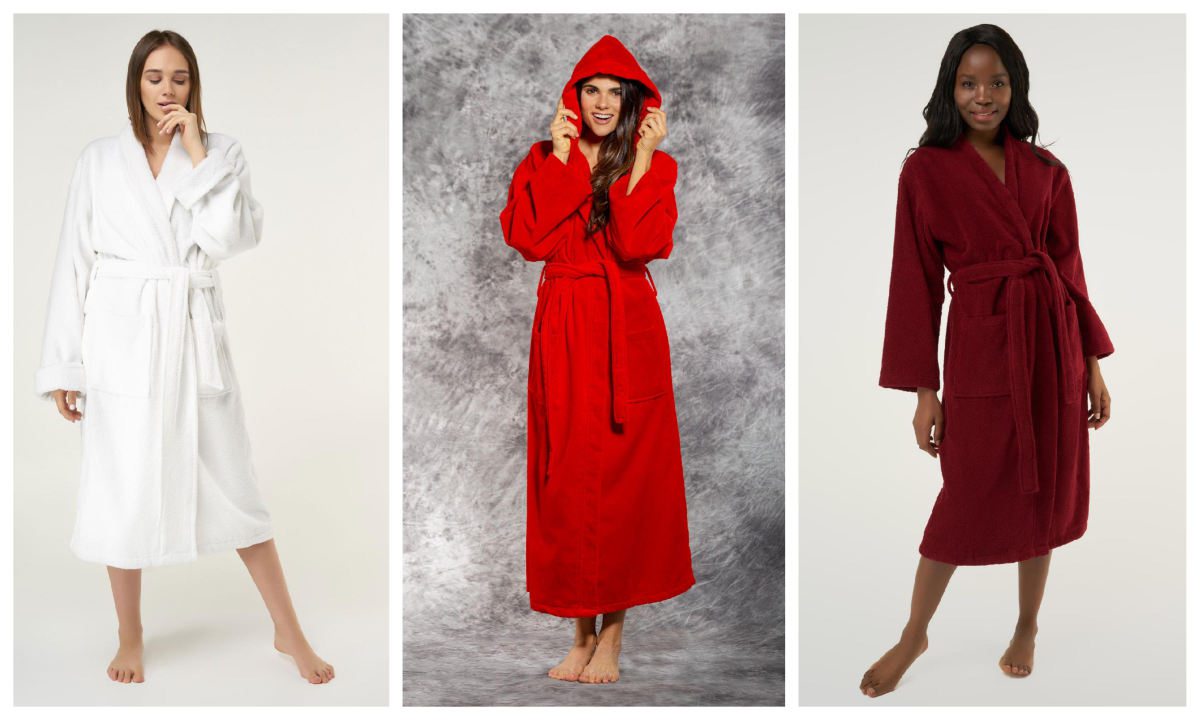 Based on your own preferences, you have to pick the design or cut of the bathrobe. Some of the most popular designs are the following:
Kimono – Patterned after the famous Japanese wardrobe, Kimono bathrobes have longer sleeves and relaxed collars compared with other cuts. This cut is usually made with cotton or silk fabrics.
Hooded – Focusing on providing warmth, hooded bathrobes add cover for the head and neck. Terry cloth robes with hoods can help dry your hair after a shower or dip in the pool.
Shawl Collar – Similar to the Kimono cut, this design has a relaxed collar, too. The difference is it comes with a higher chest cover and flappy sleeves.
Step 3: Don't Opt For One-Size-Fits-All
The one-size-fits-all thinking on bathrobes is misleading. Who would want to spend money on an item that doesn't fit well, right?

While the one-size-fits-all buying mindset may work for mass ordering, like in the hospitality industry, it's simply not applicable for personal or gifting purposes.
To get the best fit, focus on the length of the robe and the sleeves.
Depending on your taste, you can pick a mid-calf long bathrobe or an ankle-length one. If you want warmth for chilly autumn months or winters, ankle-length bathrobes will not disappoint.
Mid-calf cuts, on the other hand, are best suited to warmer seasons. They're also perfect for the spa or pool since they're long enough to dry most of the skin while still giving you enough cover.
For the arms, the length shouldn't be too long or too short. Pick one with sleeves too long and they become a nuisance by having to keep rolling them up; choose one with sleeves too short and they won't cover your arms well enough.
RELATED: Why Everybody Needs a Hotel Robe
Step 4: Choose a Color That Lets Your Personality Shine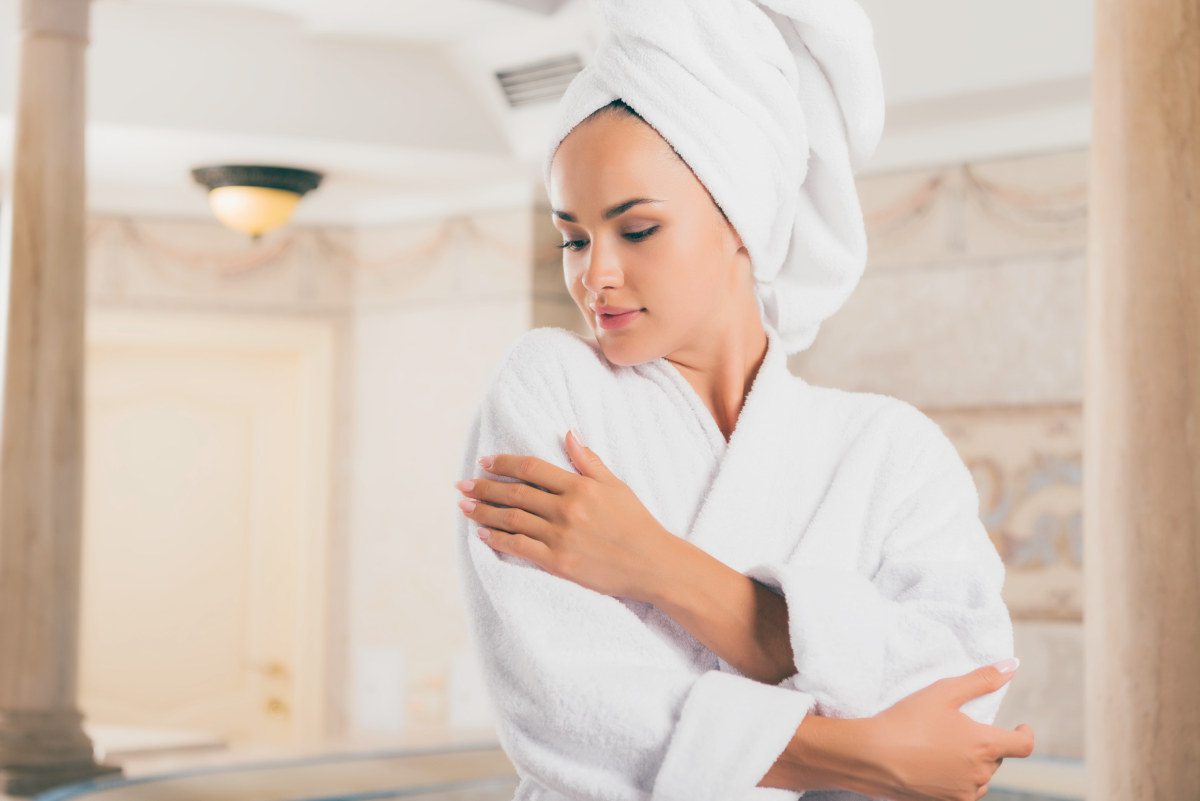 Let your personality show with your color choice. The market now offers a wide variety of options to choose from: From bright and bold, to muted-down and calming, to simple and classic.
There are also striped and multi-colored versions available if that's what suits your personality best.

Step 5: Check for Details and Additional Features
Even with the finest material, a bathrobe wouldn't survive long if the craftsmanship is mediocre.
Make sure to look for bathrobes made with utmost care and deftness. Robes with double stitching have edges that do not easily unravel and generally last longer.
If you're not totally in love with your choice it's just not worth the purchase. Make time to check other features that may cater to your preferences and needs.
You can look for bathrobes with larger pockets or inside ties, for example. These add-ons might add to the price tag but if they can enhance the overall experience, why not spend some more for maximum comfort?
Step 6: Consider Terry Cloth Bathrobes by RobeMart
If its luxury at a reasonable price you're looking for, you'll never go wrong with RobeMart terry cloth bathrobes. Made with 100% high-quality Turkish cotton, our Turkish terry cloth robes are designed to provide you with utmost comfort, softness, and absorbency.
Our terry cloth line also comes with different elegant colors and cuts for everybody's delight. Check out our whole bathrobe line here.
Step 7: Make Room for Creativity and Personalization
If you want to go beyond the classic cotton terry cloth robe, you can always bedazzle it with the right amount of craziness and creativity.
There's the option of embroidering it with your name or initials, or whatever text or statements you might like.
You can have an image sewn at the back of the robe or on its pockets, too! Embellish your robe in ways that would make you love your robe even more, and give you more joy when you wear it.
Just like any other piece of clothing, shopping for your new terry cloth bathrobe should be fun and satisfying. To get the most value for your money, learning as much as you can about terry cloth robes would be ideal.
What is your top consideration when buying a terry cloth robe? Let us know in the comments section below!
Up Next: