Spa robes turn ordinary bedrooms and bathrooms into sanctuaries of rest and relaxation, so go ahead and treat yourself to one! Read on to learn how you can find the perfect spa robe.
RELATED: Why Everybody Needs a Hotel Robe
In this article:
7 Factors To Consider When Purchasing Luxury Spa Robes
What are spa robes? These are robes typically worn in spas, during or in between spa treatments. It helps make customers relax and feel more comfortable.
1. Size: Who's Going to Use the Robe?
If you really want to enhance someone's experience with a spa robe, you have to make sure that it fits well. That's why it's important to know who's going to use the robe.
Are you purchasing the robe for yourself, your partner, a friend, or a child? There are robes specially made for men, women, and children.
Make sure you choose the right size. Otherwise, it may feel more awkward rather than luxurious.
2. Purpose: How and Where Will You Use the Robe?
Think about when and where you want to use your spa robe. If you know how you intend on using your robe, you can pick one that best suits your needs.
If you mostly want to use it after you take a bath, you may want to get a spa robe that's made of a more absorbent material. Otherwise, you can choose a more breathable spa robe simply for lounging and relaxing.
You may also want to consider the climate or season. You may enjoy thicker bathrobes during winter to help keep you warm.
Nothing is more luxurious than having a product that does exactly what you want and needs it to do, so choose well!
3. Composition: What Kind of Cotton Do You Prefer?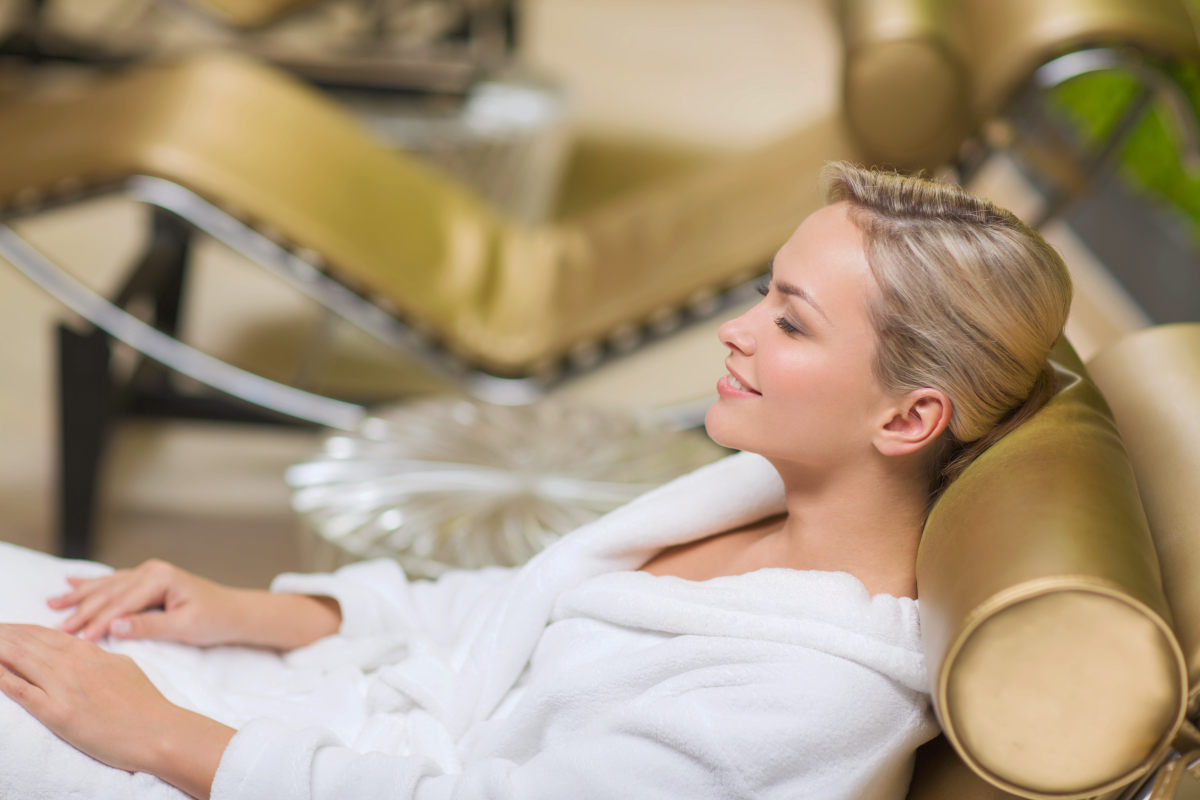 It's important to choose the right type of cotton because this will have an impact on the functionality, longevity, and maintenance of your spa bathrobe. There are two kinds of cotton usually used for spa robes:
Combination of natural cotton and polyester
Turkish cotton
What is Turkish cotton? Turkish cotton is from the Aegean region of Turkey. This premium high-grade cotton has extra long fibers that can make absorbent, soft, and fluffy bath items such as towels and robes.
Many even compare Turkish cotton to Egyptian cotton. And as robes go, Turkish cotton has a few advantages: it's generally more affordable, dries quicker, and becomes fluffier over time.
Meanwhile, combining polyester with cotton helps make the fabric stronger and more versatile. This synthetic material is often more affordable than other cotton variants.
Nothing compares to the texture of 100% cotton, but poly-cotton blend tends to be more durable and easier to maintain. Poly-cotton blends are usually wrinkle-free and they don't shrink as much as pure cotton does.

4. Feel: What Kind of Fabric Do You Prefer?
Spa robes come in different finishes, depending on your choice of fabric. The most common fabrics are:
Terry cloth is usually used to make towels, but it also makes a great robe! Terry cloth robes are soft and thick.
This highly absorbent robe keeps you dry and comfortable at the same time. Wearing one will make you feel like you're enveloped in a warm and cozy hug.
On the other hand, waffle knit robes are lighter compared to terry cloth robes. You've probably already encountered waffle knit robes in your favorite hotels and spas.
A waffle knit robe is exactly what it sounds like: a robe that has a waffle-like, embossed square weaving. This type of weaving allows more air to penetrate the fabric so it dries quicker.
It's a popular choice among luxury establishments because not only does it feel great, but it looks great too!
RELATED: The Ultimate Guide to Bridal Robes and Why you NEED Them
5. Length: How Long Do You Want It to Be?
Usually, the robes they provide in most spas are long. One of the advantages of picking out your own personal bathrobe is that you also have some length options.
There are usually three standard spa robe lengths:
Short – usually until the mid-thigh point
Knee length – usually a few inches above your knees
Long – usually until the mid-calf point
You may want to consider the climate you live in when choosing the length of your spa robe. If you experience the full range of seasons, you might even opt to get both a short and long robe.

6. Design: What Do You Want It to Look Like?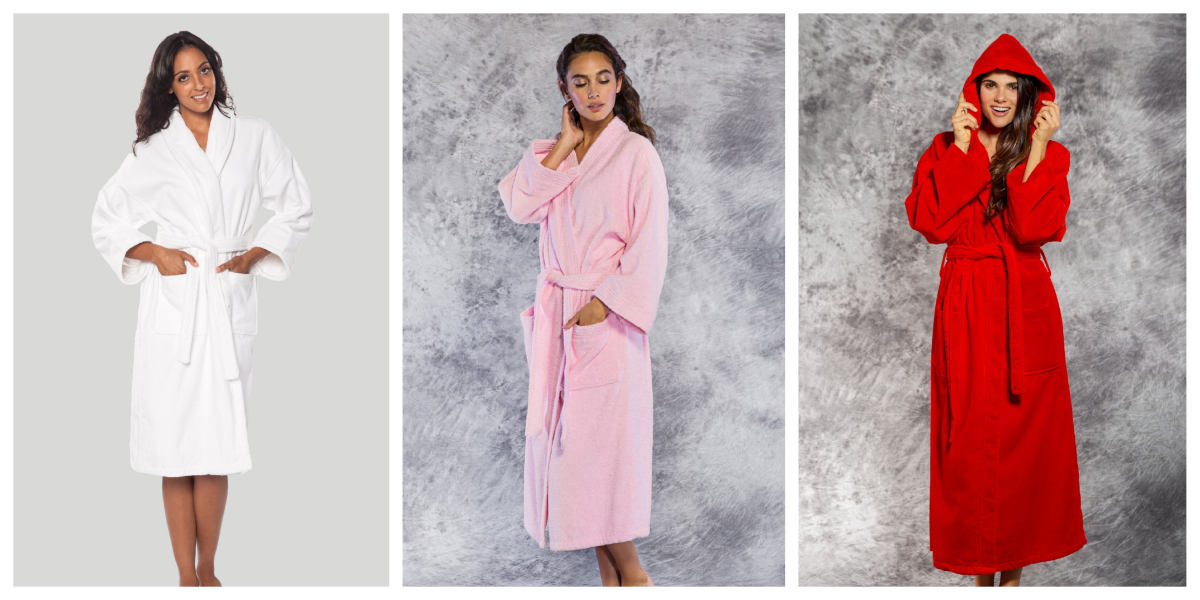 There are three standard spa robe designs you can choose from:
If you're looking for an even cozier robe, get a spa robe with a hood! It offers extra warmth and it can also help dry your hair.
If you're looking for something elegant and minimalist, a kimono robe may be what you've been looking for. This sleek, collar-less robe drapes nicely around your body.
If you want a robe that has more dimensions to it, you may prefer the shawl collar robe. The rolled collar and folded cuffs offer a subtle, lavish look.
After choosing the design of your robe, you can begin choosing your robe's color. Your color choices will depend on the fabric you choose.
Some fabrics have over 20 color choices. You may even be able to find some interesting fabric prints!
7. Accessories: What Matching Items Can You Get with Spa Robes?
Wearing a spa robe at home can help you replicate that ultimate luxury experience you normally have only at high-end spas. But you can make it even more luxurious by using matching accessories!
Choose a retailer that makes other bath items using the same materials as your robe. Wouldn't it be fab to have matching slippers, headbands, and even make-up bags to complete your look?
Another way to enhance your luxury experience is by choosing a retailer that can personalize your robes. In particular, waffle knit robes can be personalized with embroidery, vinyl printing, or even rhinestones!
RobeMart offers all that so you don't have to go far.
Everyone deserves to have the luxury and comfort of a spa in their own home. The easiest way to make this happen is to purchase your own personalized spa robe!
Are you interested in purchasing a personalized spa robe? Let us know in the comments section!
Up Next: