One can never be too picky when choosing a bathrobe perfect for his or her tastes. Here are five great men's bathrobe options you can choose from to get the best of both style and comfort.
RELATED: 11 Must-Have Bathroom Accessories And Essentials
Men's Bathrobe | The 5 Best and Most Stylish Options for You
1. Turkish Cotton Men's Bathrobe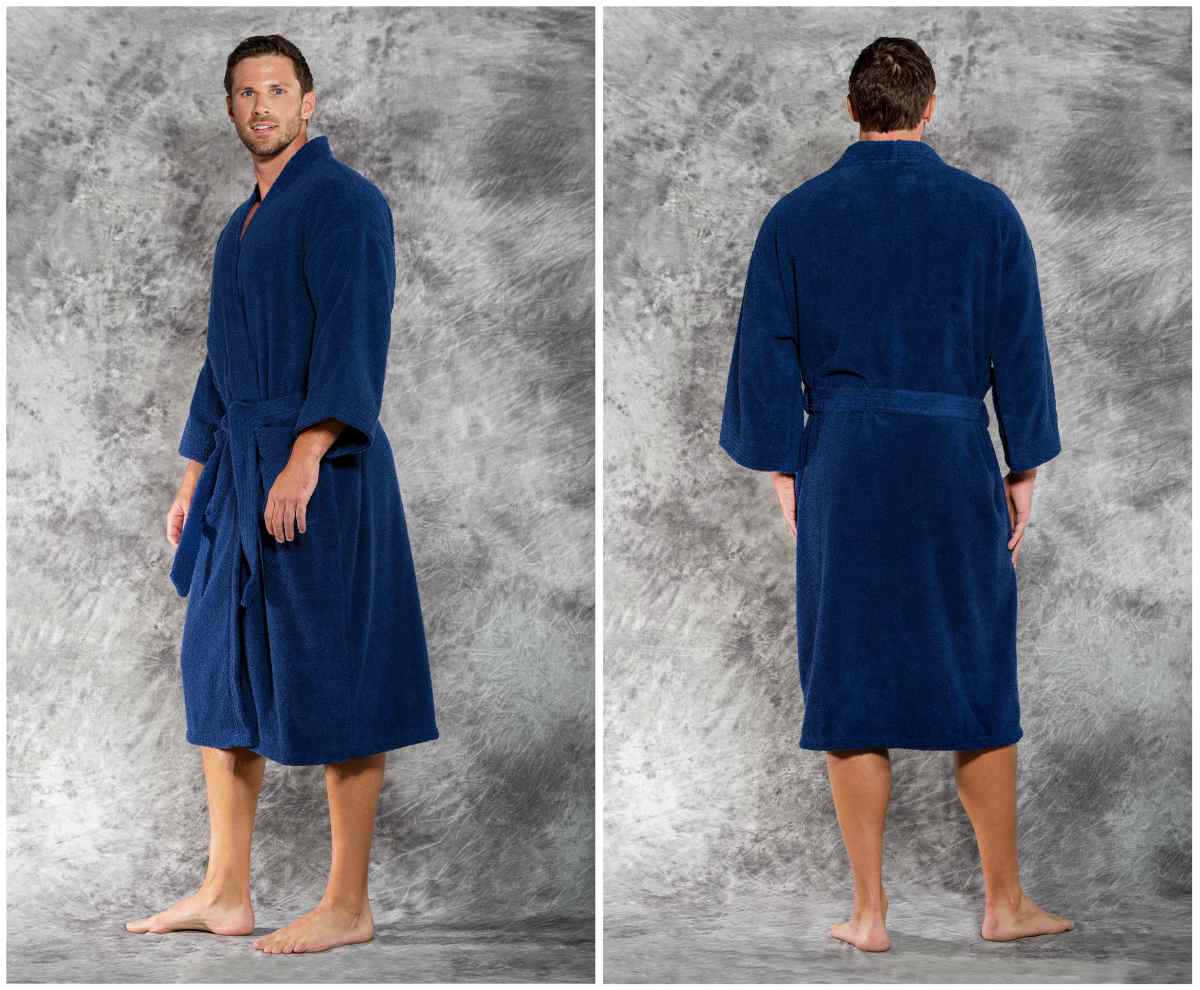 A Turkish cotton bathrobe is one of the best men's bathrobe options there is on the market. While there are lots of debates about which the better cotton is — Egyptian or Turkish — Turkish cotton has its fair share of advantages.
For one, Turkish cotton dries quickly, making it great loungewear after you shower. It wicks water off of the skin efficiently but has less potential to develop mildew.
Additionally, with its soft texture that absorbs water while still keeping the body warm, it is extremely comfortable to wear especially on cold nights.
Plus, it is light and easy to pack.
This 100% Turkish Cotton Navy Blue Terry Kimono Bathrobe is a great example of the beauty and comfort of terry cloth bathrobes. It is woven with 100% Quality Turkish Cotton. It is also 100% Terry, making it both soft and absorbent.
This particular men's bathrobe has a single belt loop, hanger loop, belt, and two deep, double-stitched pockets. This bathrobe is double-stitched, making it extra durable and great as a spa or hotel robe.
2. Hooded Terry Men's Bathrobe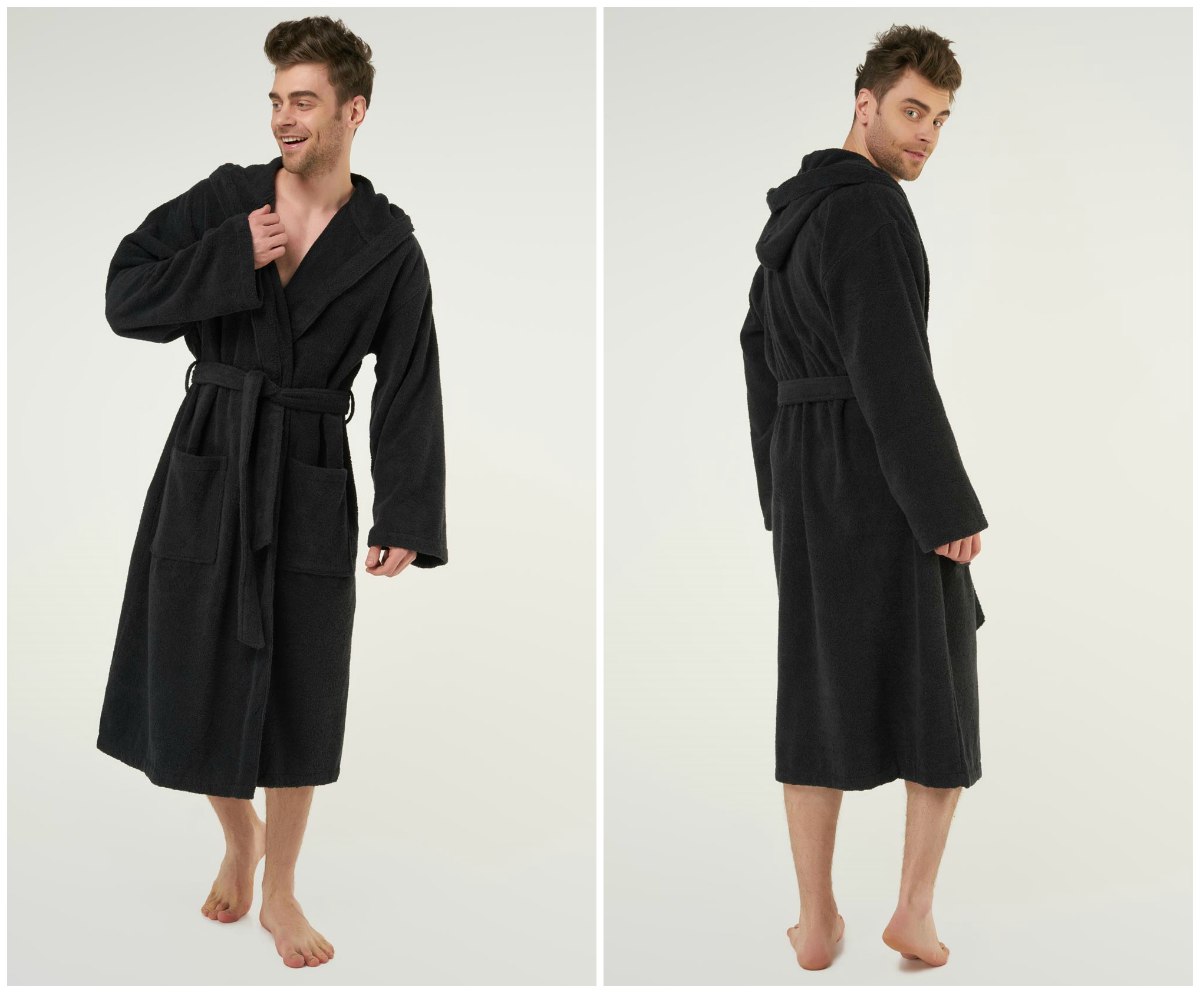 A hooded bathrobe is a great option for those looking for extreme warmth and coverage. Its terry cloth will surely keep you comfortable and warm, making it the perfect thing to put on while you do your morning grooming routine.
Plus, the large hood that you can easily throw over your head will surely keep your head, neck, and ears warm. This is especially helpful for those chilly mornings while you enjoy your cup of coffee.
If you think this is the type of bathrobe you are looking for, then this hooded men's terry cloth bathrobe is perfect for you.
It comes with deep, double-stitched pockets that can easily hold your phone or even the remote. Its heavier make also makes it excellent for men with more athletic builds.
While a lot of people do not know how to wash a bathrobe, this particular robe is very easy to wash as well. It can be machine-washed and machine-dried as well.

3. Silk  Men's Bathrobe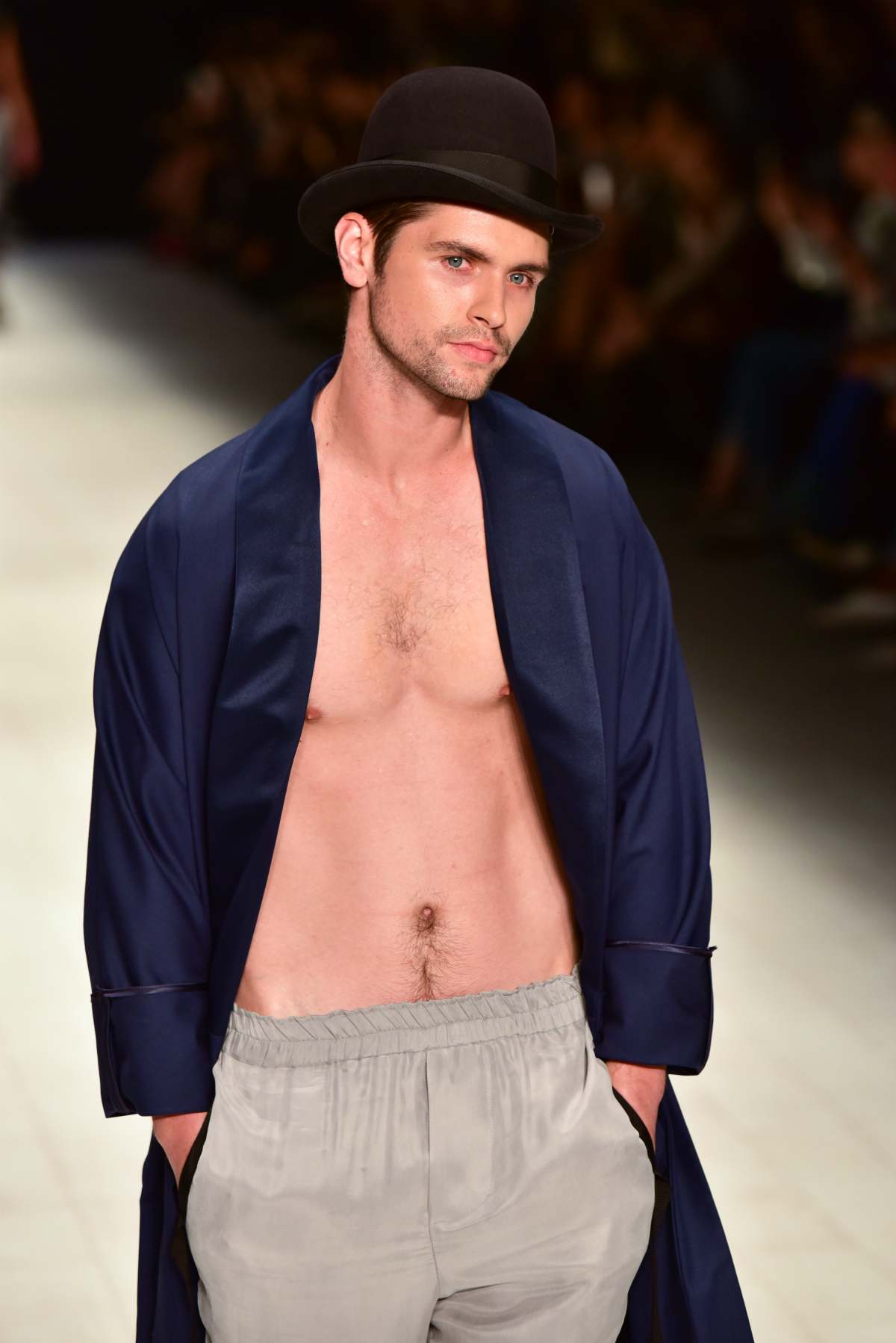 It is not only women who can wear silk to complete the romantic evening vibe, right? Instead, why not wear a silk robe as well to add a touch of class to your intimate evening.
A silk men's bathrobe is a great choice not only for intimate evenings, but also for adding luxury and elegance to the occasion. Not only does it look great, it feels comfortable as well.
This men's lightweight bathrobe is especially perfect for warm summer nights as the silk will help you stay cool.
RELATED: 5 Reasons To Choose Turkish Cotton
4. Micro-Fleece Men's Bathrobe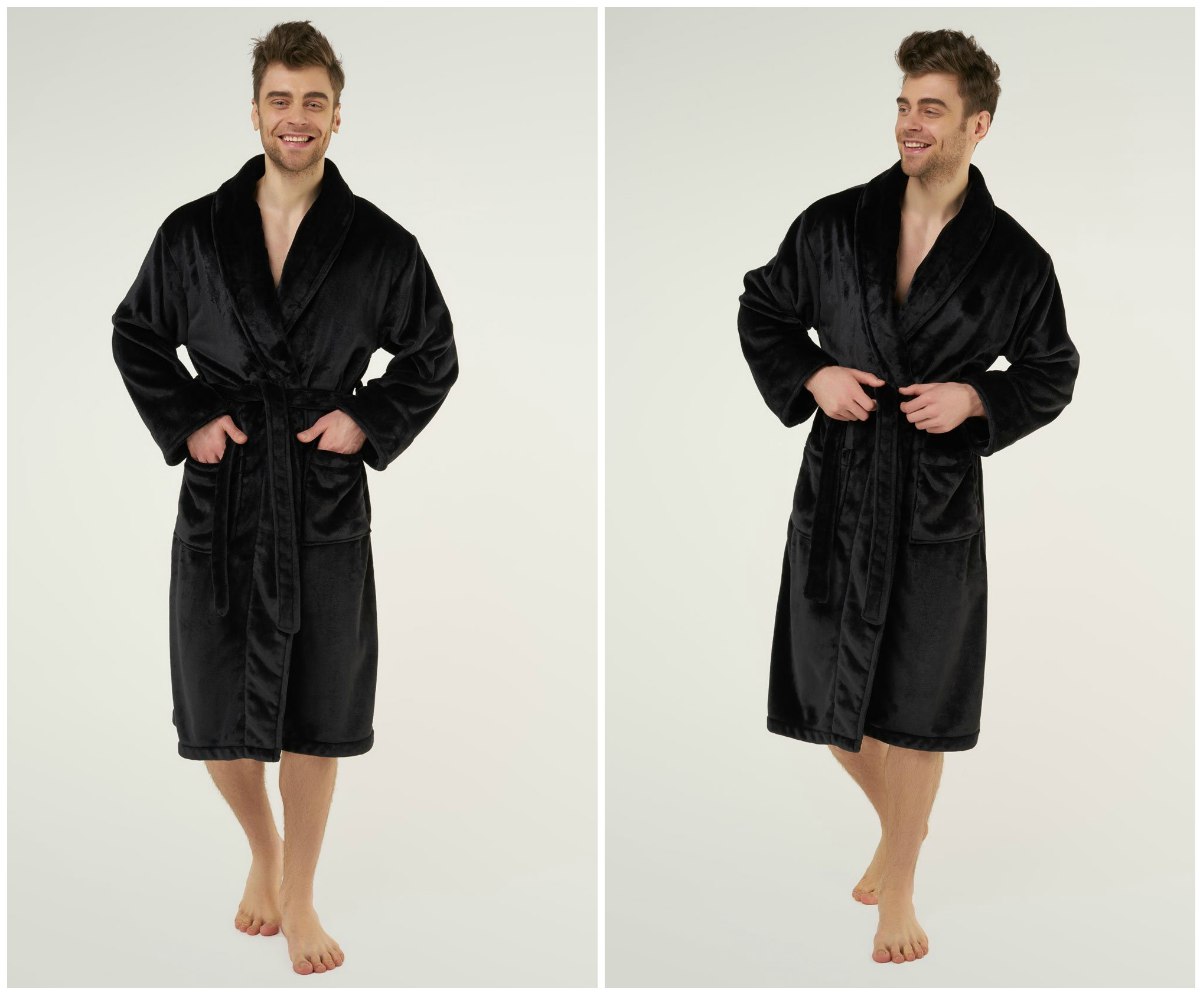 Micro-fleece fabric bathrobes are one of the most ideal bathrobes for lounging around the house in. They are absorbent and great for tossing on right when you get out of the shower.
If this is the type of men's bathrobe you are looking for, then this Black Super Soft Tahoe Microfleece Shawl Collar Robe is perfect for you.
It is made of micro-fleece both inside and out, giving it a soft, comfortable, and luxurious feel. Plus, it has a soft, plush shawl collar that adds to its overall comfort.
Shawl Collar Definition: The shawl collar, otherwise known as a roll collar or a shawl lapel, is marked by a continuous curve and is one of three most common lapels seen in men's jackets. It was popularized by the Victorian smoking jacket and is now a common sight in dinner jackets and tuxedos as well.
This micro-fleece bathrobe is fitted with a double belt loop that will help with height adjustment. It also comes with a belt and a hanger loop.

Its fleece lining makes the robe as comfortable as your favorite blanket. Its deep pockets also makes it convenient for carrying things around.
Additionally, this bathrobe is easy to wash. All you have to do is place it in the machine and add a bit of detergent, and that's it.
5. Waffle-Knit Men's Bathrobe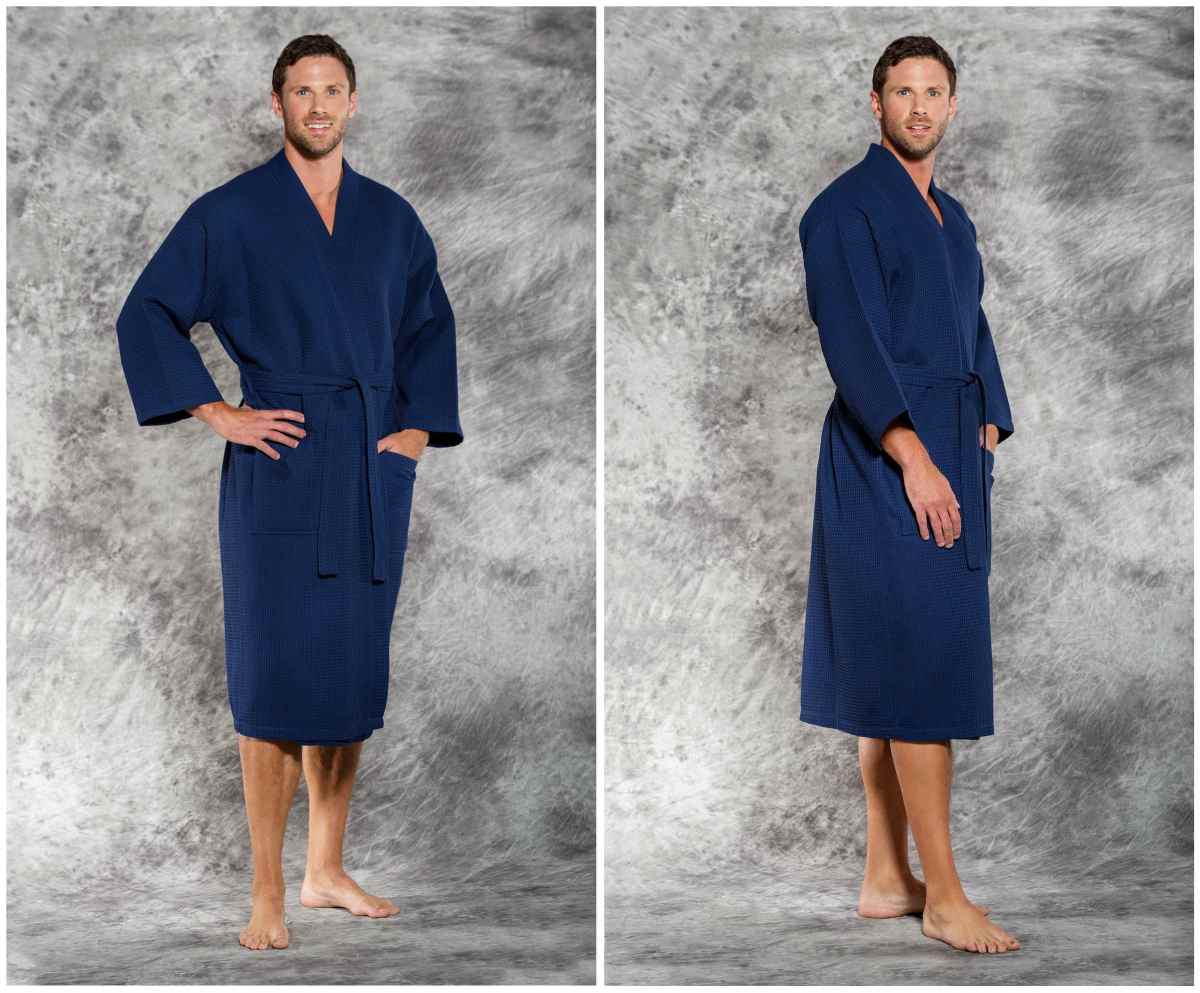 Long waffle-knit bathrobes make for great spa, travel, or cover-up robes. If this is the type of robe you are looking for, try out this Waffle Kimono Navy Blue Long Robe Square Pattern.
This particular robe works for both men and women. It is made of a cotton waffle weave that is composed of 60% natural cotton and 40% polyester.
This composition makes it easy to move in. It is also great for lounging in after that spa treatment or right before you sit beside the pool for the ultimate pampering experience.
Plus, because of its unisex fit, it is also a great choice to use not only in spas, but also in clinics and doctor's offices. It is also fitted with a tailored collar, two patch pockets, and a self-tie wrap belt.
This waffle-knit men's bathrobe is great for keeping the wearer comfortably warm. The material it is made of is water-absorbent and quick-drying.
Despite this deluxe robe's lightweight material, it is still extremely durable. The fabric it is made of can easily be cared for by simple machine washing and tumble drying.
In choosing a bathrobe, you have to consider not only the look of the robe, but also numerous other factors including its weight, temperature when worn, texture, and comfortability. Regardless of your preferences, one of the five men's bathrobe options listed above should be perfect for you.
Do you have other great men's bathrobe options you can suggest that are also stylish, elegant, and comfortable? Share them with us in the comments section below!
Up Next: