These simple steps will show you how to wash microfiber cloth to help prolong its utility! Keep reading to find out more.
RELATED: Why Everybody Needs a Hotel Robe
In this article:
Everything You Need to Know About How to Wash Microfiber Cloth
What is microfiber cloth? It's a type of synthetic cloth with very small fibers, usually made with polyester, polyamide, or nylon. It's often used to make cleaning cloths, towels, and robes.
Step 1: Separate Microfiber Cloth Items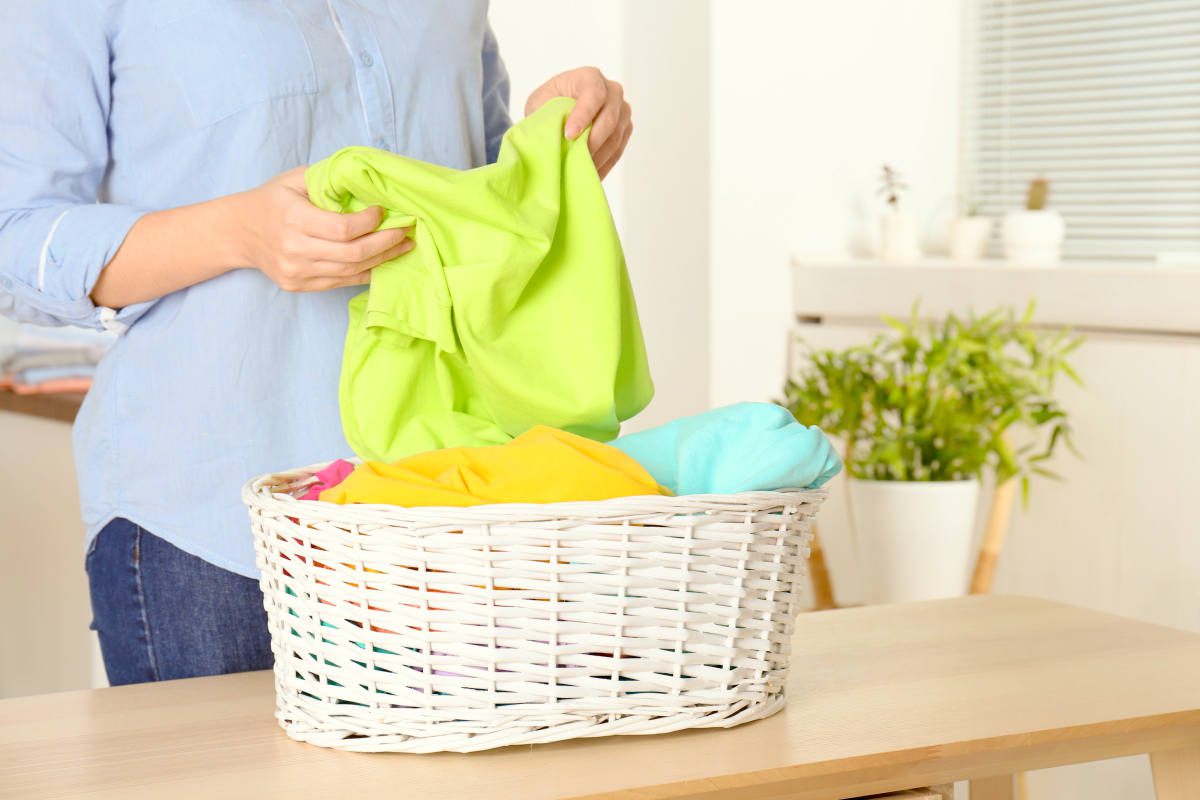 The first thing you need to do is separate your microfiber cloth items from your regular clothes. Although it may seem tedious, it's really best to wash your microfiber cloth items one at a time.
Microfiber cloth is like a magnet! It collects all sorts of dirt, dust, grime, and bacteria in its small fibers.
If you wash your microfiber cloth items with the rest of your laundry, it may end up collecting all the dirt from your other clothes. That's why it's best to wash each item separately. This step helps maintain the integrity of the microfiber material, ensuring it continues to attract and capture particles efficiently.
Step 2: Spot-Treat Stains Before Washing
Microfiber cloth is generally stain-resistant, but staining can happen from time to time. Before washing your microfiber cloth towel or robe completely, spot treat stains with a DIY stain remover.
To make this DIY stain remover, you will need:
4 tbsp baking soda
¼ cup of water
Simply mix the two ingredients to make a paste. Apply the paste on the stain an hour before you intend to wash the item.
Commercial stain removers can be quite harsh on microfiber cloths. Using it repeatedly may cause a breakdown in the cloth's fibers, causing pilling or loss of softness.
Step 3: Choose the Right Cleanser
To help maintain the texture of your microfiber cloth, trade in your regular laundry cleansers for gentler options. Regular laundry detergents are full of chemicals that can damage microfiber over time.
Here are some changes you can make:
Instead of using regular laundry detergent, use ¼ cup of clear apple cider vinegar.
If you need to use bleach, replace it with ½ cup of baking soda.
Avoid fabric softeners as much as possible, even if the label says that it's a gentle variant.
If you must use laundry detergent, look for detergents especially made for microfiber cloths, or opt for mild laundry detergent. Only use half of the recommended quantity.
Fabric softener has the tendency to clog absorbent cloths like microfiber. Continued use will make the microfiber cloths less effective.

Clear apple cider vinegar is a great substitute for laundry detergent and fabric softener. Not only does it remove dirt and chemical build-up, but it also has antibacterial properties, and it softens your clothes at the same time!
Baking soda not only removes stains, but it also helps brighten up your clothes. It also helps soften water, so if you have to use laundry detergent, you won't need as much of it either.
RELATED: The Ultimate Guide to Bridal Robes and Why you NEED Them
Step 4: Choose a Washing Method
There are two ways you can wash your microfiber cloth:
So, roll up your sleeves! Here's how to wash microfiber cloth using both methods.
The best way to wash your microfiber cloth items is by hand washing them. Here's what you need to do when hand washing microfiber cloth:
Place your microfiber cloth item in a basin with warm water.
Mix in the apple cider vinegar or your gentle cleanser.
Let your microfiber cloth item soak in the water and cleanser for at least 30 minutes.
After 30 minutes, gently scrub your microfiber cloth item to remove visible dirt.
Rinse the microfiber cloth item in clean, warm water. If you used a detergent, make sure to remove all of its residue.
Microfiber cloth tends to absorb a lot of water and it can get quite heavy when it's wet. So it's not always possible to hand wash your microfiber cloth items, especially when you're handling larger items like microfiber bathrobes.
Here's how you can machine wash larger microfiber cloth items:
If you're washing a microfiber bathrobe, turn it inside out before putting it in the washing machine.
Put the microfiber cloth item inside the washing machine. Remember, it's best to wash one item at a time, even when you're using a washing machine.
Add your cleanser.
Use the warm water and low centrifuge setting.
Machine washing may be quicker and easier, but hand washing your microfiber cloth item is the best way to prevent the appearance of pills.

What are pills? These are little knots of fuzzy thread that appear on your clothes. They usually appear right after they're machine washed.
Step 5: Remove Excess Water and Air Dry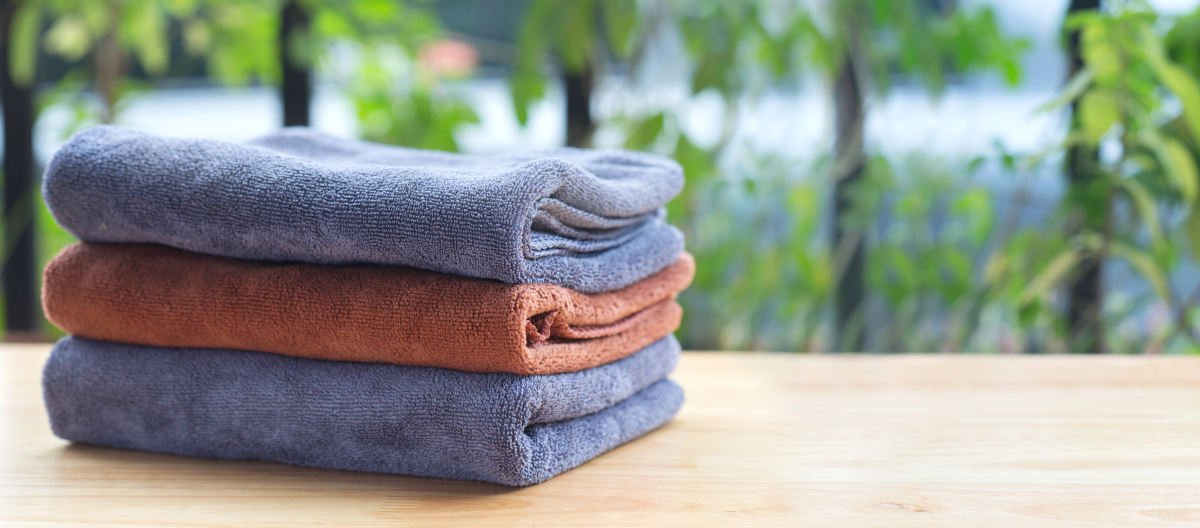 To dry your microfiber cloth item, wring out any excess water. Hang it on a clothesline and make sure that it's not touching other clothes.
Allow it to air dry completely. Microfiber cloth dries quickly compared to other types of fabrics, such as cotton.
Air drying is the best drying method for microfiber cloth because most machine dryers are usually home to a lot of lint. Your microfiber cloth is bound to attract all of that lint and you'll end up washing it all over again.
If you're confident that your dryer is clean, then tumble dry your microfiber cloth on low. Too much heat will damage the cloth.
Step 6: Store It in a Clean Place
Don't forget to find a clean, dust-free cabinet or container to store your microfiber cloth items. That way, you can make sure that it stays clean while it's in storage.
Otherwise, the microfiber cloth will end up attracting all of the dust even before you use it.
Microfiber cloth is not only useful for cleaning, but it's also a great addition to your closet! If you don't have any microfiber cloth items yet, why not start with a luxurious microfiber bathrobe?
It's absorbent, stain-resistant, and it looks great. And now that you know how to wash microfiber cloth, you can prevent pilling and easily maintain its thick and comforting texture!
Are you interested in purchasing a microfiber bathrobe? Let us know in the comments section!
Up Next: