For those who want a warm, homey, rustic touch to their special day, a fall wedding just might be the perfect idea. Here is everything you need to take note of before while planning a memorable fall wedding.
RELATED: 7 Fun Bridal Shower Ideas The Bride Will Surely Love
In this article:
Your Ultimate Fall Wedding Planning Guide
The Autumn Weather
Autumn, as everyone knows, has slightly more crisp but refreshing weather compared to the months before it. Depending on which part of the country you live in, you may experience weather slightly warmer than the average.
In the U.S., temperatures during this season can range from a sunny 72°F in Florida to a cool 27°F in Alaska. Arizonians may experience temperatures neither too hot nor too cold—perfect conditions for an outdoor wedding.
A fall wedding in Massachusetts will get you a package complete with cooler temperatures and gorgeous autumn leaves. Having an autumn wedding in San Francisco will give you clear blue skies and fall flowers perfect for an outdoor wedding venue.
Just remember the weather can vary greatly depending on where you are in the country. Always keep an eye on predictions and remind your guests of the type of outfit they should wear.
To add, if you are planning to hold the ceremony outdoors, have a contingency plan just in case.
The Start of the Holiday Season
The start of the holiday season is one of the best reasons to celebrate festivities, but hosting a fall wedding on a holiday weekend may be something you should think about.
Generally, it is a good idea to stay away from major holidays like Thanksgiving. Yet, it could also be fun to have the ceremony on a Veteran's Day weekend, where guests have the following Monday off work, letting them have a good time at the wedding party.
For diehard sports fans, fall is football season. If you and your guests are into the sport, why not have a football-themed wedding so you don't completely miss out on that Sunday game?
The Advantages and Disadvantages of a Fall Wedding
There are plenty of advantages to hosting a fall wedding. Some of these may include:
Stunning foliage of trees, autumn leaves, and fall flowers perfect for those wedding photos
Typically mild, pleasant weather
Elegant seasonal decor composed of warm colors and a rustic touch
Off-season discounts you can take advantage of
In most parts of the country, autumn isn't the season for weddings. This opens up your options when it comes to choosing a venue and vendor.
Yet, there are also certain disadvantages to having a fall wedding. Some of these include:
There are varying weather conditions in different parts of the country (in the East Coast, this could mean cold, rainy, or even snowy weather).
Seasonal holidays can cause scheduling conflicts.
Daylight Savings Time ends, which gives some states a really early sunset that could potentially affect wedding photos and even the ceremony itself.
Make sure to consult with your photographer about the so-called golden hour of the earlier sunset, in particular. Photographers consider this to be the best time to take those outdoor wedding photos, so it might be worth planning your ceremony and venue around it.
Your Fall Wedding Color Palette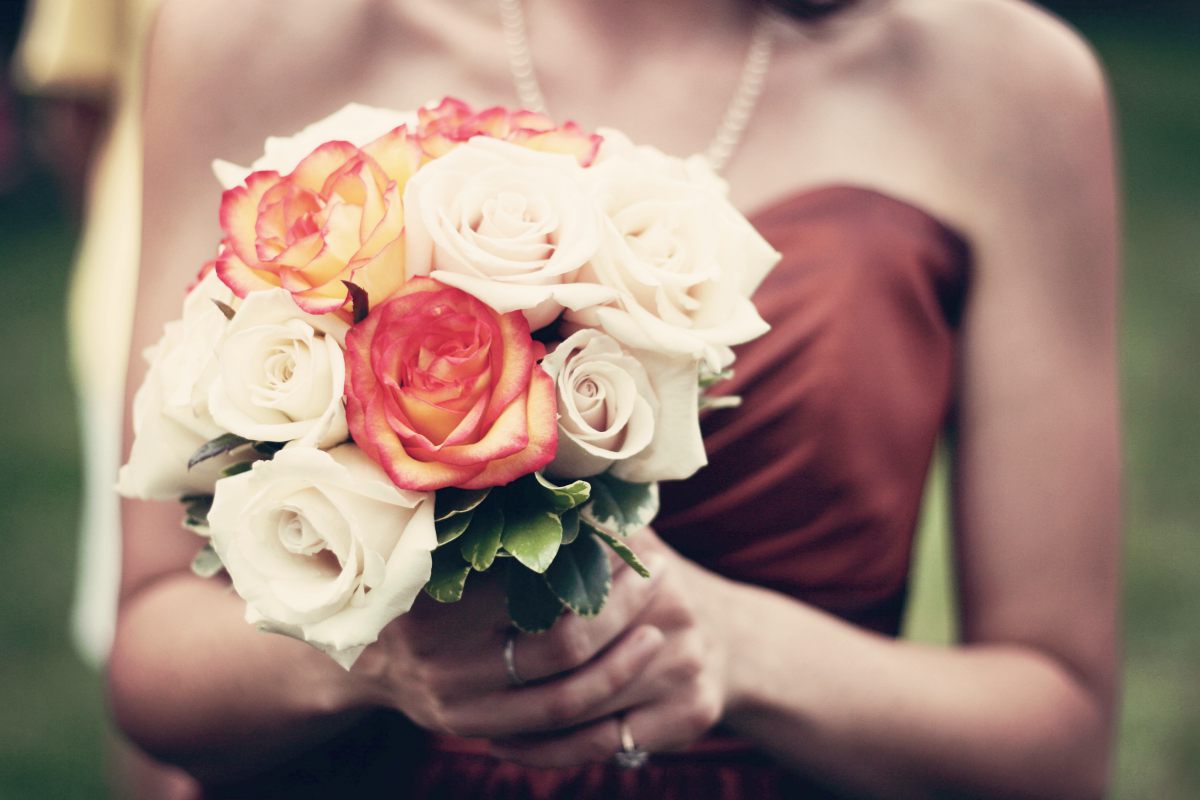 If you try looking up "fall wedding color palette," you will be bombarded with tons of browns, deep reds, and oranges. These are typical fall wedding colors that, while beautiful, might be something you want to consider switching up.
A fall wedding color palette often draws inspiration from the changing autumn leaves, adding in warm colors to give it that rustic appeal. There is no need to trap oneself in this concept alone, though.

A more modern fall color palette can use other colors like gold or copper to add in some glitz and glam. Others use emerald green and deep plum to produce a more elegant feel.
The Attire of Bridesmaids and Groomsmen
Groomsmen tuxedoes and bridesmaid dresses should be made of slightly heavier fabric if the wedding venue is in a cooler climate. In these cases, your entourage and guests could also wear kimono robes, pashminas, or boleros to keep the chill away.
Long-sleeved bridesmaid dresses complete with glimmering metallics and deep jewel tones are also lovely options. Groomsmen can get a bit more creative with their suits by going with smart navy or gray suits paired with argyle socks or plaid ties.
RELATED: 9 Tips On Choosing The Best Bride And Bridesmaid Robes
Seasonal Food and Flowers
Buying food and flowers in season lets you take advantage of lower costs. If you could get locally-grown food and flowers, then even better because you not only save money but also reduce your carbon footprint.
Fall Wedding Food
Fall harvests often boast some of the most comforting eats. These include in-season vegetables like rutabagas, turnips, and all sorts of pumpkin, squash, and sweet potatoes.
A bowl of warm, savory pumpkin soup is perfect for the brisk autumn weather, right?
Colorful fruits like pears, pomegranates, apples, and berries come in all shapes and sizes during this season, too. Aside from decorating your wedding cake with them, why not give them out as wedding favors?
Fall Wedding Flowers
A lot of flowers bloom all year round, but there are some seasonal fall flowers that can help make your fall wedding perfect. This list will help guide you:

Garden roses make for the perfect alternative to peonies during autumn.
Marigolds also come in festive colors like orange, red, and gold.
Sunflowers can help add a touch of golden sunshine.
Deep burgundy dahlias look especially gorgeous in a wedding bouquet.
Anemones and their striking black centers can also make a wedding bouquet look extra elegant.
Protea, while unconventional, gives the bouquet a stunning, unique twist.
Using seasonal berries, autumnal foliage, and even acorns is a great addition to the wedding's floral arrangements and table decor. For a rustic touch, in-season fillers like scabiosa pods also work great.
Fall Catering Trends
Comfort cuisine both sweet and savory is one of the biggest trends when it comes to fall wedding food.
Caterers can get pretty creative during this season, serving out a warm soup inside a small, hollowed-out pumpkin. Some even serve full-on Thanksgiving-themed wedding buffets complete with the turkey, mashed potatoes, and gravy.
For dessert, a coffee or hot cocoa bar is a great addition to fight the cool weather. You can also add some cinnamon-sugar donuts or a dessert table with pumpkin and seasonal fruit pies to complete the setup.
Seasonal Wedding Cake Trends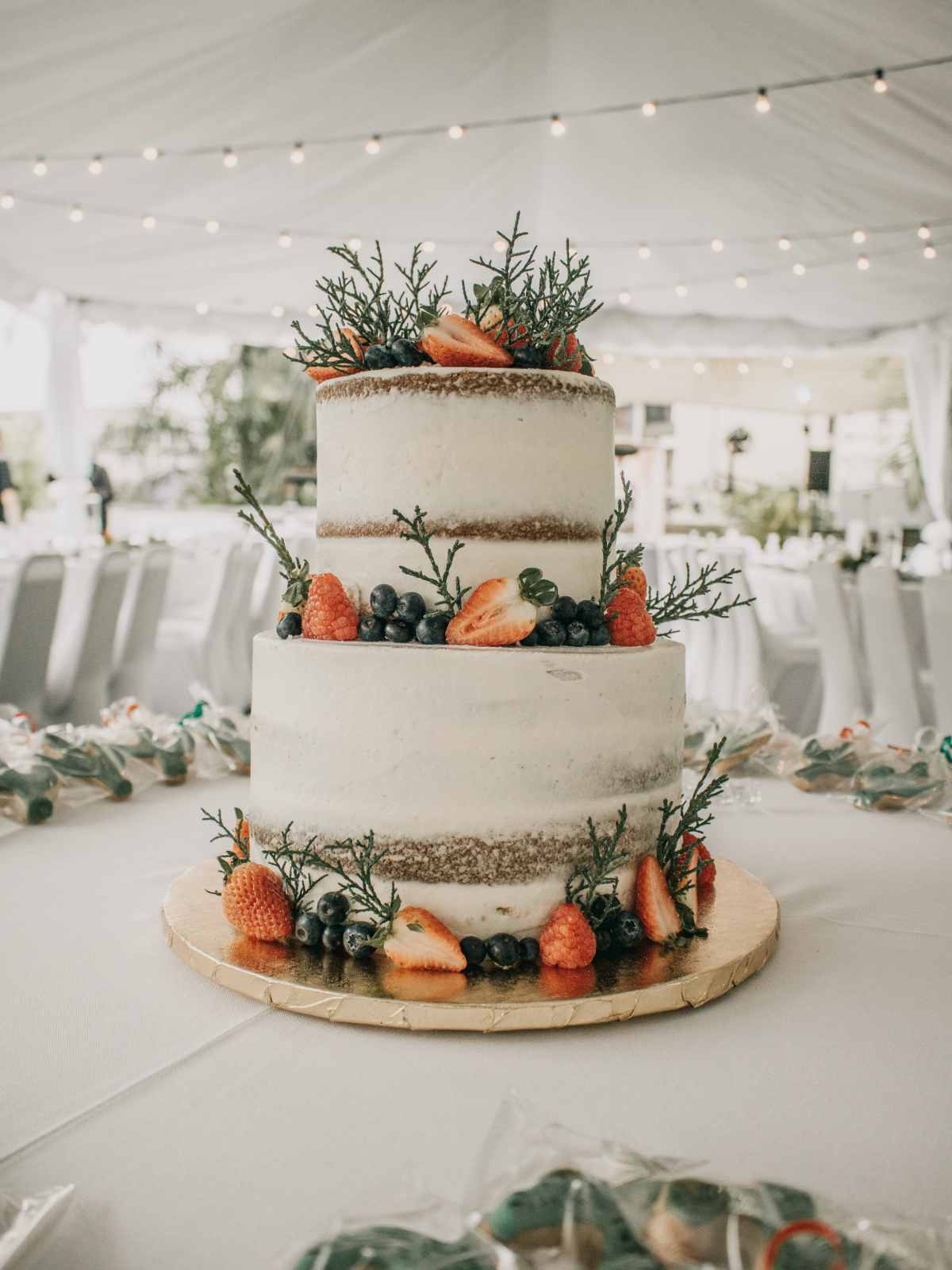 Fall wedding cakes these days take on more texture. They use drizzles of caramel or ganache, and sometimes even have no icing at all.
Naked cakes, while completely devoid of icing, still manage to look stunning when decorated with fruits like figs. Seasonal flavors also include pumpkin or apple spice cake and gingerbread.
A red velvet cake can also be a great choice to go with a deep red color palette.
Wedding Favors for the Season
One of the best wedding trends of the season is edible wedding favors. Candied apples will definitely make any guest's day, while in-season fruits such as pomegranates add a pop of color to the venue.
Small bottles of local honey or maple syrup are also perfect for the season. At the same time, mini-donuts will also be a sure hit.
Mix-your-own hot chocolate cones and DIY s'more packages are also great take-home treats for your guests.
A fall wedding, if planned properly, can turn out to be one of the most elegant and memorable wedding celebrations for the bride and groom and the guests. Before moving forward with it, consider the fall wedding planning ideas above to give you a good start and direction in planning your wedding.
Do you have excellent fall wedding ideas? Share them with us in the comments section below!
Up Next: