Planning to buy Airbnb towels? Then read on for a simple buying guide to help you find the right towel for your Airbnb.
RELATED: How Many Airbnb Guest Towels Should I Have?
In this article:
Airbnb Towels: 7 Things You Need to Consider Before Purchasing
1. Types of Towels
Is a towel provided in Airbnbs? Yes, much like in hotels, towels are basic items you need to provide in your rental.
Before you start buying them for your Airbnb, you have to figure out first which types of towels you need to provide.
Bath Towels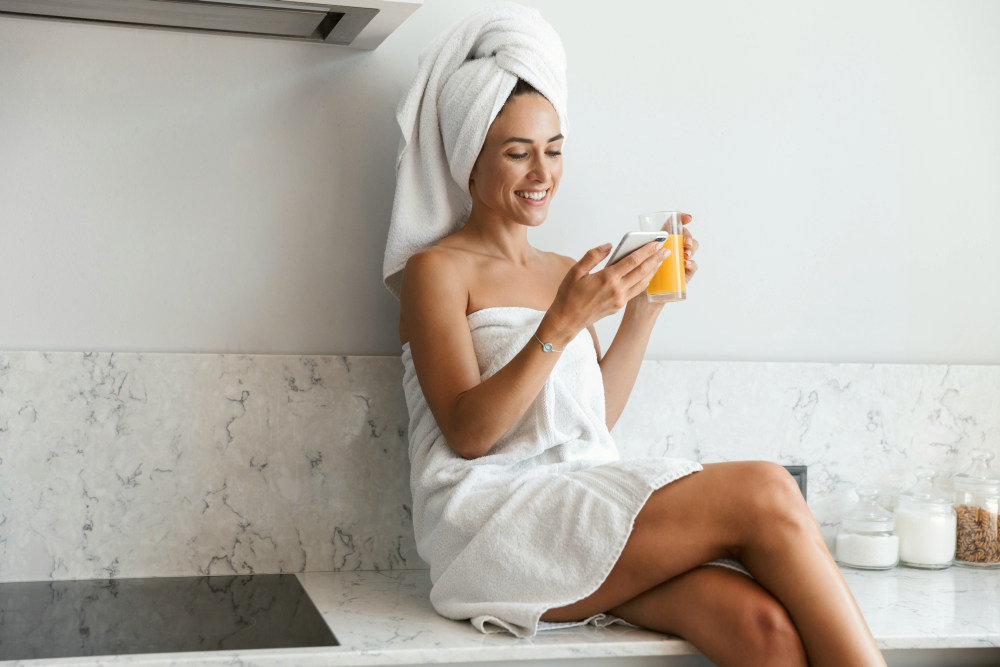 Bath towels are essentials for Airbnb rentals. These are the most basic towels you should provide for your Airbnb since this is what your guests will expect from a rental.
Be sure to provide the correct number of towels based on the number of guests that'll be staying. Each guest should get their own towel.
Hand Towels
Hand towels are usually placed by the sink, whether in the kitchen or bathroom. They're often used to dry hands, hence the name.
Although they aren't expected in Airbnb rentals usually, it's still useful to have one in the bathroom.
Washcloths
Another bathroom towel you might want to include in your rental is washcloths. Bathroom washcloths are usually used to scrub and exfoliate the body while bathing.
Make sure you provide a number of these in your rental if you do plan on having them on hand since these will go through a lot more work than bath towels. Similar to bath towels, provide one washcloth for each guest.
Beach Towels
Unless you have a pool or a jacuzzi in your rental or you're near a beach, beach towels aren't a necessity for your Airbnb rental.
Make sure you have both beach towels and bath towels and indicate for your guests which one is which to ensure they don't run out of bath towels. You can have differently colored towels and place them in different spots (bath towel in the bathroom, beach towel in the closet or near the pool if it's a private pool) to spell the difference.
If you have chaise lounge chairs around, you can also wow guests and give them a 5-star resort vibe with chaise lounge covers.
Dish/Kitchen Towels
Used to wipe down surfaces or kitchen counters or dishes, dish towels or kitchen towels are needed to keep the kitchen and dining area clean. You can provide two at your Airbnb if you have a kitchen and dining area.
Compared to paper towels, these are more environment-friendly, which shows guests your values. Another bonus is they're more cost-efficient since you don't have to keep replacing them often.

RELATED: How To Choose The Best Luxury Bath Towels
2. Airbnb Towel Quantity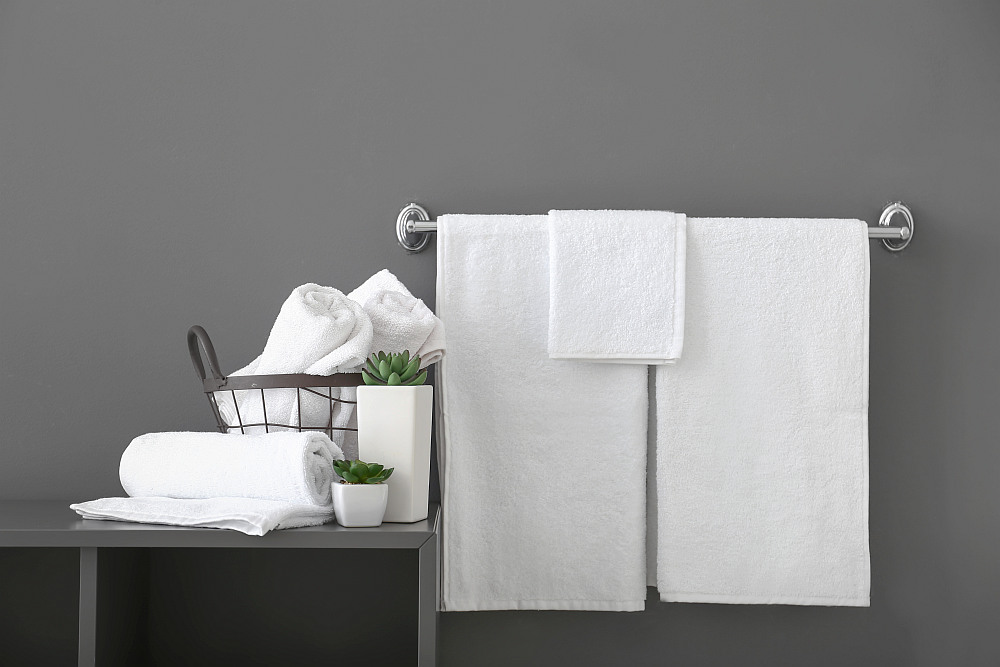 After you've figured out which types of towels you plan on having in your Airbnb, you should focus on quantity. There are a few things to consider before you figure out the quantity:
How many people are staying?
How long will they be staying?
Do you have a washer and dryer in your rental?
What types of towels do you want to provide in your rental?
Again, provide one towel per guest. This is non-negotiable.
For long-term guests, you might be able to get by with providing only one bath towel per guest if you have a washer and dryer available in your rental.
If you don't have a washer and dryer, you should consider the number of days they'll be staying with you. A good rule to follow is to provide one towel per guest for every five days they're staying with you.
3. Durability
When buying Airbnb towels, you should consider their durability. This can be measured based on the number of washes they can withstand.
Some towels may be more inexpensive but compromise on quality so they would need to be replaced often. These can be more expensive in the long run because you'd have to keep buying new towels.
In contrast, investing in a pricier towel of higher quality may seem like an unnecessary expense, but they'll give you more value for your money in the long run since they don't need to be replaced often.
4. Towel Material
Towels shouldn't feel scratchy and stiff. You want your towel's fabric to be soft and comfortable to the touch.
If you want those five-star reviews from customers, be sure to pick towels that are soft and get softer with every wash. However, be sure they're durable enough to withstand several washes as well so you don't end up paying for more too soon.

5. Stain Resistance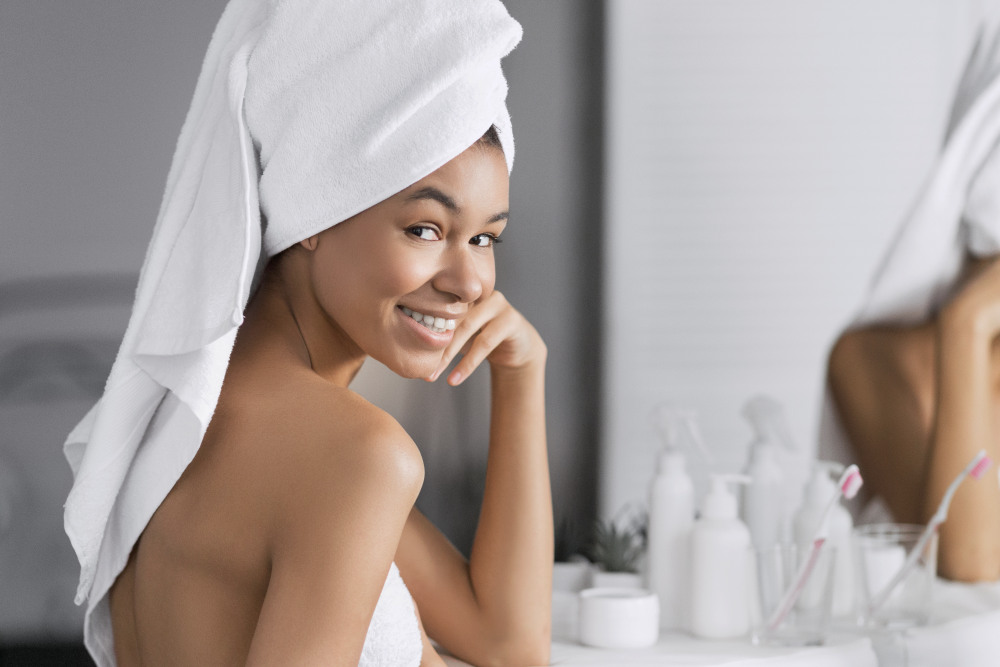 Airbnb towels are always at risk of getting stained by makeup and skincare products. While you expect guests to be careful with your things during their stay, accidents happen so it's best to prepare for them.
For towels that are most at risk for said stains, including bath towels and washcloths, you can consider getting bleach-proof towels. In this way, your towels won't be damaged when you run them through the wash with bleach.
You can typically find bleach-proof towels in salons since they're constantly exposed to hair lighteners and other chemicals. These towels won't fade even when they come in contact with bleach.
6. Towel Drying Time
Turnover time is crucial for Airbnb hosts. This is when you prepare your Airbnb for new guests and ensure everything is in order before they check-in.
Sometimes, you may only have a small window after the first guest checks out and the second checks-in. This is why you should also consider a towel's absorbency and drying time before buying one.
Microfiber towels usually dry fastest, so if your Airbnb plays hosts to a constant stream of guests, they may be ideal for you. However, do note that they tend to be more expensive than cotton towels, have special washing instructions (wash separately, no fabric softeners or bleach), and won't be able to withstand bleach.
7. Towel Colors
White sheets and towels are an industry standard for hotels. Whether you choose to abide by this standard for your Airbnb sheets and towels is entirely up to you.
Some of the benefits of having white towels include:
Because of their color, they always look fresh and clean.
They can also easily match any bathroom.
White towels can withstand bleach so you don't have to worry about your towels fading.
They can easily be washed with other whites, such as bathrobes and linens.
However, there's also a downside to white towels: they stain easily. This can prove costly for you since you'd have to replace permanently stained towels.
Airbnb towels are an important amenity in your Airbnb rental that you should be more deliberate about. These considerations listed above should cover everything you need to know about them.
Use these factors to help you pick out the Airbnb towels you plan on having in your rental. Good luck!
For you, what is the most important factor when choosing towels for your Airbnb? Let us know in the comments section below!
Up Next: