Start your days right with these nine morning routine tips!
RELATED: 12 Self-Care Tips
In this article:
These Morning Routine Ideas Can Make You Healthy and Happy Throughout the Day
Click here to jump to the infographic.
1. Mind the First Thing You Do in the Morning
Here's why you need to have a healthy morning routine: waking up late, guzzling a cup of coffee, and rushing out the door isn't the best way to start the day. It can set the tone of the next 24 hours, and you won't like it.
By the time you head home, you're spent and burned out. You may have no more energy to play with your kids or do any of your evening routines.
Observe the importance of setting the tone for your day and make it your resolution to jumpstart your day with a little self-care routine. Consistency in these positive habits creates a foundation for long-term well-being and success in various aspects of your life. Also, practice calm reflection and these other morning habits of highly successful people!
2. Don't Use an Alarm Clock or Snooze Button
Oprah never sets an alarm, and she usually wakes up between 6: 00 and 6:20 a.m. Her secret to naturally rising in the early morning is by setting a mindful intention the night before:
"I never set an alarm, I don't believe in them. They are . . . alarming!
I put the number in my mind, and I wake up before that."
Also an early riser, lifestyle guru and businesswoman Martha Stewart uses natural light to wake her up in the morning: "I have no shades on my windows, so I usually wake up with the sunrise, which has been around 5 a.m."
3. Exercise
A common morning habit for the world's most successful people, exercise can boost circulation and feel-good chemicals like endorphins and serotonin.
Endorphins can help you cope with stress better, while serotonin can improve your mood.
For Niki Leonidas, CEO of the luxury lifestyle brand Equinox, one of her secrets to success is her morning yoga routine:
"I've always known that you have to be physically healthy and strong to be mentally healthy and strong. It's all connected."
A morning exercise or morning workout routine also gives you the chance to go outside and reconnect with nature. It's a morning habit of Cal Newport, author of the best-selling self-improvement book So Good They Can't Ignore You.
It's dark when the walk starts, but I don't mind the solitude. For me, interesting thoughts have the tendency to emerge when the rest of the world is quiet.
4. Meditate
In today's world, it can be a challenge to stay calm and relaxed. It's especially true when life is set at a dizzying pace.
It's no wonder that anxiety and stress are common side effects of modern life!
A simple and effective way to combat these negative and all-too-common feelings is with a daily dose of Calm. It's a new app that uses mindful meditation to soothe and renew your spirit.
Tamara Levitt, the head of mindfulness and meditation instructor at Calm, is excited to announce the launch of Daily Calm sessions. It aims at helping you achieve your 2024 goals.
According to the Calm blog, "We have New Year's themed sessions such as 'Beginnings,' 'Dreaming,' and Intentions' to help you focus on what you want to invite into your life."
If your year's resolution involves breaking a bad habit, make sure to schedule some time for the self-improvement sessions. These can include "Cravings," "Addictions," "Activity," and "Practice."
Remember, progress may not be linear, and setbacks are a natural part of the journey toward breaking a habit.
5. Write a Journal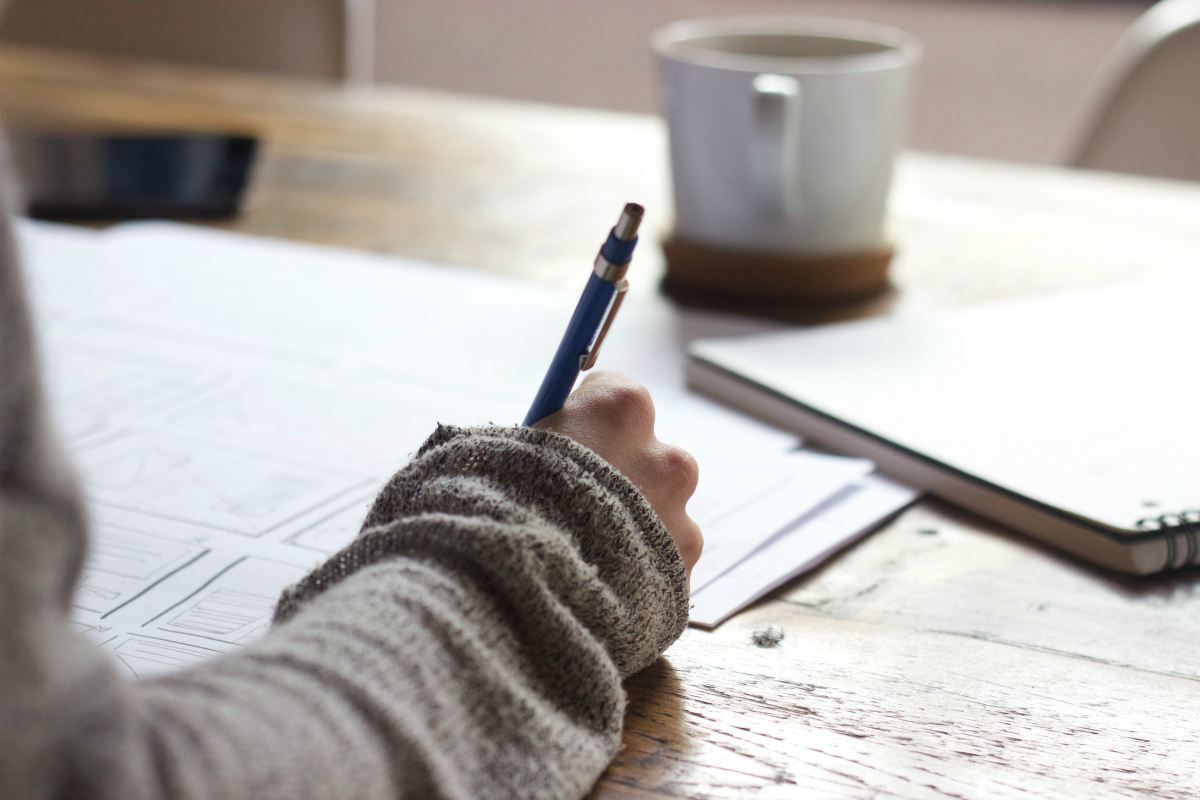 A lot of people think they should reserve journaling for the evening hours. You can actually make it a part of your daily routine as soon as you wake up.
According to studies, journaling helps boost creativity and relieve stress, which makes it a great addition to your morning routine.
For Natalie Goldberg, author of Writing Down the Bones: Freeing the Writer Within, journaling in the morning is how she unlocks her creative spirit:
"In writing practice, there's no direction. You enter your own mind and follow it where it takes you.
We have a great need to connect with our own mind and our own true self. And all of us have a story to tell."
Writing in a journal was also how Anne Frank stayed connected to her feelings while she and her family hid from the Nazis: "I can shake off everything as I write; my sorrows disappear, my courage is reborn."
Get yourself in a writing mood with journaling products from Plum Paper. It features a range of beautiful cover designs with personalized monogramming in elegant letters.
Grab your favorite pen, have some coffee, and see what happens when you let your creativity run wild on the page.
6. Make Time for Pampering
Getting ready in the morning doesn't have to be a means to an end, but a relaxing and restorative experience that sets a positive and mindful tone for the rest of your day.
This year, make the most of your morning routine by stocking your bathroom with your favorite bathtime essentials. These can include body wash with invigorating essential oils like peppermint and lavender.
Don't forget a luxurious Turkish bathrobe and a matching terry velour bath wrap for the complete lounging set.
Setting aside time for little self-care activities in the morning may require getting up a few minutes earlier. It will be worth it when you arrive at work with a healthy all-over glow.
7. Set an Intention for the Day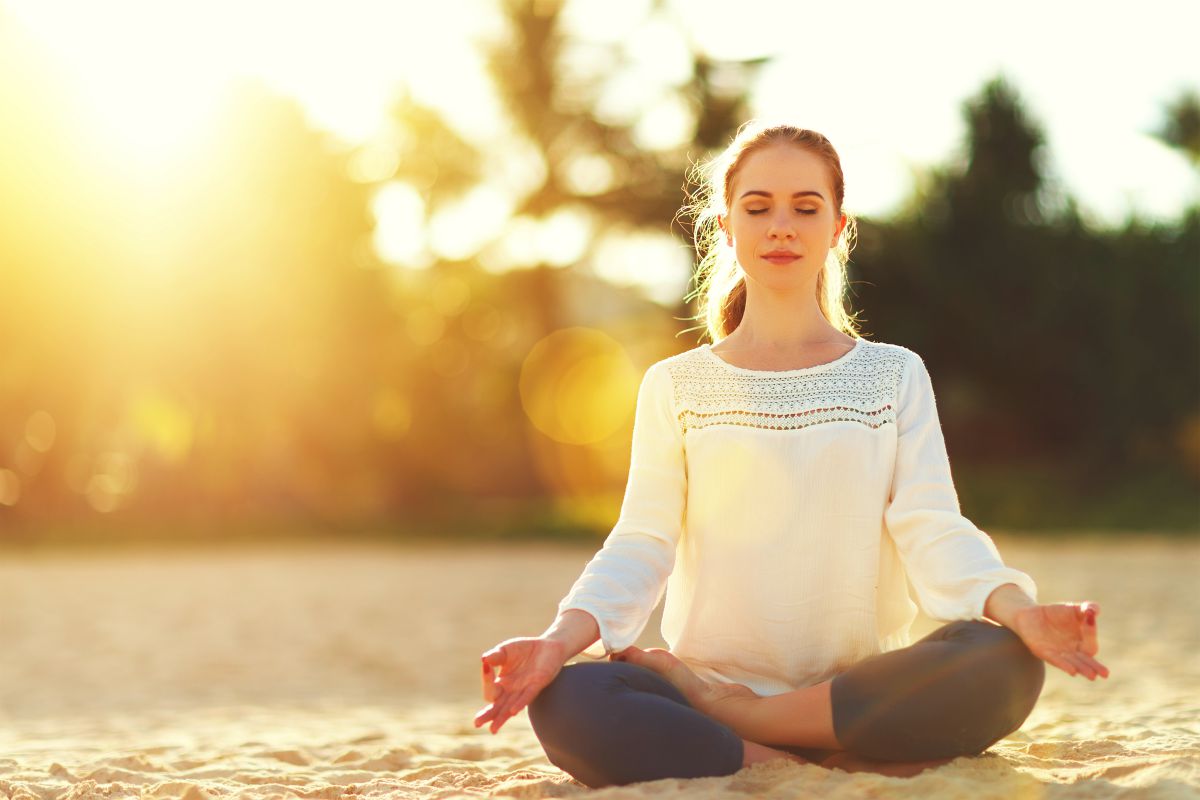 When you prioritize your goals, it allows you to go about your day at a healthy and comfortable pace. This daily practice of mindfulness also keeps you from feeling overwhelmed, especially when you have a long to-do list.
Elle Russ, the best-selling author of The Paleo Thyroid Solution, thinks of her intention the moment she wakes up:
"Before getting out of bed, I take a few minutes to express gratitude for my body and health.

I set an intention for the day . . . make coffee or tea, light some candles and daydream while setting more intentions about my goals."
RELATED: 13 Celebrity Bedtime Routines That Actually Help You Get To Sleep
8. Eat Your Breakfast
Not everyone likes to eat breakfast, and if you're into intermittent fasting (IF), there's a good chance it's the meal you plan to skip.
New research, though, suggests eating your first meal of the day is good for the health. Besides, it gives you the energy to keep yourself productive until lunchtime.
Incorporate fats into your breakfast to feel fuller. Scramble eggs in coconut oil, for instance. There are a lot of healthy yet hearty breakfast options no matter what diet or eating plan you're on.
What is intermittent fasting (IF)? It is a type of structured fast where you have only a limited window to eat. For example, in 16:8 IF, you eat within 8 hours and fast for 16 hours.
9. Take a Shower in the Morning and Evening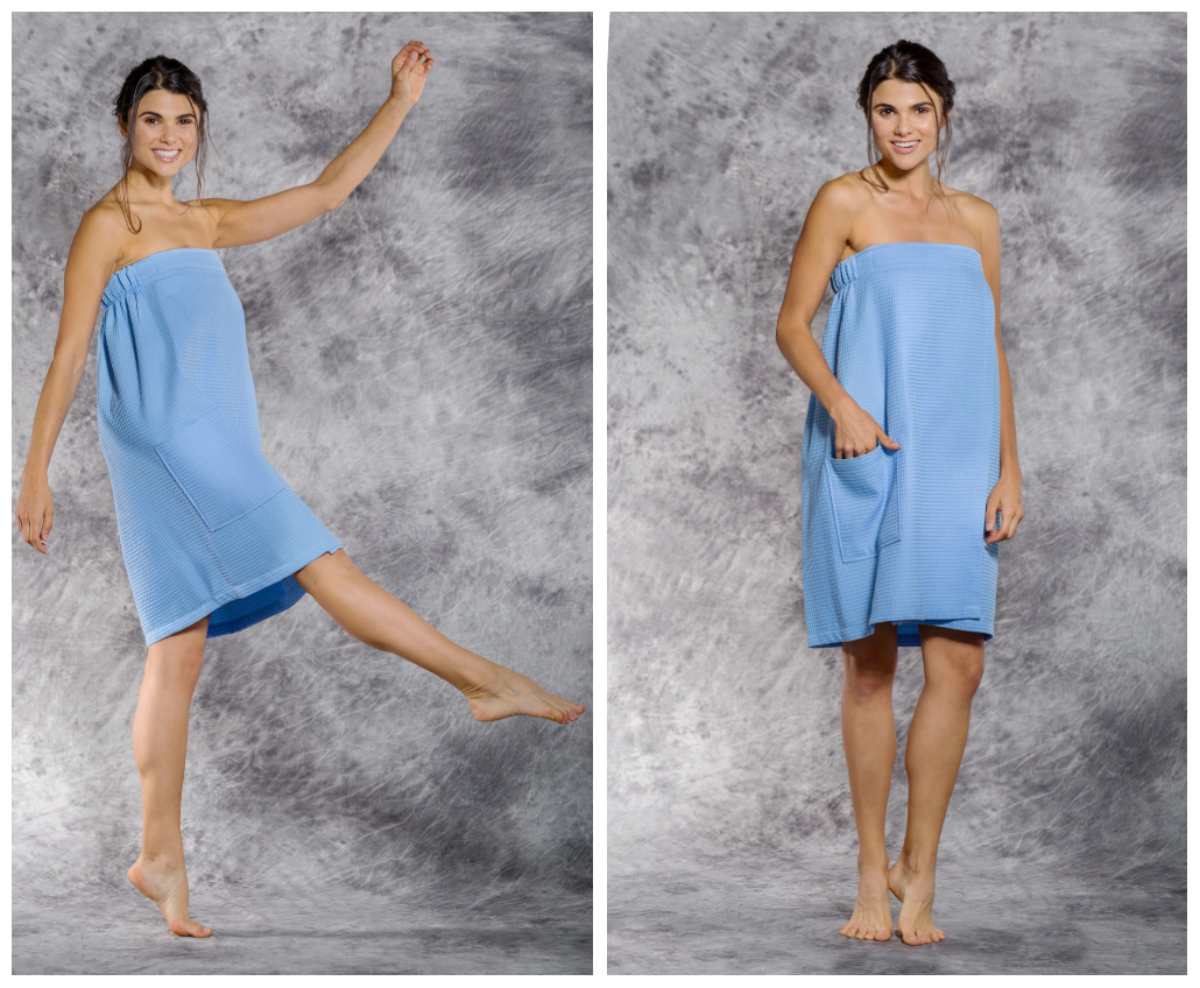 One of the underrated self-care ideas is to shower in the morning and evening. Taking one in the morning is understandable, as no one wants to feel the chill.
It turns out both cold and hot showers can provide your body with wonderful benefits.
A cold shower, for example, can increase the circulation of your blood, helping you become alert. It may also help ease muscle soreness after your morning exercise routine.
On the other hand, a hot shower can have relaxing effects, helping to soothe tense muscles and alleviate stress. It can serve as a comforting ritual before bedtime, promoting better sleep.
Don't forget to download, save, or share this handy infographic for reference: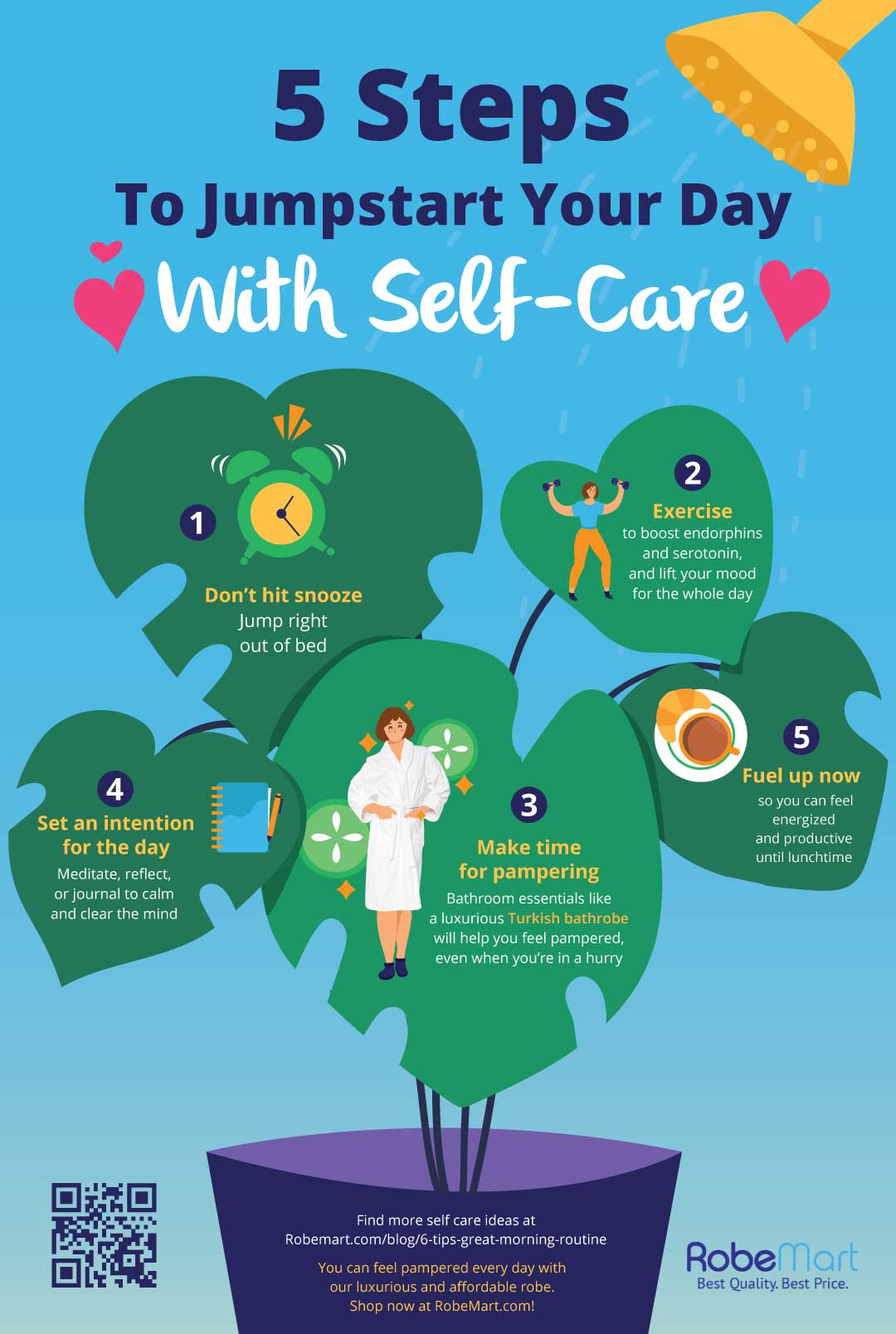 Want to jumpstart your day the right way? Watch the video below and incorporate the habits in your morning routine!
Morning rituals should be well-thought out and considered sacred, so try incorporating these tried-and-true daily habits into your routine.
With time, you'll find your days are much more enriched, fulfilled, and full of joy!
What are your favorite daily routines in the morning? Share your list in the comments section below!
Up Next:
Editor's Note: This article was originally published on January 17, 2019, and has been updated for quality and relevancy.